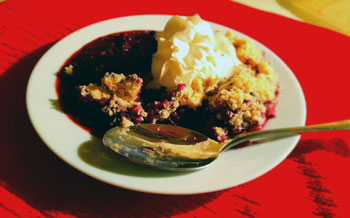 Original Recipe by Julie M. Hale and Matt Allen
(Serves 6 people)
Preheat oven to 350°f
Ingredients:
3 Honey Crisp Apples 
6oz Blackberries 
6oz Raspberries 
1/2 pint Blueberries 
9 Tbsp Unsalted Butter
1 ½ cups All Purpose Unbleached Flour
2 tsp Cinnamon
1 tsp Nutmeg
1 ½ cups Baking Stevia
Method:
Apple Berry Filling:
Melt 3 tbsp of unsalted butter in a medium sized saucepan, then add 1/2 cup of stevia and mix until melted over a low heat.
Add 3 peeled, cored and sliced Apples to the pan with 1 tsp of cinnamon and 1/2 tsp of nutmeg and cook on medium heat for 3-4 minutes stirring occasionally. Next add blackberries, raspberries and blueberries to the pan with 3 tbsp of water, then simmer on a medium heat for 6-8 minutes stirring occasionally.
Turn off the heat and cover for 10-12 minutes.
Crumble Topping:
In a large mixing bowl add 1 ½ cup of all-purpose flour, 1 cup of stevia, 6 tbsp of softened unsalted butter, 1 tsp of cinnamon and 1/2 tsp of nutmeg.
Using your hands mix all the ingredients together until they are a "crumbly" consistency.
In a medium sized casserole dish (roughly 10 x 7 inches wide and 3 inches deep) add the fruit filling and completely cover with crumble mixture.
Place crumble in the middle of the oven and bake for 15 – 20 minutes or until crumble is golden brown.
Serve with a low fat ice cream or cream.