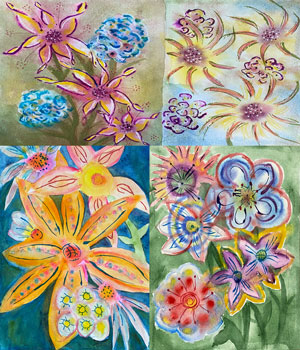 By Linda Wiggen Kraft,
Healthy Planet Green & Growing Editor
Can't have enough flowers? Do you swoon at the sight of the miracle of a flower's colors and shapes? Do you love spring through fall because that is when your garden blooms? Do you want flowers around you all year round?
Why not create some unique flowers of your own? Ones that can be within your sight each day. Ones that never wilt. Ones that are the colors you love. Let your imagination take you to a new dimension of gardening. Fun fantasy flowers can be easily created. How? In an easy fun workshop that let's your imagination take you to a new way of creating flowers that will delight and surprise you.
The workshop is titled "Fantasy Flowers". It is meant for anyone who loves flowers and wants to have more. It is a playful easy fun introduction to creating flowers from your imagination using watercolors, acrylic flow paints, inks, markers, pens and lots of different types of art materials. It is for those who call themselves artists, those afraid to pick up a pencil, pen or paint and anyone in between. There is no art experience or talent needed. All that is needed is a love of flowers and a desire to create more from your own imagination. Everyone will create their own unique imaginative flowers.
Before you say "Oh no, I'm not an artist", "I can't draw" and any other self-sabotaging thought, know what Rumi, the poet, says "Inside you there's an artist you don't know about… say yes quickly".
The workshop (10am–4pm) is taught by me, Linda Wiggen Kraft. I am an unabashed lover, and artist of flowers who started a garden design business over thirty years ago so I could be around flowers in more gardens than my own. I am a self-taught gardener, but a schooled artist with a Bachelor of Fine Arts degree. My first journey into fantasy flowers was a series of Fantasy Flower Mandalas, large watercolors created about 15+ years ago. Creating these paintings was a meditation and creative wonderland that brought the world of mandalas and mandala teaching into my life.
This Fantasy Flower Painting workshop is a first. It will be taught in my studio which is filled with more art supplies than can be imagined. All the art supplies are provided in the workshop, so no long list of expensive hard to find art materials. The workshop is from 10am–4pm on Saturday June 25th. Please join me for a fun creative flower filled experience. 
More info on my website – www.CreativityForTheSoul.com
Linda Wiggen Kraft is a landscape designer who creates holistic / organic gardens and an artist/creativity workshop leader. She is leading a "Fantasy Flower" watercolor workshop June 25th. Find out more about the workshop, subscribe to her blog and Instagram on her website: www.CreativityForTheSoul.com. Call her at 314 504-4266.