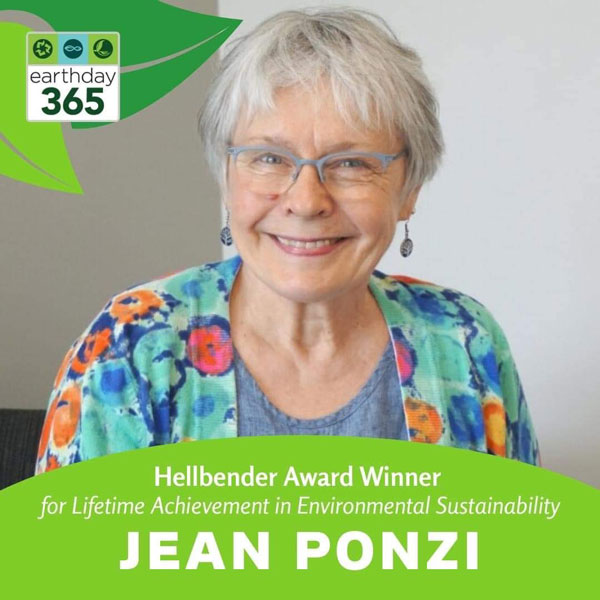 Photo Caption: Jean Ponzi, local environmental leader and columnist for The Healthy Planet magazine.
Congresswoman Cori Bush was the featured speaker at the Opening Ceremony and Sustainability Awards at the St. Louis Earth Day Festival on Saturday, April 23, at 1 pm. Organized by the local nonprofit earthday365, the Sustainability Awards highlighted achievements in sustainability over five different categories.
2022 EARTH DAY SUSTAINABILITY AWARDS – Winners and Honorable Mentions
Hellbender Lifetime Achievement in Sustainability
Winner – Jean Ponzi, Has worked for EarthWays Center, MOBOT's Green Business Challenge, BiodiverCity STL, Earthworms radio show/podcast/column, and the original Earth Day Festival organizer. Considered to be a mentor to a whole generation of environmentalists in St. Louis.
Honorable Mention – Emily Andrews, Executive Director of US – Green Building Council, Green Schools Quest, champion of landmark energy efficiency standards such as the 2021 Building Energy Performance Standards (BEPS) and the new Building Energy Exchange – St. Louis
Keystone Community Activist
Winner – Carlotta Lewis – a 24-year career with Missouri State Parks helping youth living in poverty develop a connection with nature. She created signature programs and continually enhanced opportunities for everyone to experience and appreciate parks in the region.
Honorable Mention – Leah Lee Burnett – Leah's goal is to grow food and grow people. She is a trained Master Gardener and in addition to growing food for community members in Westside St. Louis City, she has developed healing spaces for Black women and children to thrive in nature.
Green Works Here! Award
Winner – Home Sweet Home Home Sweet Home transforms donated goods into whole furnished households for underserved families, making their homes a source of comfort, pride, and stability. Since 2015, they have recycled an estimated 2.5 million lbs of furniture and home goods.
Honorable Mention – Forest Keeling Nursery Forrest Keeling provides native plants that thrive in our region. Committed to the research of growing superior plants that are also better for the environment for over seventy years.
Honorable Mention – Midwest Recycling Center MRC maintains the highest levels of certification, documenting correct handling of electronics and bringing convenient collection services to communities across our region.
Emerging Environmental Leader
Winner – Rebecca Hankins – Rebecca hosted the first-ever Environmental Justice in Horticulture Conference at Meramec Community College, while earning her horticulture degree. She built the framework for a new position at Forest ReLeaf of Missouri and increased program participation in underserved, minority communities as the Partnership Manager. She has further demonstrated her leadership this year by being awarded a $200k grant for tree planting initiatives that directly support these communities.
Honorable Mention – Madeline Middlebrooks – a lawyer with Great Rivers Environmental Law, who has been a champion for safe drinking water in St. Louis Public Schools and Charter Schools, bringing awareness to lead contamination in our communities through her partnership with Equal Justice Works.
Green Dining Alliance Food For Thought
Winner – The Wolf Cafe The Wolf Cafe is a sustainable coffee, cafe, and music venue, in West County, whose "mission is to serve people and the planet!" The owners, Denise and Bob, have diverted more than 95% of food waste from area landfills, purchasing from sustainable, ethical farms, sourcing produce seasonally, and being a positive community role model.
Honorable Mention – Schlafly Tap Room is a founding member of the Green Dining Alliance, west of downtown St. Louis city, and a leader in every sustainability category including solar electricity, food waste composting – including the recent oyster Festival, local food sourcing, community engagement, bike-friendliness, and safer choice chemicals.
For more information about earthday365 and all of its programs, please visit www.earthday-365.org