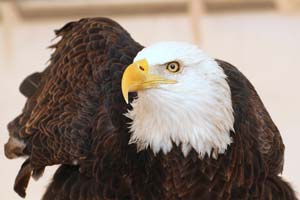 Due to a renovation work on the Old Chain of Rocks Bridge, Eagle Days programming is moving to Powder Valley Nature Center in Kirkwood this year.
Few words can describe the thrill of seeing America's national symbol soaring through the air in the wild, or close enough to touch. During the winter, the Mississippi River hosts one of North America's largest concentrations of bald eagles; they are drawn to areas of open water in search of fish, their preferred food.
The St. Louis Area Eagle Days Festival held each January at the Old Chain of Rocks Bridge has always been one of the area's premier bald eagle celebrations. Due to renovation work being conducted on the bridge this year however, the celebration has found a new home for 2022.
The Missouri Department of Conservation (MDC), the Illinois Department of Natural Resources (IDNR), and Great Rivers Greenway (GRG) are once again hosting an Eagle Days celebration, but this year it will be held at Powder Valley Conservation Nature Center in Kirkwood. The event will take place from 9 a.m.-3 p.m. Saturday, Jan. 15. Eagle Days programming is also made possible with support from the World Bird Sanctuary (WBS) and offers the chance for visitors to discover a close connection with the bald eagle. Eagle Days is additionally supported by Land Learning Foundation.
Due to COVID-19 considerations and to ensure the safety of visitors and staff, Eagle Days will also take on a new format for 2022. The event is free and open to all ages, but attendance will be by online pre-registration only, with six available timeslots each hour throughout the day. Attendance numbers for each timeslot will be limited for the safety of visitors and staff.
To register, use the following links for the preferred timeslot:
Each session will include a special 30 minute presentation in the nature center's auditorium by WBS featuring a live bald eagle—including a chance for closeup photo ops. Participants can also visit educational tables from Eagle Days partners like St. Louis Audubon and try kids' crafts courtesy of the Green Center. Visitors will get to step inside a live bald eagle nest replica too and see how they measure up to the of one of these raptors at the bald eagle life size wingspan banner.
In addition to the programming at Powder Valley, participants will be offered offsite opportunities to see bald eagles in the wild that same day. The viewings will be held at multiple outdoor sites in the St. Louis area. Each will be staffed with trained volunteers who will help visitors view bald eagles in their natural habitats through spotting scopes. Information on these viewing locations will be sent out to all registered participants via email. Visitors should dress warmly when attending the outdoor viewing experiences.
All visitors are requested to observe current local COVID-19 social distancing and masking guidelines. Bringing and wearing face coverings is encouraged when appropriate.
Powder Valley Conservation Nature Center is located at 11715 Cragwold Road in Kirkwood, near the intersection of I-44 and I-270.