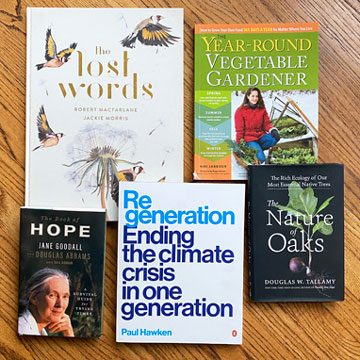 By Linda Wiggen Kraft,
Healthy Planet Green & Growing Editor
In this time of gift giving, books are treasures that we can give to others and ourselves. In the shorter colder days of winter, as our gardens rest, we can take time to gather wisdom, joy, hope and inspiration from the words, photos and illustrations of garden and earth centered books. Here are some of the best, both older classics and newly published.
The big picture books are not about their size, but what they are about. When overwhelming thoughts about earth's hurting health brings about despair there are voices of hope, inspiration and calls to action. The Book of Hope by Jane Goodall and Douglas Abrams soothes the soul by bringing a wider perspective and call to action to deal with climate change challenges. Paul Hawken's Regeneration, Ending the Climate Crisis in One Generation shows that there is a growing regeneration movement that heals the earth by dealing with inequities of human and all life. Many small and large efforts and successes are highlighted in this book. For a deep dive into the despair of climate change and ways of finding hope there is a 2012 book titled Active Hope: How to Face the Mess We are In Without Going Crazy. Based on the workshops of longtime environmental activist JoAnna Macy and her collaborator Chris Johnstone this book brings hope in time when there seems to be little. As a Buddhist scholar, Macy has wise and practical suggestions for honestly addressing despair and finding hope.
The Lost Words * is both a big book in size but also about how words create a world we need to protect that some people see as irrelevant. Written by Robert McFarlane and illustrated by Jackie Morristhis book was created in 2017 to protest the removal of over forty nature words from the Oxford Junior Dictionary. These words included acorn, cauliflower, clover, dandelion, monarch, tulip, violet and wren. They were replaced by words deemed more "relevant" according to the publishers, including analog, blog, broadband and voice-mail. The book is beautifully illustrated with the many of "lost words" along with a clever word puzzle poems for each word. This book is not to be missed by adults and children.
The practical books that are inspiring and more detailed about the how-to of gardening include The Nature of Oaks by Entomology Professor Doug Tallamey. This 2021 book honors oak trees by sharing their importance as home to the most number of insect species, sometimes over 200. These insects are the ones birds need to feed their young. Tallamey became famous with his 2009 Bringing Nature Home book which promoted the life sustaining interaction between wildlife and native plants.
Growing organic vegetable gardens can be challenging. It helps to know about up-to-date scientific facts and techniques about companion plants to enhance their growth and yield. Published in December of 2020, Plant Partners: Science-Based Companion Planting Strategies for the Vegetable Garden by Jessica Walliser has lots of photos and easy to understand advice.
Growing vegetables all year is something we can do here. The 2011 book Year-Round Vegetable Gardener by Niki Jabbour. The author gardens in Nova Scotia and shows how even there vegetables can be grown in cold and warm weather. There is practical advice even if a cold frame and covered tunnel aren't part of your garden's plan.
These are just a few of the wonderful books that inspire us call us to action to better our world and our gardens. Find them at locally owned book stores and at the library.
* Here is an article from November 2017 that I wrote about The Lost Words book –https://thehealthyplanet.com/2017/10/a-is-for-acorn-not-analog-nature-words-gone-from-a-dictionary/
Follow Linda Wiggen Kraft's art and garden work on her blog, newsletter and Instagram through her website www.CreativityForTheSoul.com. There you can see her Gardens for the Soul, Mandalas, Mandala Workshops, Creativity Journeys, Nature Journey Workshops and more. Call her at 314 504-4266.