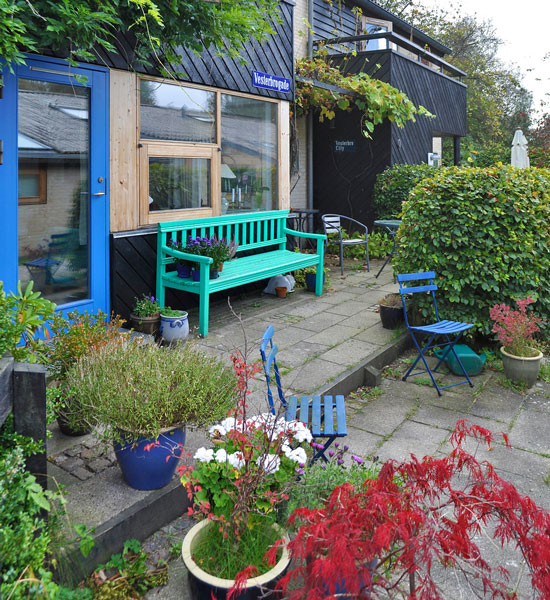 By Tom Braford
While it is relatively easy to design an optimized world, the real challenge is in designing how to get there from here, wherever here is.
After starting out as a restoration carpenter and green rehabber, I soon discovered that being boxed in by the constraints imposed by existing structures and sites sometimes opened up possibilities that were not obvious when working with a blank slate.
Today the world is getting more constrained by the demands of our evolving culture and issues like climate change. We have already surpassed the safe level of carbon dioxide in our atmosphere, so it must be rolled back quickly. Hopefully, squeezing this design space will create opportunities to discover many diamonds in the rough.
This was the approach Charles Durrett from the Cohousing Company took years ago in planning meetings with our first Cohousing core group and city officials. They transformed my placeholder designs for the existing buildings into a schematic design for an Ecovillage that would spread out on the site and invite nature into the interior. Chuck then said that our design had the potential, if well executed, to be the benchmark for the Cohousing movement in the US, just as Trudeslund was for the first wave of Cohousing development in Denmark.
What if the cohousing and ecovillage movements, still fewer than 200 built communities after 20 years, need a benchmark project capable of getting us to 100k communities by 2030 and leading civilization and the planet to subzero carbon by 2050?
The good news is we still have over $7.2M in tax credits and a well refined plan for our prototype that should become contagious enough to cause an epidemic of sustainably social, environmental and economic progress in the St Louis region.
In fact, the culture and economy may have finally caught up with us.
We are working with an organization that is proposing to move a funding commitment to St. Louis that was targeted for a similar project that was not as far along as we are with sunk investment in land, buildings, plans and committed tax credits.
Contact us at:
braford@sbcglobal.net
www.ArizmendiEcovillage.com