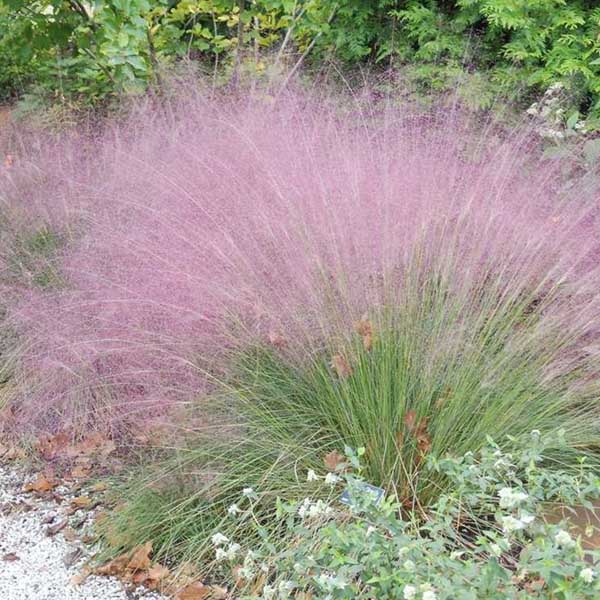 By Abby Lapides
A gorgeous Missouri native grass, Pink Muhlygrass, Muhlenbergia capillaris, is adored for its satin-like fine, thin green blades and stunning clouds of rich pink fall flowers. Its tall 12″ wands of airy pinkish-red flowers last for months and remain attractive though winter. It begins its spectacular show of pink plumes in September, with blooming continuing into November. Its flowers stand tall throughout winter, adding considerable interest to the winter landscape. Its flowers make beautiful indoor arrangements, and birds love its tasty seeds. Easy to grow and deer resistant. Plants form attractive, compact mounds. A long-lived perennial that reliably comes back year after year.
Many say Pink Muhlygrass is the most beautiful of the Missouri native grasses. It looks gorgeous in natural settings and formal plantings. It works well in perennial borders, cottage gardens and can be used as a groundcover to cover large areas. Pink Muhlygrass makes an ideal choice for edging driveways, sidewalks, and gardens. It works fantastic in containers with all fall blooming perennials including Asters, Blazing Stars, Black-eyed Susans, and Anemones. Plant in full sun to part shade. Easy to grow in well drained soils. It grows well in poor soils. Although drought tolerant, keep well watered until established. Plants will grow tallest with consistent moisture.
Find Pink Muhlygrass and more online at www.sugarcreekgardens.com, or at Sugar Creek Gardens nursery in Kirkwood.