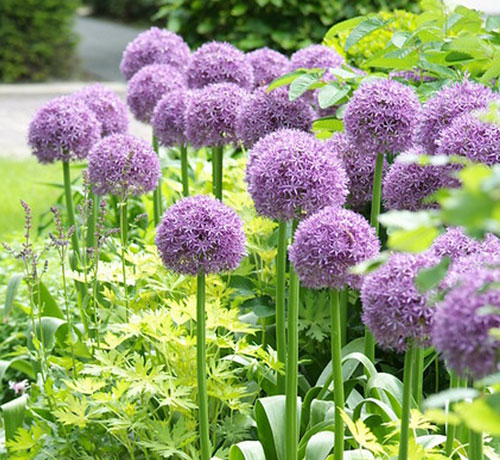 By Abby Lapides
If you made it to our fabulous Missouri Botanical Gardens this year, you may have witnessed a magnificent Allium show. Many of our customers kept asking "What is it? What is it?"
The answer: Globemaster Ornamental Onion
A crowd favorite, Globemaster Ornamental Onion, Allium, brings fun and whimsy to the garden with its huge 6-10" globes of lavender star-shaped florets. The long blooming flower clusters continue to produce new florets to replace fading ones. Globemaster's stunning blossoms can create unforgettable flower arrangements. Its round orbs dry on plants for months of interesting dried flowers. Its showy flowers last for months in dried arrangements. Flowers appear in late spring to early summer. Globemaster's low growing, strappy foliage mixes easily with other plants. Plants will naturalize if given space. In the garden, the vase, as a dried flower or a shiny Christmas decoration, Globemaster Allium delights us in so many ways.
Plant new bulbs in fall 4-6" deep, 3 times bulb diameter and 12" apart. Bulbs may be divided in late summer through early fall after foliage has died down.
Fun tip: Dried flower heads left in the garden or cut for arrangements can be spray-painted for artsy, colorful displays. Try spaying yours purple or red in the garden, or gold for a sparkly addition to your holiday arrangements. Find this and other bulbs at www.sugarcreekgardens.com.
For more information contact Sugar Creek Gardens at 314-965-3070 or visit www.sugarcreekgardens.com.