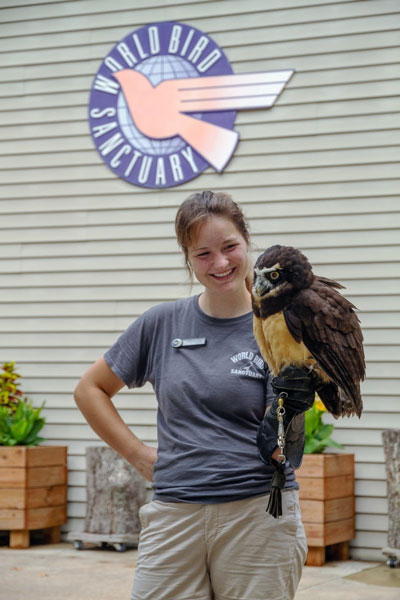 Photo Caption: A World Bird Sanctuary naturalist holds a species of owl on her leather glove during a presentation.
Learn about birds up close at these free events happening on June 6, 18 and 27. Ask people what they feel the most amazing animal on Earth is, and many well tell you—birds. Humans have long been captivated by their seemingly magical ability to fly freely through the sky. The Missouri Department of Conservation (MDC) is teaming up with the World Bird Sanctuary (WBS) to present three free in-person World of Wings events in June to help participants learn more about these fascinating feathered creatures.
The World of Wings events will take place 11 a.m. Sunday, June 6;
3 p.m. Friday, June 18; and 3 p.m. Sunday, June 27. Each presentation is open for ages 5 and up and will be conducted at the World Bird Sanctuary's outdoor amphitheater, located at 125 Bald Eagle Ridge Road in Valley Park.
Participants will have the opportunity to see live hawks, eagles, owls, vultures and more up close and in person. WBS naturalists will share their experiences and expertise about the special traits, habits, and unique adaptations these birds possess. Learn about where birds live, what they eat, how they reproduce, and what sounds they make. Whether it's flying, flapping, hopping, skipping, or singing, guests will discover how and why birds do it. They'll also find out the many ways birds impact the world, from our daily lives to the entire ecosystems.
These programs are made possible by an education cooperative agreement between MDC and the World Bird Sanctuary and are free to attend. For over 40 years, the World Bird Sanctuary has helped restore the bald eagle, peregrine falcon, and American barn owl from near extinction. They strive to support birds through education, conservation, and rehabilitation.
The World of Wings programs are free, but space is limited, and advanced online registration is required using the following links:
Participants are reminded to dress for the weather as the program will be held outdoors. For the safety of participants and our staff, MDC asks all guests to observe social distancing guidelines and maintain at least six feet from others. Bringing and wearing face coverings are encouraged when indoors, or any time visitors are unable to maintain at least six feet from others.
MDC offers many free educational programs in the St. Louis region to help people discover nature, fishing, hunting, and the outdoors. Stay informed by going to the MDC St. Louis regi0nal events page at https://short.mdc.mo.gov/ZP6.