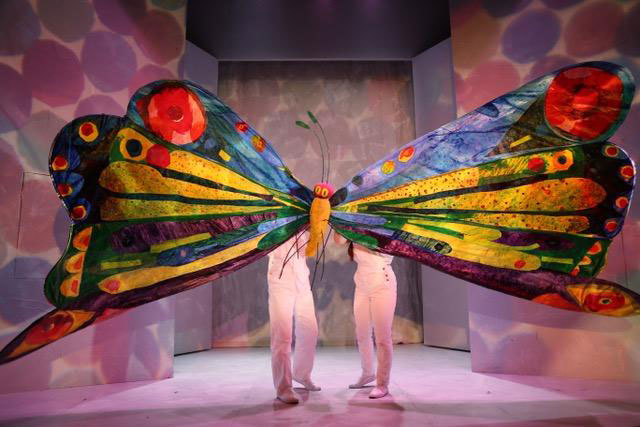 By Mike "Michelle" Ochonicky
Healthy Planet Arts Editor
Photo caption: Metro Theater Company presents The Very Hungry Caterpillar, Ideal for all ages.
There's a new theatre company in town! Prism Theatre Company is focused on the "promotion of works by women and emerging artists, on stage and off, through the lens of theatre for the new world." At the helm are Trish Brown, a professional director, actress, and theatre educator, and Joy Addler, a St. Louis area stage manager, company manager, and nonprofit professional. According to Addler, "Prism is a creative collaboration, without the cliques. (We) present new and classic works in an atmosphere of inclusivity, where artists from all walks of life can come together to explore our common humanity." Starting a new company is daunting under any circumstances but, while plans for Prism began pre-pandemic, it takes real vision to launch a performance company right now. Said Addler, "We want to provide a safe space for the voices of women to really shine and take center stage."
To that end, Prism currently seeks submissions for new non-musical plays by women playwrights based in Missouri or Illinois for "Spotlight on… Women Writing: Prism's Festival of New Works." Visit prismtheatrecompany.org for submission guidelines; deadline June 1.
Experience the St. Louis Symphony Orchestra up close yet comfy at home as Music Director Stéphane Denève conducts works by composers challenged by love, life, and death. The Heart of the Matter is a digital concert, available for streaming through May 8 for $15. Purchase your ticket for this wonderful music at www.slso.org. Or enjoy a socially-distanced concert at Powell Hall Music, May 13-15, when Director Stéphane Denève, leads SLSO in Beethoven's Symphony No. 7. This concert is an hour long; audience size is limited.
Radiohead is a recognized name in music but, in 1996, the band confused the industry with their jazz-inspired sounds. Jazz St. Louis continues its Whitaker Jazz Speaks series on May 26 with Radiohead Runs the Voodoo Down: Kid A Turns 20. This free presentation traces Radiohead's "borrows" from Louis Armstrong, Miles Davis, Alice Coltrane, and Charles Mingus, plus interviews that Dr. Pete Carney conducted with jazz musicians working for Radiohead. The lecture will be followed with a performance of Radiohead's compositions, with music direction from Adam Maness. Register for the 7 p.m. program at https://jazzstl.org/whitaker-jazz-speaks/
Starting on May 6 and running all summer long, Drive-In St. Louis presents outdoor concerts to enjoy from your car at 5555 St. Louis Mills Blvd. in Hazelwood. The line-up covers the gamut of music styles, so there are sure to be some you'll want to attend. Check out www.driveinstl.com.
COCA offers both virtual and in-person tickets for its upcoming performances, giving no reason to miss out on TRIumphant, a celebration of dance, on May 6-9, Harmonious, vocal presentations, May 13-14, and Spring Improv Troupe, story and comedy performances, May 16. Purchase tickets at www.cocastl.org. 
The Sheldon continues its Virtual Notes from Home concert series this month with Tim Kampen's Jazz Expedition (May 4), The Screechin' Halts (May 11), and Syna So Pro (May 18). Performed on The Sheldon's stage, the evening concerts are offered free to at-home audiences. Simply register in advance at www.thesheldon.org. 
Through May 16, Metro Theater Company performs The Very Hungry Caterpillar Show, live and outdoors, at Kirkwood Performing Arts Center. The English-Spanish bilingual performance with larger-than-life puppets is sure to delight the entire family. Details at www.metroplays.org. 
Opera Theatre of St. Louis presents its 46th Season's Outdoor Festival, May 22-June 20, with a new twist: four all-new productions on an outdoor stage adjacent to the company's usual venue at Webster University's Loretto-Hilton Center.
"We cannot wait to welcome audiences and artists back to a live festival season," said General Director Andrew Jorgensen. "We are so grateful to everyone who is to make the 2021 Outdoor Festival Season possible. The arts are re-emerging from the pandemic, and we are feeling more creative, determined, and hopeful than ever before!…This spring, we celebrate the light at the end of the tunnel and the joy of live opera." Perfect expression of why the arts are so important! More info at www.opera-stl.org. 
Treasure and Tarnish: Heinrich Schliemann & the Age of Heroes, an exhibition by artists Abigail Lowe and Malaika Tolford, runs at Craft Alliance's Staenberg Gallery through May 22. More info at www.craftalliance.org. 
Green Door Gallery, 21 N. Gore, presents a range of mixed media in Altered Mixed Assembled, May 5-June 26. Details at www.greendoorartgallery.com. 
Cross the bridge to Alton, Illinois for a visit to Jacoby Arts Center. Mother's Day Play Day makes May 8 extra-special there with free make-and-take art activities, live music, artist/vendor booths, food, drink and fun, noon-4 p.m. While there, view the Emerging Artist Exhibition, through July 11. Info at www.jacobyartscenter.org. 
Everyone missed Dance St. Louis' Spring to Dance Festival over Memorial Day weekend last year. But here's the news: it returns this year on June 25-27, under the Big Top tent in Grand Center!!! Stay tuned…