Ackermann's Swim Program & Summer Swim Camp
Teaching children 4-11 the life skill of swimming and water safety since 1942. Family owned and operated at the same location, 1044 Curran Avenue, Kirkwood, MO 63122. Group swim lessons in 4 heated pools with different water levels for progressive safe learning. Enrollment by one or two week sessions. Hours 9:10 a.m. to 2:00 p.m., Monday through Friday. Drop off and Pick up at curb. Well organized program with large playground. Red Cross Certified Teaching Staff. Providing children a non-competitive, safe, teaching environment in which to build confidence and self-esteem. Visit ASPKirkwood.com.
---
MJ Performing Arts Academy is a dance and acro studio located in the heart of Webster Groves.
Our motto – Building Happy, Healthy, Fit, and Confident Dancers – drives us and all of our endeavors. MJPAA offers a wide range of dance classes, including Acro, Adult Drop In Classes, Aerial Silks Dance, Ballet, Cheer, Contemporary/Modern, Dance Team Prep, Hip Hop, Ninja Hip Hop, Preschool Classes, Private Lessons, Special Needs Music & Movement, Tap, Technique, Tots on the Move, and Tumbling. MJPAA also offers weekly Summer Camps, Birthday Parties, and Girl Scout Parties. The health and safety of our customers is our priority! We have extensive Covid-19 policies including mandatory masks, temperature checks at the door, scheduled daily cleaning and sanitizing, and more! Class sizes are limited to ensure social distancing. Visit https://mjperformingartsacademy.com or call 314-968-3903 to set up a free trial class or for more information.
---
Notre Dame High School is an all-girls, private, Catholic, college-preparatory high school that empowers young women to become confident, compassionate Christian leaders.
Enrichment and athletic programs are available through Summer Camps at ND. Campers are invited to see how their gifts and interests can make a difference in the world around them. Sessions run in June and July, with options for most grade levels. Attending Summer Camps at ND is a great way to get to know our campus, faculty, coaches, and future friends! Visit www.ndhs.net/summer-camps for the full calendar and to register. Space is limited to allow for social distancing. Safety protocols in place at the time of the camp will be followed.
---
STAGES Summer Performing Arts Academy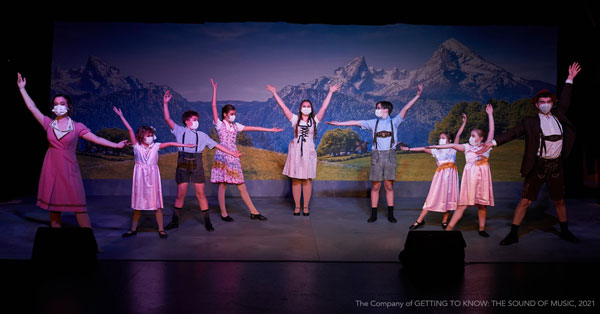 STAGES Performing Arts Academy is open all Summer long – in person or virtually! We offer an exciting variety of Musical Theatre courses, workshops, and productions for students of all abilities, ages 3 to 18. Act, dance, and sing while learning new skills and techniques. Classes include Magical Musicals, Act It Out, Dance Intensive, Audition Prep, and more! And don't miss out on our Broadway Performance Workshops of Matilda, Jr. and Carrie: The Musical. It's all at the STAGES Performing Arts Academy this summer! Register today at www.StagesStLouis.org or call 636-449-5775.
---
YMCA Day Camps & Camp Lakewood
At the YMCA, we can't wait to welcome your child to enjoy summer as it should be: fun, action-packed, and most of all, safe! Safety is our first priority and we are committed to following guidelines set forth by our local health officials.
We offer camps throughout the summer for ages 3-17. Camps range from traditional outdoor camp to special interest camps such as sports, aquatics, arts & humanities, and teens. We also offer Before & After Camp Care as an add-on at an additional fee.
The YMCA has been helping youth learn and grow for over 100 years and draws upon that experience to operate high quality, inclusive, supportive and safe camps. Your camper will be engaged by our trained, dedicated staff team in fun and enriching activities that keep youth active, develop new friendships, promote learning, and build self-esteem and leadership skills.
Take adventure to a higher level at YMCA Camp Lakewood, our overnight camp. At Camp Lakewood, kids love the extensive list of activities we offer, which create opportunities to challenge, inspire, create and enjoy. From arts & crafts to horseback riding, zip lines to kayaking, Camp Lakewood's activities are second to none and everything campers love.
---
Kids for Critters Camps
We will celebrate ALL animals, all week long as we engage in fun, interactive games and activities, meet animal experts and ambassadors and put our compassion into action through service projects that benefit animals. Embark on a scavenger hunt in our shelter, explore animal-related careers, become a Jr. humane officer, observe surgery, make animal enrichment toys, decorate kennels and much, much more! Campers will have many opportunities to interact with our shelter animals and guest animals. Popular activities include training and reading to our shelter animals and socializing shelter kittens and cats. These activities provide enrichment and socialization for them as they await their life-long loving homes. A highlight of our week-long camp is our day-long fieldtrip on Wednesday to our Longmeadow Rescue Ranch in Union, MO where we enjoy a wagon ride around the sanctuary and get up close and personal with our beloved Barn Buddies and their fellow farm animal friends who have been rescued and rehabilitated by our loving staff.
Camps run Mon-Fri from 9am-3pm. After-care options are available. COVID-safety protocols will be in place. See our website for more details.
Camps fill up quickly so be sure to register soon! www.hsmo.org/summercamp
July 12-16 (Ages 6-8)
July 19-23 (Ages 9-11)
July 26-30 (Ages 12-14)
Aug 2-6 (Ages 6-8)
Aug 9-13 (Ages 9-11)
Are you a teen between the ages 15-18 who enjoys spending time with children and is passionate about helping animals? Apply here to be a summer camp counselor! This is a great way to earn service hours while having fun and supporting a great cause!
---
YuCanDu Art Camps
Camp Grades K thru 9th
We are looking forward to another amazing year of making ART with our campers this summer! We hope you can join us, either in person or virtually!
We are continuing COVID-19 Safety Protocols this spring and summer. Currently our COVID-19 safety protocol includes everyone wearing masks, temps taken at check in as well as hand sanitizer for all, disinfection of all tools and aprons between each use, kids spaced 6' apart, and clear face shields available to wear during snack time. Each camper gets a bin of their own for basic supplies, like scissors and markers. (You may be asked for your camper to bring their own paint shirt, like an old t-shirt, to keep in their bin throughout the camp week.)
Take-Home Camp Kits will also be available to purchase online with local pickup and shipping in US. They will include generous & thorough supplies with written & video instructions. Camp kits will be available on the first day of corresponding camp.
Spring Break Camp K-5th
Join us for FOUR days of paint, mosaics & FUN FAVORITES! $265.
Mon-Thurs, 9am-2pm, March 22-25 or custom a different week with your own group of 8 or more kids.
For more information please call 314-963-4400 or visit online at www.yucandu.com. 20 Allen Ave., Webster Groves, MO 63119.
Are you a teen between the ages 15-18 who enjoys spending time with children and is passionate about helping animals? Apply here to be a summer camp counselor! This is a great way to earn service hours while having fun and supporting a great cause!