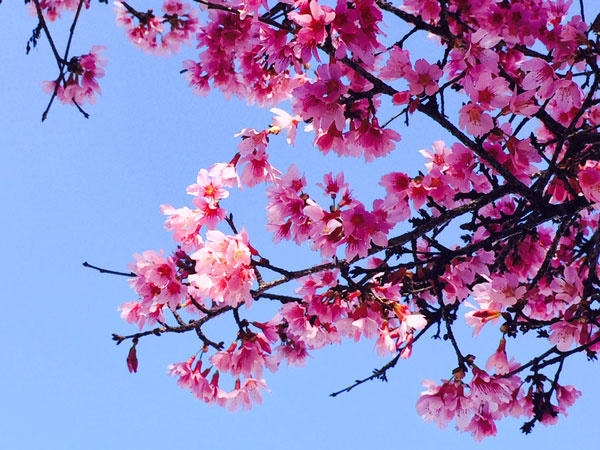 By Linda Wiggen Kraft
Healthy Planet Green & Growing Editor
Spring is different this year. The greening and blossoming of plants are much the same, but we are different. Life feels more precious. This spring brings much joy and gratitude along with deeper sorrow from this hopefully ending year+ of pandemic. It is a solemn year to celebrate the blossoms of spring, letting the beauty of nature open our hearts to gratitude, wonder, joy and healing.
The celebration of cherry blossoms in Japan called hanami*, which means flower viewing, can be the inspiration for our own flower watching celebrations this spring and beyond. The hanami celebrations that take place throughout Japan celebrate cherry blossom time. These beautiful pink and white blossoms, that last for several weeks before floating to the ground, are symbols of the beauty and fleeting nature of life. Cherry blossoms light up the landscape throughout the entire country starting in the south in January and ending in the north in May. Gatherings of friends, families and co-workers celebrate the pink and white blossoms in cities and countryside. Walking among and sitting under the flowering trees are the main activities of hanami in modern times. First celebrated perhaps over 1,000 years ago, aristocrats would write poems as they sat among the blooms. In the 1600s all populations of Japan started celebrating during the two-week bloom time. In Japan forecasts of where and when the trees are blooming, like the weather forecasts, are shown on the news to let people plan their celebrations.
We don't have blossom forecasts on our news channels, but we can look out our windows or walk outside to see the flowers that are now spring blooming. Creating our own hanami flower viewing celebrations can be experienced now and throughout our long blooming seasons. The shift from winter to spring often unexpectedly opens our hearts when we see those first blossoms. Spring is certainly a time to watch flowers when we sit near or under blooming trees. Here we can be lost in the wonder and healing of nature's beauty. But our hearts can be just as opened during summer and fall.
Flower viewing, and celebration, should be for all of nature's flowers and foliage. Many trees we love for their foliage have flowers we seldom see. Each early spring the large maple across the street from my bedroom window glows with its red flower blossoms that are gone once the leaves appear. Oaks have both male and female flowers with dropping catkins and female flowers turn into acorns. And on the ground the lovely blossoms of weeds we don't appreciate can be celebrated. Celebrate dandelions for the pollinators that need the pollen and nectar in these early blooming flowers when little else blooms.
This year our hanami gatherings are limited due to Covid. We can have our own meditative celebration inspired by the earliest hanami flower viewing where poems were written about the experience. Our celebrations can include writing a poem or a journal exploration. A sketch of the flowers or a photo to remember heighten the time spent with the flowers and plants. Small gatherings can be with family or others in safe outdoor spaces. There are beautiful parks with trees and grass and often flower gardens. Countryside nature preserves are perfect places for hanami during springtime, summertime and fall.
*Hanami is also celebrated in other countries and in Washington D.C. The U.S. Cherry Blossom Festival commemorates the 1912 gift of 3,000 cherry trees from Tokyo to our Capitol. The 2021 celebration is mostly online with activities for children and a bloom cam. The 2021 festival runs from March 20th – April 11th. https://nationalcherryblossomfestival.org/
Linda Wiggen Kraft is a landscape designer who creates holistic and organic gardens. She offers Creativity Journeys, Mandala and Nature Journey workshops. More info is at her website and blog at: www.CreativityForTheSoul.com Call her at 314 504-4266.