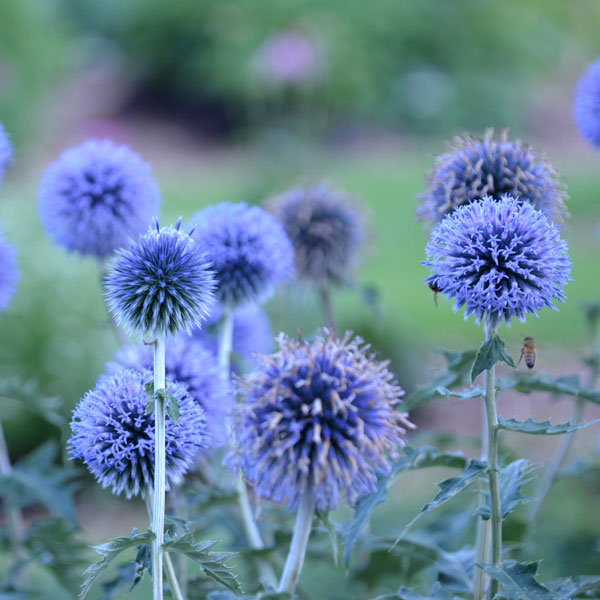 Attracting beautiful flying creatures such as butterflies, hummingbirds, and hard working bees to your garden is a snap with these natural beauties.
By Abby Lapides
Globe Thistle, Echinops ritro, features intense blue decorative spheres on tall 3-4′ stems. A highly ornamental plant, its striking blue balls of flowers bring a one-of-a-kind look to the landscape. Its fascinating silvery green leaves are hairy and very deeply cut. Globe Thistle creates lovely fresh cut and dried everlasting flower arrangements. It adds bold color and form to perennial borders, pollinator, cutting, meadow, and cottage gardens. Very tough plants, once established it tolerates drought. An ideal plant for hot dry areas, or any place you don't won't to drag the hose. Deer and rabbit resistant. Don't be surprised when you see many flying beauties visiting. An important pollinator plant, it is adored by butterflies and other pollinators including beneficial bees. A top host plant for Painted Lady Butterflies. Pictured.
From the great prairies of Missouri and the Midwest comes the outstanding Meadow Blazing Star, Liatris ligulistylis. With its brilliant purple spires that attract swarms of butterflies, its display may be the showiest and most flamboyant of all Liatris. From mid summer into fall its tall flowers stalks are adorned with rich rosy-purple florets. A top choice for butterflies, many consider it the #1 favorite nectar plant for Monarch butterflies. Finches adore its tasty seeds. A long-lived Missouri native perennial that is tolerant of heat and drought. It makes a beautiful cut flower. Also called Large Headed Liatris.
Our most popular Missouri native perennial, Butterfly Milkweed, Asclepias tuberosa, serves as an adult nectar source and a larval food source of the Monarch butterfly. Brilliant tangerine orange or vibrant yellow flowers appear for most of the summer. Cutting back spent flowers will stimulate another bloom cycle. Its showy seed pods are a lovely addition to dried flower arrangements. Easy to grow in sunny areas. Missouri native wildflower.
See these and other pollinator favorites at www.sugarcreekgardens.com.