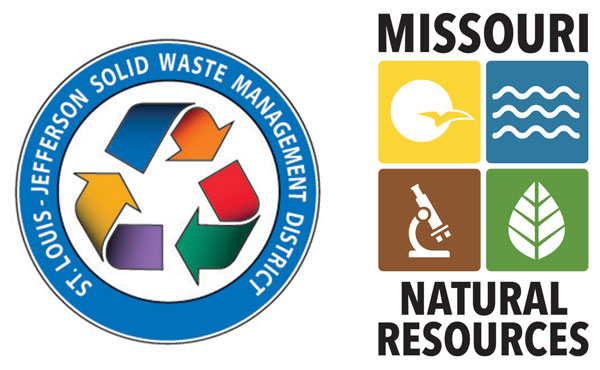 The St. Louis – Jefferson Solid Waste Management District is a regional agency that was created in 1993 to assist the public, private and nonprofit sectors in establishing and expanding waste reduction and recycling. The District includes the City of St. Louis, St. Louis County, Jefferson County and St. Charles County. These programs and services are funded in part by the St. Louis-Jefferson Solid Waste Management District and the Missouri Department of Natural Resources. For more information, please visit www.swmd.net or call 314-645-6753. Click on the headline to read about SWMD grant recipients success stories.
---
Spring is in the air and St. Louis Artworks Spring Art Apprenticeship Program is in full swing
Photo Caption: St. Louis ArtWorks apprentice works hard to paint their rain barrels various unique designs.
The mission of St. Louis ArtWorks is to enrich the lives of the region's youth by providing art education, essential job skill training, and exposure to career opportunities through paid apprenticeships.
As part of ArtWorks' ongoing efforts to teach the importance of reducing our carbon footprint, we strive to implement upcycling, reusing, and repurposing items into our core programming, by showing our youth apprentices how to create uniquely designed masterpieces and works of art from everyday items. Artworks' employment training involves learning to live and work green with reused and recycled materials.
In 2016, St. Louis ArtWorks received the National Arts and Humanities Youth Program Award, the nation's highest honor for after-school arts programs. St. Louis ArtWorks was recognized for its effectiveness in promoting learning and life skills in young people by engaging them in a creative youth development program.
Artists recycle and reuse many different objects from brightly colored plastics to CDs as they design and install a sculpture woven into a chain link fence, known as a Fencetillation. Many of these works of art are proudly displayed surrounding the ArtWorks parking lot at 5959 Delmar Blvd.
In 2008 ArtWorks began a successful enterprise, BoomerRacks, which produces bike racks with up-cycled bike parts. Dozens of BoomerRacks can be found across St. Louis including at Forest Park Visitors Center, Soulard Market, Regional Arts Commission, Locust Business District, the Magic House, and many other locations.
One of the most popular disciplines at St. Louis ArtWorks is painting, in particular the rain barrel group. Funding from Metropolitan St. Louis Sewer District allows our teen apprentices to work under professional teaching artists as they learn about painting techniques, color, and design to create unique one-of-a-kind rain barrels that can be used as functional works of art for the garden to recycle rainwater or a decorative piece for the home. The barrels are then sold to the public and proceeds help ArtWorks continue to provide employment opportunities for underserved youth to gain vital life skills and job training. ArtWorks programs are a win for the students, community, and the world.
Interested in joining the ArtWorks Team? Youth ages 14-19 can apply between March 15 and May 1st at www.stlartworks.org/apply. Questions? Email program.manager@stlartworks.org
or call 314-899-9758.
If you would like to purchase a rain barrel,
please call the St. Louis ArtWorks office at (314) 899-9734.
Thank you for your support!
---
Sustainable Backyards Grow In Popularity Despite Pandemic Canceling In-Person Tour
You Tube Tour Videos Available Beginning July 11
Odds are, if you read The Healthy Planet you've heard of the Sustainable Backyard Tour. Since the beginning, this publication has been a media partner supporting and promoting the annual event, which was to have celebrated its 10th anniversary in 2020.
It took a worldwide pandemic to put the brakes on the long-running Tour, canceling the in-person event until further notice. But the silver lining has been evidence of increased interest in the movement overall. With more time at home and a renewed appreciation for the fragility of life, many more people in the region and the world are discovering gardening along with the comforts and joys of living with resilience.
Terry Winkelmann, founder of the tour and its parent organization the Sustainable Backyard Network, sees an opportunity in continuing to be a virtual organization, for the time being. "Exercising continued caution around Covid transmission pushes us to share what we do and believe in on a larger scale, reaching more people, at a lower environmental footprint, through the magic of video and online gatherings."
Past hosts are already submitting videos of their yards, which will be uploaded to the new Sustainable Backyard Network YouTube channel for release beginning July 11, this year's official tour date. Usually held on a Sunday in June, this year's date is a bit later to allow time for host yards to bloom and look their best for the camera. "Usually, July is too hot to have an outdoor event. But this year, the date is pretty much irrelevant," says Winkelmann. "And the best part? We won't be asking anyone to drive anywhere. Staying home means everyone will be able to see every single yard without burning any fossil fuels."
In addition to this year's virtual tour, the Sustainable Backyard Network provides eco-minded St. Louisans with opportunities to connect throughout the year. The Media Review club is an online gathering where participants share inspiring books, articles, videos, and more, while chatting about sustainable living. The conversations, moderated by Network leaders Suzanne Carron and Patty Carleton, meet the third Thursday of every month at 6:00 p.m. via Zoom.
On the second Tuesday of each month at 7 p.m., longtime Network organizers Francine Case and Toni Easter facilitate Green Drinks, a recently converted-to-online social gathering. There are Green Drinks around the world (www.greendrinks.org) providing folks of diverse environmental backgrounds and interest with a chance to meet and mingle via Zoom.
Everyone is welcome to join the Zoom gatherings and subscribe to the monthly newsletter by visiting the website www.sustainablebackyard.org.
The Sustainable Backyard Network is a 501(c)(3) non-for-profit dedicated to growing a healthier, greener world starting in our own backyards. Support comes from the William A. Kerr Foundation, Greenscape Gardens, Cackle Hatchery, the St. Louis-Jefferson Solid Waste Management District, and the Missouri Department of Natural Resources, among others.
---
Central Paper Stock Sees a Bright Future for Recycling as the Economy Begins to Improve
Central Paper Stock celebrates our 75th anniversary in the recycling business this year. Locally owned and operated, we purchase scrap paper and plastics from municipalities, commercial, and industrial accounts. Specializing in post-consumer papers, paper from printers, corrugated boxes, newspapers, and industrial plastics. Other items purchased include rolls of paper, obsolete literature, hard and soft cover books. Product and document destruction is also available.
Central Paper Stock sells their scrap throughout the Midwest and exports paper and plastics in overseas containers. Many long-term customers have partnered with Central Paper Stock for 15 to 50 years. We operate a 100,000 square foot warehouse in St. Louis, by Lambert Airport. There are three auto-tie balers, a plastic granulator, grinder, and sorting equipment. Central Paper Stock is large enough to handle large accounts, but small enough to provide personalized service.
Recycling markets have been at historic lows for the last few years, but recyclers with long-term relationships have continued to sell their products. The demand is improving steadily for clean plastics and papers that are separated at the source. Central Paper is always looking for new sources of clean scrap paper and plastics for our customers. Prices for scrap materials are also slowly improving.
We see a bright future for recycling as the economy begins to improve. The supply of scrap paper and plastic has diminished since many recycling centers have gone out of business and companies that generated large amounts of corrugated like Sears are no longer in business. This shortage of scrap will help push prices up over time.
However, some grades of plastic and paper that are heavily contaminated are not cost effective to process and have a low market value, and this may be the case for years. Certain grades such as post-consumer, commingled plastics will continue to be hard to move until China starts buying again from the United States, or technology improves to efficiently separate the various grades of plastic. There are also more waste-to-energy options becoming available, but usually with a cost associated with it.
---
Starting with the Small Pieces, Refab Builds With Reclaimed Wood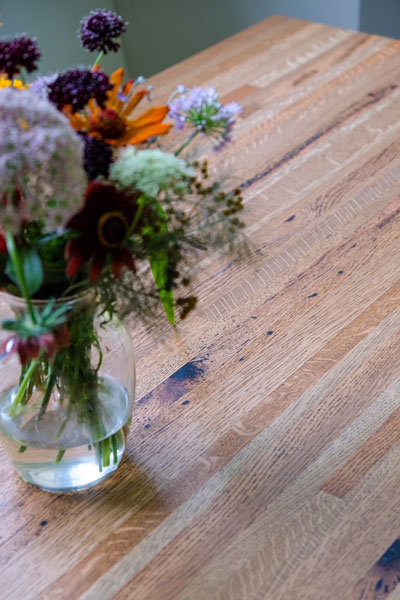 As the local building deconstruction folks, we salvage a lot of old wood from houses, barns, and commercial buildings. We also do a pretty decent job of selling all of that reclaimed lumber to fund our mission. But, we had a real problem with reclaimed 2x4s. All of the bigger timber, the joists, rafters, posts, and beams made their way into the hands of local craftspeople and hobbyists, but the good old yellow pine and oak studs from those century homes and barns just piled up. Talking to fellow deconstruction professionals in other cities, one of the questions that no one seemed to have an answer to was what to do with all of the 2x4s. Chip them? Burn them? Pitch them?
Here at Refab, we always feel like we have something to prove. So, when we decided that it was time to put together a workshop, which we call Refab Lab, and start experimenting with some of the amazing reclaimed wood that we had been salvaging and selling for years, we thought what better stock to start with than those darn 2x4s. The products that resulted from experimenting with those modest members have become two of our best sellers.
That's right, we got two products out of each "useless" 2×4. We used the broad side of each stud with its rough-sawn patina to make feature wall paneling and the thicker center cut that remained to make butcher block (pictured in oak). There was a tried and true method for making feature wall paneling from all of the bigger timber, we were just making narrower strips of it. The real challenge, and greatest reward, came in making butcher with the freshly-cut insides of those 2x4s.
The butcher block that we developed has become our flagship product, and the product that set us apart from other makers. It is a unique take on a classic wood product that was born out of a desire to waste less, first. It certainty was not the easiest way to start making reclaimed wood products, but our creative approach is paying off. This month we will run out of 2x4s and be looking to get more in soon.
If you are interested in getting a quote for a custom reclaimed wood creation, or just want to learn more about our approach to recycling, please visit www.refabstl.org.
---