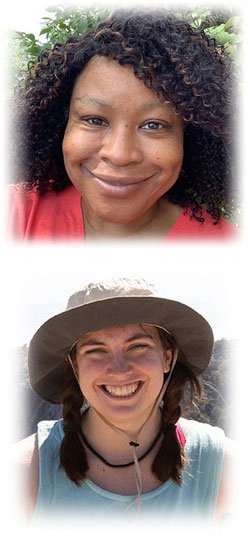 By Stacey "Parker" Parker, Missouri Green Schools AmeriCorps VISTA & Sierra Shields, Missouri Green Schools AmeriCorps VISTA
Educating the next generation on sustainable practices is one of the most important efforts we can make to ensure the future of our planet. Missouri Green Schools (missourigreenschools.org), a new tracking and recognition program for PreK-12 schools across the state, supports schools on their journey to advance sustainability within their schools and respective communities. The program initially launched with the sole purpose of facilitating the U.S Department of Education Green Ribbon Schools recognition program in the state of Missouri in partnership with the Missouri Department of Elementary and Secondary Education. As of this year, the scope has expanded to include state-level recognition while keeping the program free for all schools. This expansion will allow the program to recognize the green efforts of a wider range of schools across the state.
While the program's scope and reach have expanded, it continues to be guided by the U.S. Department of Education's Green Ribbon Schools pillars: 1) reducing environmental impact and costs; 2) improving schools' overall health and wellness; and 3) providing environmental and sustainability education. Holistic in nature, Missouri Green Schools emphasizes the need for schools to take a multifaceted approach in order to make lasting sustainable changes. These changes can happen throughout educational programming, school buildings and grounds, and school culture. Co-managed by the Missouri Environmental Education Association and the U.S. Green Building Council – Missouri Gateway Chapter, Missouri Green Schools provides resources for schools to set, track, and support the attainment of goals across the three pillars while recognizing their accomplishments at varying levels. Mary Institute and Country Day School, Sunrise R-IX School in DeSoto, Missouri, and Parkway School District are among the honorees that have demonstrated commitment to sustainable change, going above and beyond in all three pillars. They were named as 2020 Honorees for the U.S. Department of Education Green Ribbon Schools Award due to this excellence in sustainable practices.
Missouri Green Schools wants every student across the state to have an equitable education in a healthy environment. Therefore, schools with at least 60 percent of the student body receiving free or reduced lunch are eligible for additional support resources. Those resources include one-on-one support through the AmeriCorps VISTA program and grant funds. All schools will have access to the resources and services provided by the program's partners which are part of an ever-expanding network throughout the state.
There are still openings for schools to participate in the 2020-2021 pilot year of Missouri Green Schools. Pilot schools will use new Sustainability Tracking and Roadmap Tool (START) to track their green efforts and receive recognition for different levels of achievement. If you would like more details on what this process looks like, you can visit the Participate page at MissouriGreenSchools.org. If you are interested in enrolling your school or joining our partner network, contact us directly at mgs@meea.org.
We are grateful to continue this work due to the support of our partners: Missouri Department of Elementary and Secondary Education, Corporation for National and Community Service (AmeriCorps VISTA), Missouri Foundation for Health, Gateway Greening, and Missouri Botanical Garden.