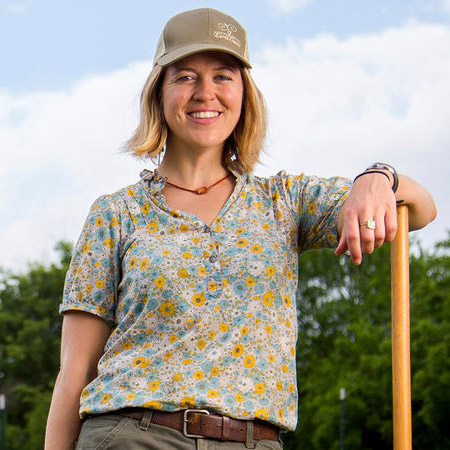 By Molly Rockamann
"Essential" – that's what grocery store workers, healthcare personnel, truck drivers, and farmers have been classified during the pandemic of 2020. People want to keep their immune systems strong and local farmers have the medicine: local, fresh, nutrient-dense food, grown in living soil.
When the dangers of COVID-19 demanded the closure of schools and businesses this spring, and people faced unprecedented fears for their safety and livelihoods, the need was clear. Our team at EarthDance set out to meet the challenge of quickly getting our immune-boosting food into the hands of those most in need. In response to COVID-19, we began a new model of food distribution based on economic solidarity, offering shares of vegetables on a Pay-What-You-Can basis. Thus far, 260+ families have been served by this initiative, 45% of whom received free or reduced-price produce. In addition, we are sharing the harvest with organizations who are on the frontlines of feeding the most vulnerable in the St. Louis community. Thus far, EarthDance has donated over 1360 pounds of produce to partners like the Blessed Teresa of Calcutta food pantry in Ferguson, and Kingshighway Baptist Church food pantry in St. Louis.
This spring, the 12th season of the EarthDance Farm & Garden Apprenticeship program began virtually. By mid-June, we chose to welcome small, distanced groups of apprentices onto the farm to join us for much smaller-than-usual farm and garden shifts. Our Tuesday night classes geared towards beginning farmers and gardeners have been happening online (via Zoom) each week. Cooking classes for Junior Farm Crew teens and Wednesday workshops have taken place online as well.
As the pandemic continues on, we remain committed to making healthy food – such as our certified organic, nutrient-dense, hyper-locally-grown in living soil, fruits and vegetables – more accessible to all of our community members. In addition to the Pay-What-You-Can veggie share option, and donating to area food pantries, we are also proud to share that we now accept SNAP/EBT benefits at our booth at the Ferguson Farmers Market.
With the additional spotlights that have been shed on police brutality against black Americans this Spring and Summer, we as a team at EarthDance have also been called to examine our relationship to systemic racism, and how we have benefited from and/or continued to perpetrate violence and racism against people of color in this country. We are looking at how to create the changes we want to seek, starting from within ourselves and our organization, to build a culture of equity.
Agriculture is a sector in which aggression and oppression against BIPOC are easily seen – from the theft of indigenous land, to the enslavement of Africans, to the majority of farm work and meat processing in this country being carried out by underpaid Latinx and people of color even to this day. The only way to create a truly regenerative food system that is equitable for all – and that includes eaters, farmers, and nature — is to include social justice in our definition of 'sustainable agriculture.' 
We have a lot of work to do to repair our relationships to the land and each other. If you'd like to join us in this movement, I invite you to consider becoming a 'Farmhand' at EarthDance. Farmhands are monthly contributors who help us not only sustain our organic farm school, but also enable us to work with community members to develop additional solutions to meet their needs. Together we can create a food system that benefits and nourishes everyone.
For more information please visit online at www.earthdancefarms.org.