Due to the Covid-19 pandemic, we had to cancel our traditional Natural Living Expo on September 27, 2020. We are now bringing you many of your favorite exhibitors and some exciting new participants, virtually, for you to browse and discover the many resources that will help you live a healthier and more sustainable life. At each booth you will find a live link to a website or even a video presentation. Enjoy this very special Natural Living Expo absolutely FREE from the comfort of your home or office. While you are on our website, make sure you sign up for a free online subscription and become eligible for a trip to Trout Lodge YMCA of the Ozarks or Free Missouri Botanical Garden passes. During these difficult times, we hope you will all stay safe, wear your mask and continue to read The Healthy Planet magazine!
— J.B. Lester & The Expo Staff

---
Booth # 1: Vitality Unlimited Spa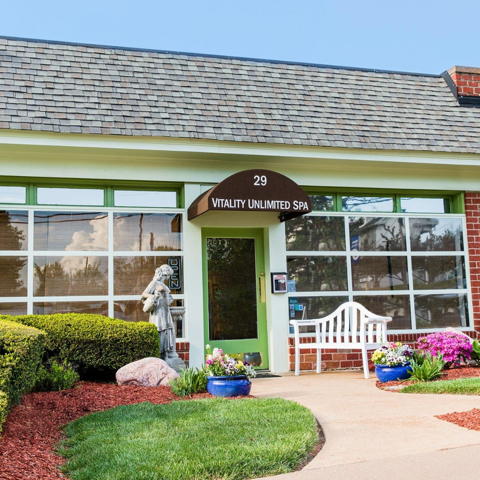 Where Your Well-being is Our First Concern
For more than 25 years, Vitality Unlimited Spa has offered the highest quality massage therapy, skin care, hair removal, and nail services.
We are a holistic day spa located in the heart of Historic Webster Groves. Stressed minds, bodies, and spirits are soothed, centered, and nourished in our warm, friendly, and relaxing sanctuary. We use and sell all-natural and chemical-free products that are good for both you and the environment.
Our team genuinely cares about you and is dedicated to delivering services that leave you feeling calm, balanced, and at peace. It is our mission to provide a safe and comfortable environment where you can benefit from the connection achieved by combining physical and mental relaxation with spiritual rejuvenation.
We offer a wide range of spa services, including:
Massage Therapy: Whether you need to relax, relieve pain, or release tension, we have a variety of massage modalities to fit your individual needs and concerns. Our specialties include Swedish, Deep Tissue, Reflexology, Prenatal, and Sports Massage.
Skin Care: We use all-natural products in our facials that are gentle enough to benefit even the most sensitive skin. We offer specialty facials that address a broad range of skin types and have advanced skin care services, including Enzyme Peels, Microdermabrasion, Dermaplaning, and Oxygen Therapy.
Nail Services: Our nail services not only make your nails look amazing, but help your hands and feet stay healthy. We have multiple types of Manicures and Pedicures available, including our popular OPI GelColor Manicure.
Hair Removal & Tinting: We offer waxing hair removal treatments and lash & brow tinting to help you look and feel your best!
Come in for an hour or stay for the day to relax, refresh, and renew. Call us at 314.968.1808 or visit our website at vitalityunlimitedspa.com to learn more about us and schedule an appointment online.
---
Booth #2: Great Rivers Greenway
Creating Network of Healthy Habitats
Our mission is to make the St. Louis region a more vibrant place to live, work and play by developing a regional network of greenways.
We are a public agency, created by a vote of the people in St. Louis City, St. Louis County and St. Charles County in the year 2000 to create a dedicated sales tax. Those funds allow us to collaborate with partners and communities to build, care for and bring to life your network of greenways, creating healthy habitats along the way. It's an honor to deliver on the community's vision for a vibrant, connected region.
Great Rivers Greenway is governed by a 12-member appointed Board of Directors, led by a staff of 26 people, works with 265+ partners and is accountable to the taxpayers through annual reports, collaborative regional plans every five years and ongoing community engagement.
About our Conservation Work:
To sustain our region, we must protect and enhance our natural resources and the watersheds that surround them. We do our part to improve quality of life for all by taking care of our region's watersheds in three ways:
Plan and Build
Greenways in the right spots
Assess and improve habitats
Support regional watershed planning efforts
Stormwater management techniques like rain gardens
Restore and Create
Partner programs that restore habitat
Replacing plants that don't belong with native grasses, shrubs and trees
Trash and debris pickup after storms or floods
Engage and Give Back
Engaging people to learn about, care for and take ownership over our region's resources
Events and programs to get individuals and groups out to volunteer
Opportunities to donate, leave a legacy
We miss getting to talk to you at community events. Connect with us anytime! info@grgstl.org or 314-436-7009, www.greatriversgreenway.org
---
Booth #3: Nourishing Fundamentals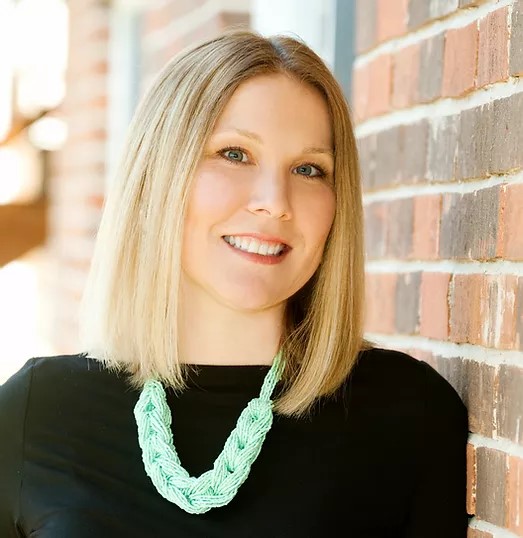 Jump Start Your Health Journey
Amanda Dane believes that eating real food is critical for optimal health.
Amanda became passionate about nutrition and working with clients to improve their health after discovering that her own stubborn symptoms disappeared with diet changes. This led Amanda to open her practice and help others stop feeling hopeless and helpless and instead feel empowered to make changes that are both lasting and impactful.
She helps clients balance their blood sugar for weight loss and overall health and wellness. As a Nutrition Therapy Practitioner Amanda customizes her approach for each individual client. One-on-One Coaching is the perfect way to achieve health goals at a pace that's comfortable for you.
In addition to one-on-one coaching, she is a Certified 21-Day Sugar Detox Coach. She offers the 21-Day Sugar Detox as a Group Program multiple times throughout the year or as a one-on-one coaching experience. This real-food based program allows people to get to the bottom of underlying symptoms, improve their sleep, and strengthen their immune systems, and of course eliminate cravings, in just three short weeks. This program is a great way to jump start your health journey and can be a stand-alone program or in addition to your one-on-one coaching program.
Amanda is also passionate about educating her clients about reducing their toxic load by swapping every day products for safer alternatives. Using safer products means you avoid harmful chemicals that are known endocrine disrupters, linked to cancer, infertility, birth defects, and more.
Amanda believes that learning about your unique body is the biggest gift you attain through her programs. Learning to advocate for yourself in the health and wellness space is the next.
There is truly no better time than now to focus on your health.
You can find Amanda Dane at www.nourishingfundamentals.com or follow her on social media @nourishingfundamentals. She is also a member of the Missouri Nutrition Alliance; a nonprofit organization helping to build healthier communities and positively impact cultural changes toward healthier lifestyles.
---
Booth #4: Young Living Essential Oils For Health & Wellness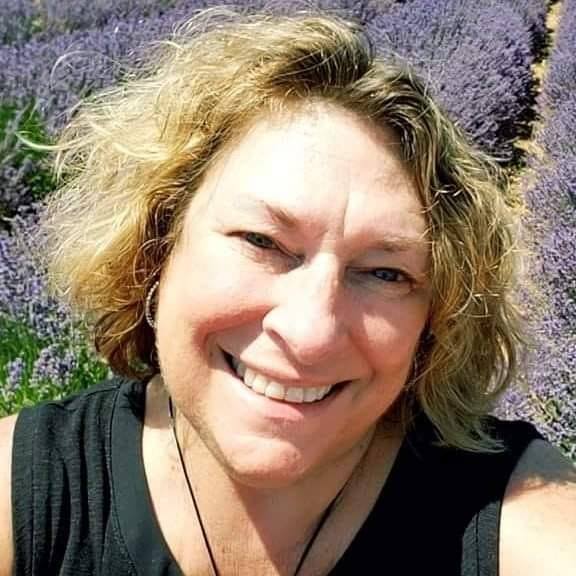 Interested in a Healthy Holistic Lifestyle and Environment?
I am Sandy a Vibrational Sound Therapist, Yoga Instructor, Nutritional and Essential Oil enthusiast, and coach.
I am so excited to share what I know about living a truly healthy lifestyle that will allow you vitality and youthful appearance. Bringing toxin-free, botanical based, organic personal care, wholefood supplements, Superfood Infusion, and the finest (COVID approved)cleaning products into your life are essential to a healthy home and Vitality. Products that enhance your appearance, provide emotional and relief for physical balance.
I personally beat a very serious health condition without radiation, chemo or surgery by replacing so-called "Green" and unhealthy products with Young Living Essential oils, Products, Supplements, and CBD. Products for every area of your life. Products you can trust at price you can afford.
Please visit me and let's talk about Health and Wellness! You can find me at www.SandraRausch.com or phone or text me at 618-304-2466.
Sandy Rausch, Young Living Essential Oils
---
Booth #5: CaptionCall provides a no-cost phone for hearing-impaired individuals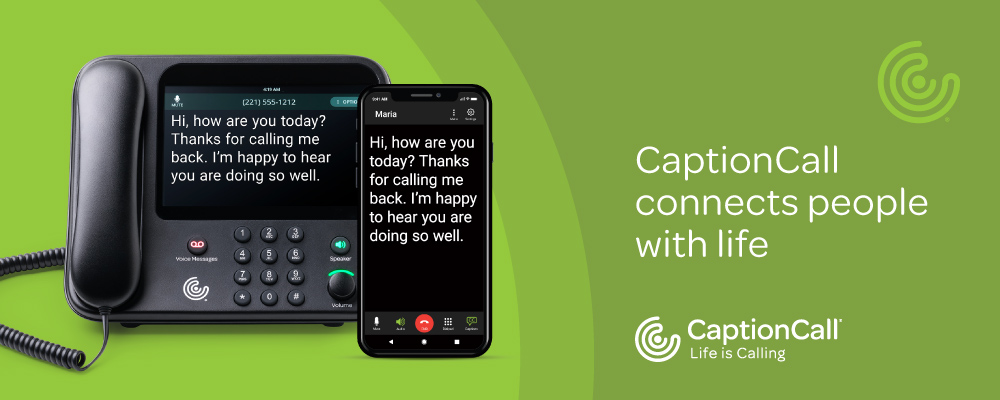 Many seniors, veterans, and others experience difficulty hearing on the phone, and CaptionCall provides a no-cost solution for that challenge.
With everything happening right now with the COVID19 virus and lock down protocols, we realize how important it is for anyone with hearing loss to stay in contact with family and friends—and have reliable access to emergency services. CaptionCall ensures accurate communication and the ability to save important captioned calls (i.e. doctor appointments, lab results, names, phone numbers, addresses). In the month of March, 2020 the volume of phone calls being captioned by CaptionCall increased 30%, and call length doubled or in many cases, tripled. This underscores the importance of communication and the CaptionCall solution for those with hearing loss.
There is no cost for the phone, red carpet installation or the ongoing captioning service. The program is made possible by the American with Disabilities Act and is regulated by the Federal Communications Commission (FCC). The minimal taxes Americans pay on phone bills goes towards this fund that helps provide the captioning service.
It's no wonder, over 12,000 hearing care providers recommend the CaptionCall phone to their patients with hearing loss. But now more than ever before, CaptionCall meets a very real need for all people practicing social distancing and seniors who are living under stay-at-home orders. To learn more about CaptionCall or to request your no-cost captioning phone, go to www.captioncall.com or call Cheryl Green in your local area at 314-332-0661.
Click here to download the 1-minute video we call CaptionCall's Response to the Covid19 Pandemic.
Here also is a 3-minute video on how CaptionCall works:
---
Booth #6: Missouri Department Of Conservation Autumn Adventures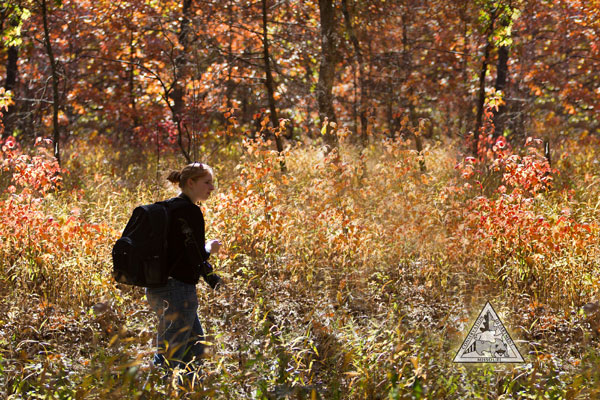 Some would say that Nature saves its best for the second half of the year. The cooler and comfortable temperatures of autumn bring amazing color to Missouri's forests and prairies. And winter's stark beauty brushed with a dusting of frost or snow is worth bundling up for. The Missouri Department of Conservation invites you to explore it all by going on a hike!
MDC has around 1,000 conservation areas and state forests throughout the Show-Me-State, so there's certain to be one near you. Or perhaps there's one somewhere else in Missouri you want to explore. Many have excellent hiking trails for you to enjoy.
Hiking is a great way to get up close with nature any time of year. You feel a real connection to the land when it's directly beneath your feet. The only thing between you is a pair of hiking boots. Soak up the fresh air and gentle breezes. Smell the damp wood and feel the complex textures of bark with your fingertips. Experience autumn's colorful splendor. Listen for the delicate droplets of melting ice. It's an elixir for the mind, body and soul.
The uneven terrain of paths that wind up, down, and sideways, work a variety muscle groups and help with overall balance–boosting the energy you use by 28 percent compared to walking on flat surfaces. Hikers report benefits like weight loss, stress relief, better sleep, and more positive thoughts.
Not bad for something that costs practically nothing. Just be sure to dress for the weather. Bringing multiple layers of clothing allows you to add and shed as you warm up or temperatures cool. Don't forget gloves and a head covering.
To find your next trail, go to https://short.mdc.mo.gov/Znb and explore the MDC online atlas. It also has places to fish, camp, bike, hunt, birdwatch, float, and more outdoor activities. You might just find this time of year to be Nature's "better half" too!
The Missouri Department of Conservation protects and manages our state's fish, forests and wildlife. We also help Missourians learn about and enjoy those outdoor resources. Discover nature with us at MDC.mo.gov.
---
Booth #7: Try These 8 Natural Health Laws To Boost Your Immune System Against Covid-19 and other Illnesses
Start by remembering the acronym NEWSTART (These 8 Natural laws are not intended to treat or cure. Please consult your doctor before making major changes in lifestyle.)
Nutrition-Tip: Eat 5 to 10 servings of fruits and vegetables every day. ½ cup is a serving or a medium piece of fruit.
Exercise-Tip: Stand instead of sitting. Move more often. Get your heart rate up while exercising.
Water-Tip: Drink 1 ounce of pure water for every 2 pounds of weight. Take cold showers for an energy boost.
Sunshine-Tip: Let the sun shine on you in the early morning and late afternoon
Temperance-tip: Make healthy choices. Example–don't smoke or drink alcohol.
Air-tip: Take deep breaths often and walk in forests for fresh air.
Rest-Tip: Skip the electronic entertainment and skip off to bed early.
Trust-Tip: Pray daily to our Loving Creator God.
Learn much more about these Amazing Natural Laws by requesting a FREE copy of "Amazing Health!", a beautifully illustrated magazine that shares detailed evidence supporting the "8 Bible Secrets for a Longer and Stronger Life ". Simply request your FREE copy at: westcountyhealthexpo@gmail.com
Enjoy this delicious healthy No Cook Blender soup recipe:
Mango Coconut Cold Soup
4 cups chopped mango 2 cups coconut milk
1 cup orange juice 1 Tbsp sweetener of your choice
2 Tbsp. lime juice 2 tsp grated fresh ginger
---
Booth #8: Waldorf School of St. Louis Outdoor Learning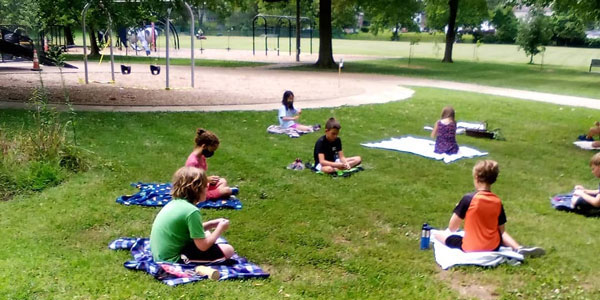 At the Waldorf School of St. Louis, learning in nature has been part of our curriculum for more than 25 years.
Now more than ever, the outdoor learning spaces on our campus are an extension of the classroom. Tents are up and chalkboards are out! Our faculty and staff worked hard preparing our outdoor learning spaces to welcome our students back.
To learn more about The Waldorf School of St. Louis, visit our website waldorfstl.org.
---
Booth #9: Advanced Laser Therapy & Wellness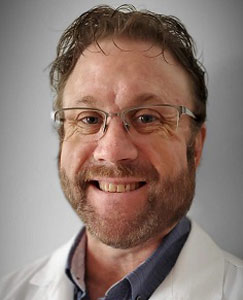 Dr. Brian Harasha of Advanced Laser Therapy and Wellness offers unique solutions to your health problems.
He is one of the only certified Laser Therapists in the St. Louis area with extensive training and uses the most sophisticated laser device available in the US. Laser therapy promotes healing in many ways, including the reduction of swelling, resolution of inflammation, improved blood flow and oxygenation, reduced scar tissue and tissue remodeling. He achieves amazing results with tendinitis, arthritis, bursitis, plantar fasciitis, fractures, rotator cuff injuries, spinal stenosis, sciatica, lymphedema, and even traumatic brain injury and neurodegenerative conditions.
In addition to Laser Therapy, he also offers acupuncture, chiropractic and functional medicine. He utilizes meridian style acupuncture including Taoist methods, Dr. Tan's method and even the latest in computerized meridian balancing. In terms of chiropractic he utilizes an indicator based system of Sacro-Occipital-Technique (SOT©) to balance the body. These lead to clearly defined treatment plans that provide results in 8-12 visits. His functional medicine program is an online program designed for intense personal interaction and follow-through.
Patients share that Dr. Harasha really cares and offers a unique opportunity for individualized care with patient to doctor time double to triple what they have received elsewhere. Dr. Harasha is also very connected to attorneys, medical doctors, surgeons, imaging centers, and physical therapists to refer out co-treat when needed. The central location near Brentwood and Manchester, evening hours, and zero to very short wait times are very convenient. This entire approach leads to quicker and better outcomes and higher patient satisfaction.
https://www.advancedlasertherapyandwellness.com/videotour
---
Booth #10: Gateway Center For Performing Arts
Gateway Center For Performing Arts is a nonprofit arts education organization located conveniently in Webster Groves, bringing an awesome Fall and Spring lineup of classes.
Our classes cater to Ages 3-Adult, running weekly with many great options for fine arts experience such as multiple techniques of Dance, Group Voice, Acting for Film, Improv, Musical Theatre Performance, Audition Prep, and more!
We have full group classes as well as a Pod Class option, where students can get together two to six of their closest friends and have a private group class! We have also introduced an improved leveling system this year! For placement and more information regarding classes and Pods, visit our website!
Come see why everyone is talking about being a part of the GCPA family! Our classes span a wide range of options for students of all ages from toddlers through adults. Whether you are just beginning your journey as a performing arts lover or whether you are hooked for life and can't get enough, GCPA has something for you!
---
Booth #11: Share International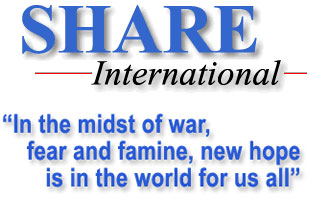 Share International is a world wide organization of volunteers working in cooperation with each other to herald the emergence of Maitreya, the World Teacher for this new age of Aquarius.
Maitreya comes at this unprecedented and crucial time as The Water Carrier to aid humanity in coming to grips with the new energies of the time that are across the board, driving the changes in all our human and world structures.
These energies of synthesis and cooperation are causing outworn attitudes and institutions to crumble as in a torrent of floodwaters, making it difficult to navigate the new time, for we have not yet built adequate structures that fit the longings felt by the ever increasing masses of people. Those not yet responsive are full of fear and cling to the failing norms of the past. They build dams and levies to try and keep the waters of the new time at bay, but these only make for greater catastrophic deluge when they finally break and are washed away.
The Teacher, Maitreya comes in love to encourage and help us see the way forward through the fogs of break down, wreckage and reformation. His teaching, "share to save the planet," sets us on the path of creating justice. For without justice there cannot be peace, without peace there is not the where-with-all to cooperate in instituting and organizing the needed changes of the ways we, humanity, live on the planet so that rather than destroying our environment, we care for it and each other as we would do for our most loved ones.
It is by sharing that we demonstrate our care for each other and build the trusting relationships that are capable of engendering the acts that will save ourselves and our planet. If there is not adequate sharing there will not be adequate justice. Without justice there will not be peace, without out peace there is no cooperation to solve the problems of the world.
Our mission at Share International is to relay this information as broadly as we can to whomever will lend an ear and seek the vision.
There is much more to our story. Go to our website www.share-international.us or www.share-international.us/sw/ to learn more and to find out how you can involve yourself in this wondrous time of change and renewal.
---
Booth #12: Creativity For The Soul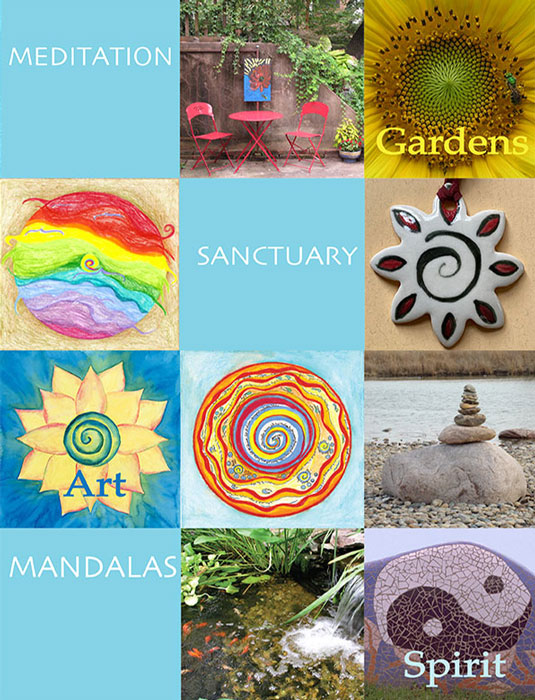 To Inspire, Transform & Heal
Linda Wiggen Kraft is an artist (mandalas, art journaling, photography, pottery), creativity teacher, garden designer & garden writer. Her work centers around enhancing body, mind, heart and soul through art, gardens and creativity classes. Her unique and easily learned ways of awakening and expressing deep creativity have inspired hundreds in her classes and workshops.
Her workshops include Mandalas, Meditation & Journaling, A Sacred Circle of Creativity, Entering the Sacred through Images & Words, Learning to See Creator in Creation through Drawing & Sketching and Creating a Garden for Your Soul. Her love of nature, soil and earth is the inspiration for Linda's garden design business, garden writing, photography and pottery making. In her garden design business (Creveling Gardens), Linda designs gardens & landscapes for homes, businesses, schools, public spaces and places of worship.
She writes a monthly gardening column for The Healthy Planet in St. Louis. Her garden work has been featured in Better Homes and Garden Publications, Organic Gardening, AT HOME St. Louis Magazine, St. Louis Home and Lifestyle and the St. Louis Post Dispatch. Linda's Flower Mandala photo prints are permanently displayed in healing spaces of medical buildings and hospitals where evidence based design has demonstrated that images of nature help in the healing process. These photos are available for sale in small and large sizes.
Linda can be contacted at: CreativityForTheSoul@gmail.com or see her work at www.creativityforthesoul.com/blog.
---
Booth #13: The EarthWays Center IS Sustainability!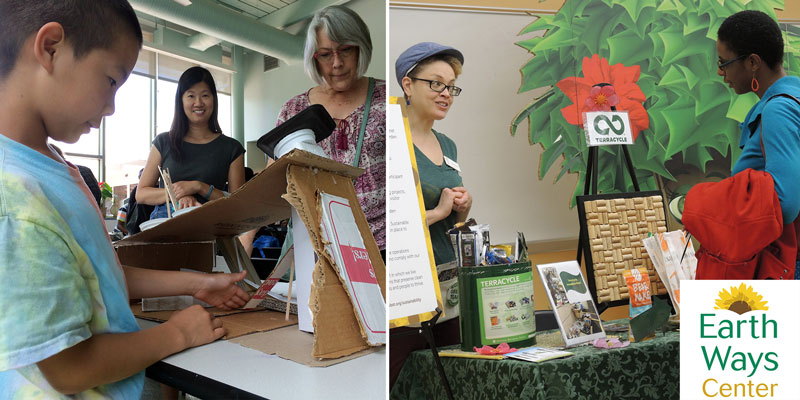 EarthWays is the division of the Missouri Botanical Garden devoted to conservation of energy and other natural resources for the future, otherwise known as "sustainability." EarthWays enriches lives and protects plants and our environment by educating and connecting people to practical sustainable solutions where we live, learn, work, and play. EarthWays provides programs for K-12 students and educators, professionals, individuals and families, universities and colleges, businesses and local community leaders to advance sustainability in the region.
Programs provide technical and quality assurance management of local, regional and state energy efficiency and stormwater management initiatives for utility companies and governments. The annual Green Living Festival connects people with green living experts through workshops, exhibitor / vendor interactions, and more. EarthWays is the Garden division most involved in working out in the community, and as such understand the profound impact of Covid-19 on our region at this time. EarthWays has more than 30 programs helping businesses, individuals, families and municipalities in their sustainable efforts.
EarthWays Center staffs the Garden's Green Resources Info Service, a trusted source for individuals and groups seeking to live a more sustainable and resilient lifestyle. Green Resources delivers community presentations and personal answers to your green-living questions. Our experts are at your service! Reach out today via greenresources@mobot.org or call (314) 577-0246.
To learn more about EarthWays Center programs and projects visit: www.mobot.org/sustainability and to stay current Like and follow them on Facebook: www.facebook.com/EarthWaysCenter.
---
Booth #14 – ECO PAPER ARTS
Helping Creatives Help the Planet
Want to make arts and crafts with greener materials? Check us out!
We are Julie and Tara, moms, friends, and lifelong creatives in Springfield, Illinois who look for craft and art supplies that are more eco-friendly so we can make art and feel good about it.
We've found supplies in America and Europe and keep looking for new ones. We searched and researched, talked to companies, read product specifications, and tested products in our homes.
That's how Eco Paper Arts was born.
We look for at least one of the following criteria in products: recycled components, recyclable packaging, FSC-certification, made from a green manufacturer, made with green processes, biodegradable, or nontoxic components.
Our products include:
Scrapbooking: FSC certified, recycled, soy ink papers and mini albums from recycled paper (like the dog bone album pictured)
Cardmaking: birch or hemp cards/envelopes
Stamping: photopolymer or recycled wood/natural rubber stamps and inks from a green manufacturer
Stencils: recycled chipboard stencils that can be re-used as embellishments
Paints: hemp oil-based paints made of 80% natural ingredients
Great for Kids: colored pencils made from recycled wood and seed paper — colored craft paper made from recycled paper and flower seeds (plant it and they grow!)
Here's our latest video on how to use our stencils/paints. Enjoy!
FREE TO EARTH FAIR VISITORS – when you place an online order, get a kit to make a bookmark with our beautiful seed paper, made with recycled paper and real seeds. Plant it and they'll grow! Email us at ecopaperarts@gmail.com to get the free kit.
ecopaperarts.com
---
Booth #15: Edg-Clif Vineyard, Winery and Brewery
Edg-Clif Vineyard, Winery and Brewery invites you to see their beautiful farm and experience a day at the winery.
Edg-Clif Vineyard, Winery and Brewery invites you to see their beautiful farm and experience a day at the winery. In 2020 we are all challenged by the shut downs, but even more so in agribusiness. Edg-Clif Winery continues to manage their vineyards with meticulous care and produce amazing wines including two new ones being introduced in 2020. Call 573-438-4741 to order and arrange to pick up your wines, stop by for socially distanced wine tasting with the owners or bring your picnic and relax in the vineyards at our outdoor seating with our handcrafted wines and beers. This charming country property also boasts 3 Airbnb's (search Airbnb/Potosi, MO) all vintage farm houses rehabbed for comfort and charm. The vacation rentals are listed as Vineyard Cottage, Clover Cottage and Stone Cottage. In 2020 they will be opening their 4th Airbnb, York House. Visit www.edg-cliff.com to learn more about Edg-Clif and experience a bottling day at the winery.
Take a virtual tour of Edg-Clif Vineyard, Winery and Brewery at https://youtu.be/TRWnDwidFwA
---
Booth #16: Forrest Keeling is "Restoring Earth's Ecosystems One Tree At A Time"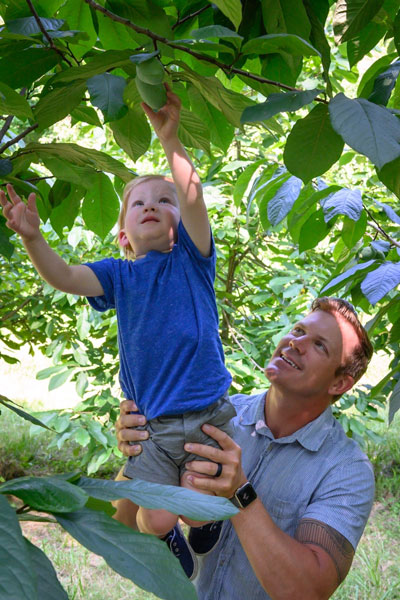 Forrest Keeling is more than a nursery.
It's a visionary team making a difference every day for the environment and people. Native is our brand. And, we grow the best native plants on the market. The result of seven decades of research and commitment.
As resilient as our native plants, we've grown through our years. From humble beginnings, we continue to meet challenges along the way. Today, Forrest Keeling's production is robust. Each year we grow over 1.5 million plants: seedlings, liners and container stock. We specialize in RPM-produced native plants and offer 380 different species. This includes 273 trees and shrubs species and 107 perennials. Finished stock includes caliper trees up to three inches in diameter.
We ship wholesale orders from our nursery to 49 states. We also ship across borders to Canada and countries of Europe and Asia. We've built our brand on the vision to be part of global environmental and economic solutions. Our corporate mission states this vision. Forrest Keeling is 'restoring earth's ecosystems one tree at a time'.
Learn more about Forrest Keeling and the RPM difference. Go to our website or visit our Elsberry headquarters.
Forrest Keeling Nursery… where the best trees begin.
ForrestKeelingNursery.com
Elsberry, Missouri
800-356-2401
---
Booth #17: Humane Society of Missouri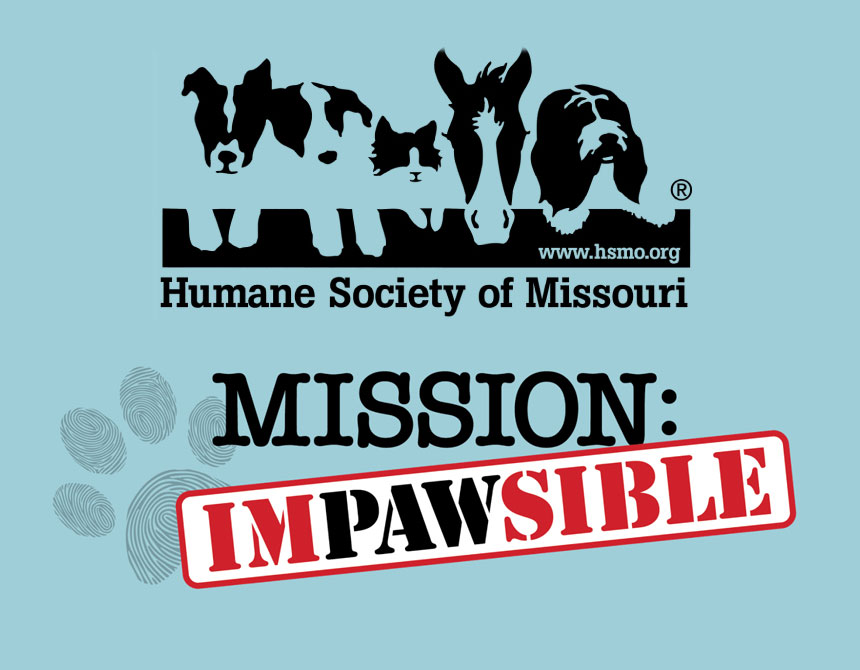 We Have a Mission for You!
Kids age five and up are invited to join the Humane Society of Missouri for an interactive, at-home adventure through ten exciting missions.
WHAT'S IN STORE? Your Mission: ImPAWsible activity kit comes with ten missions, official secret agent tools, and access to an online vault with bonus content! Each kit contains hours of fun for kids while also teaching important problem-solving skills and building compassion for animals.
HOW DO I GET STARTED? Kits are only $50 each and proceeds support the life-saving work of HSMO!
Visit www.hsmo.org/SecretAgent to get started! Looking for a fun at-home activity kit for kids? Get ready to solve puzzles, uncover clues, and make a PAWsitive difference for animals!
---
Booth #18: Irresistible Community Builders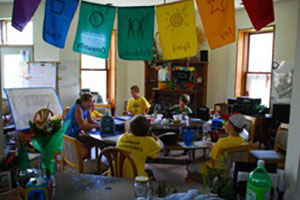 Does your lifestyle help reverse global warming?
Imagine living in a close-knit neighborhood, where you know all your neighbors, share common meals several times a week, use only renewable energy and grow most of your own food. At Irresistible Community Builders, we are building a network of Ecovillages where you can live &/or work in cooperation with your neighbors and in harmony with Nature, starting right here in the Heartland.
Our first Ecovillage, on Olive west of Saint Louis University, will include four zero carbon cohousing communities with units both for sale and for rent, a fleet of shared electric vehicles and several worker-owned businesses, some that provide goods and services to residents and the surrounding neighborhood and others that build and maintain the space.
We invite you to join us and become an Intrepid Pioneer of the Eco Frontier. The cavalry isn't coming to rescue us! It's up to us. We have everything we need to save civilization and the planet, but individually, we are insufficient to the task. It will take many of us, working together. Of course, eventually we will be looking for plenty of settlers to join us in living in these communities, so we would love to hear from you, as well.
Maybe you are saying, "I have something that I want to contribute to get this project to critical mass. Although I don't consider myself a Pioneer, I would like to be part of the crew that takes us to where no man, woman or Community has ever gone before. I am a burning soul when it comes to making a difference with the climate and the development of workable community, and I want to at least check this out."
Visit us at www.ArizmendiEcovillage.com or find us on Facebook.
Watch our interview:
---
Booth #19: Missouri Coalition For The Environment
Known & Grown STL, a program of the Missouri Coalition of the Environment, vets and promotes environmentally-responsible farmers within 150 miles of St. Louis. Our farmers are good stewards of our environment; they don't use any synthetic chemicals on their crops or pastures, they don't confine their livestock, they give animals access to pasture, and they work hard to improve soil health. The staff of Known & Grown visits each farmer, audits their practices, and tells their stories, making it easier for buyers (from individuals to retailers and restaurants) to purchase their food.
Globally, agriculture accounts for nearly a quarter of all anthropogenic (human-caused) greenhouse gas emissions. Locally, CAFOs (Concentrated Animal Feeding Operations or Factory Farms) endanger water supplies and threaten community health. Pesticides on conventionally-grown crops harm field workers and put pollinator species at risk. In addition to these stressors from factory farms, the Covid-19 crisis has highlighted how essential it is to nurture a healthy, robust, and resilient food system on a local scale to prevent shortages and provide employment within our communities.
Local, sustainable food has never been more important – and you can play a role in making our food system more resilient by supporting our farmers, one bunch of kale at a time.
Find farmers that use sustainable practices and learn how to buy their products on our website: knownandgrownstl.org. Follow us on Facebook and Instagram at @knownandgrownstl, and sign up for our newsletter to get updates on our farmers, local food news, and more: https://moenvironment.org/sign-up-for-known-grown-ealerts/
---
Booth #20: Perennial Artisan Ales
Perennial Artisan Ales is a microbrewery and tasting room, established in 2011. Our philosophy is to brew beer with the adventurous craft beer drinker in mind — focusing on hand-crafted, small batches of beer, using local, seasonal and organic ingredients as much as possible.
Our beers are influenced mostly by Belgian and American craft styles, but the addition of premium ingredients such as fruits, spices or wild yeast strains sometimes causes the beers to defy traditional categories. Our barrel aging program features a wide variety of beers aged in wine and spirits barrels, ranging from a Rye barrel-aged Mexican Chocolate Stout to a wild yeast-fermented Saison aged on Missouri wine grapes in French oak wine barrels. We strive to always achieve balance with each of our recipes, making our beers exceptional with food.
We are currently selling to-go beer through contactless curbside pick-up, Wednesday through Sunday. Cans and bottles can be purchased at Perennialbeer.square.site and picked up at our brewery (8125 Michigan Ave, St. Louis, MO 63111).
---
Booth #21: ProActive Chiropractic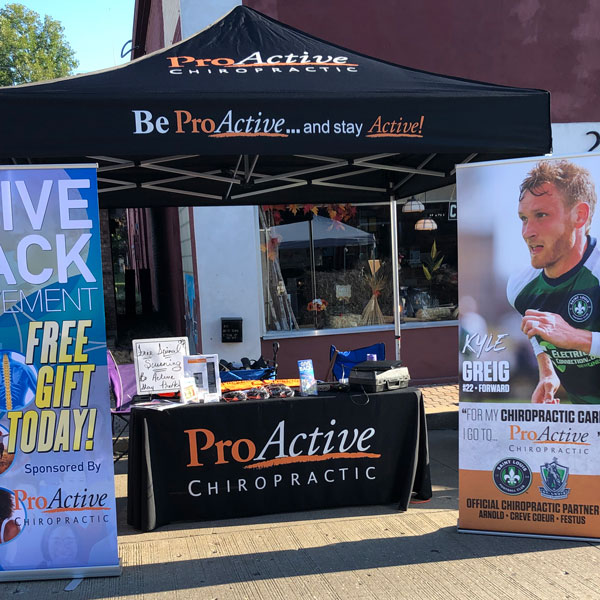 ProActive Chiropractic (www.proactive-chiropractic.com) has 3 locations in order to serve you and your family's health needs. This year marks the 18th Anniversary of ProActive Chiropractic. We are proud of our doctors and team members who are committed to making our patients comfortable and helping them meet their individual health goals. We utilize multiple adjusting techniques customized to each patient's needs.
Chiropractic is a natural drug-free health profession focusing on the nervous system. Our doctors will find areas of interference in the nervous system, identify the misalignments, and work to correct them. The care we provide is PREVENTIVE as well as corrective. By finding the source of the problem, our doctors will work to free you from pain and discomfort; correcting the problem to promote a healthy body and nervous system. We will be a valuable partner in your care and recovery; promoting a healthy lifestyle to help prevent future ailments.
Chiropractic care can effectively treat many conditions including, but not limited to neck and low back pain, disc herniation or bulges, headaches, hip pain, knee/ankle/foot pain, pregnancy discomfort, sports injuries, TMJ syndrome, ear infections, and frequent colds.
We, here at ProActive Chiropractic, are part of the Give Back Movement which is a national chiropractic awareness program that allows us to offer free wellness programs which can fit any sized company or business! Whether it's a single, quarterly, or semi-annual event, we can create the perfect FREE program for your team!
We are proud to be the official chiropractic sponsor for the Saint Louis FC and St. Louis Scott Gallagher. Call us today to schedule your initial consult and examination of which we will be donating proceeds to St. Louis Fisher House! We can't wait to meet you and your family members! Be ProActive…and stay Active!
101 Richardson Crossing
Arnold, MO 63010 63141
636-464-8360
1520 Parkway West 12370 Olive Blvd.
Festus, MO 63028
636-937-0100
12370 Olive Blvd.
Creve Coeur, MO 63141
314-485-1442
www.proactive-chiropractic.com
---
Booth #22: St. Louis Allergy Relief Center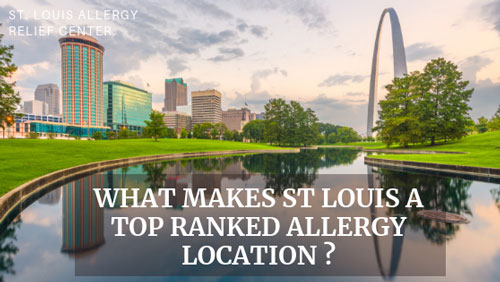 A Holistic Allergy Clinic
We treat allergies and sensitivities. If you are reading this, it's because your health, or the health of a loved one, has taken you in a direction you wish were different. You have probably tried to handle things yourself, but perhaps the over-the-counter medicines or the supplements or elimination diets haven't worked. Maybe you have been to specialists, but the drugs, shots or creams haven't worked either. If it is your child who is suffering, you feel hopeless and blame yourself for being helpless. Why has this happened to me or to my child, you ask yourself?
Whether your problem is as simple as a seasonal allergy or sensitivity to animals or dust; or as complex as asthma or relentless itching and painful skin conditions; or as debilitating as gastrointestinal or IBS-like symptoms which could be caused by food sensitivities you may not be aware of; or even as difficult as multiple chemical sensitivities (MCS)—there is now a proven path toward relief. And it won't take years of treatments to learn if it works.
St Louis Allergy Relief Center in Chesterfield, MO is the leading choice for families looking for a holistic, safe, non-invasive, highly effective, and long-lasting relief of symptoms associated with allergies and sensitivities.
Our therapy, Advanced Allergy Therapeutics (AAT), does not rely on the use of shots, nor medications, nor herbal remedies nor supplements. The treatment is safe, effective, painless and available to all ages from infants to seniors; and it is even safe during pregnancy.
Find out how we can help you. Call 314 384-9304. That call could be the beginning of the most transformational experience for you or your family. You owe it to yourself and your family.
To learn more, go to www.StLouisAllergyRelief.com. Be sure to also check out our patient testimonials https://stlouisallergyrelief.com/testimonials/
When we are not Sheltering-in-Place, a free monthly informational workshop on the first Thursday of every month at 5:45 pm in our Chesterfield office. Our free monthly workshop provides the public with information on our unique approach to allergy treatments and includes an opportunity to meet with our patients for a question and answer session.
If you are interested in attending one of our free monthly workshops, please call our office at 314-384-9304 to reserve your space.
---
Booth #23: Stimulate Wellness, LLC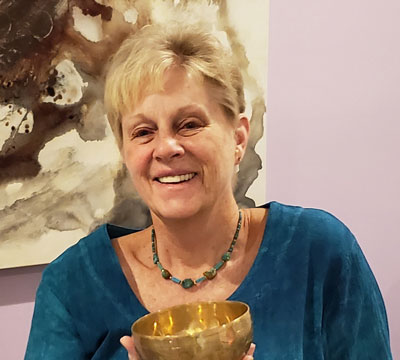 Using Sound and Vibration
Karen Reed is very passionate about using sound to help you become the person you are truly meant to be. When you deal with your past traumas, stress, etc. you release body tension, stimulate relaxation, decrease limiting beliefs, and become freer, happier, and healthier.This promotes an increase in your overall well-being.
"Our bodies are like an orchestra and can be tuned like a fine instrument." – John Beaulieu
Stored emotions and stress are the cause of most dis-ease. Open the door for healing to begin by releasing your stored emotions and blockages. Basically, a letting go of things that no longer serve you, while putting your body in a state of relaxation. This helps bring balance and harmony to your body – physically, mentally, emotionally, and spiritually.
Karen was introduced to tuning fork work in 2011. From there her passion grew and the universe led her to bronze singing bowls, more tuning fork work and eventually crystal bowls, gongs, drums, etc. The more she learns about how to use vibration and sound, the more passionate and determined she is to share the wonderful benefits it can bring.
During this time of uncertainty and change, Karen would like to help you become more relaxed, happier and healthier. She is offering 60-minute Remote Sound Sessions at $20 off. Visit https://stimulatewellnessllc.com/ or contact her at Karen@stimulatewellnessllc.com.
---
Booth #24: Stone Hollow Studio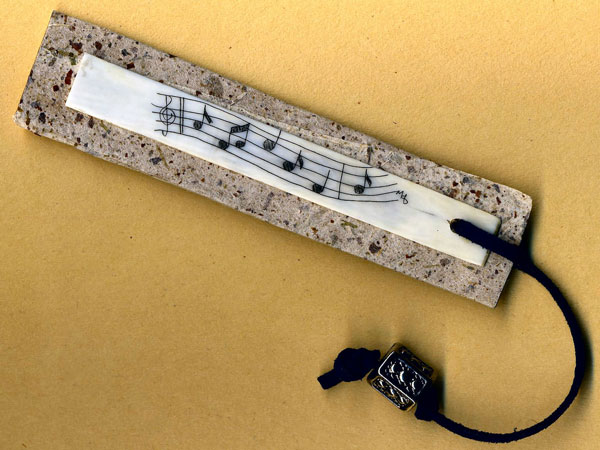 Formed in 1979, Stone Hollow Studio specializes in scrimshaw, all completely hand-etched by Michelle "Mike" Ochonicky (also Arts Editor at The Healthy Planet). Illustrations, drawings, and paintings round out her artistic repertoire.
Scrimshaw provides a link between history and art, finding its origins with 18th-19th century American sailors. Ochonicky uses only environmentally-friendly materials: recycled piano keys, cow bone and deer antler—materials that might otherwise go to waste. Her artwork is done the old way: she draws each piece by hand, painstakingly etches each line, adding ink when finished. Her work has a purity of line, each line important to the whole. Ochonicky finds inspiration in the details of nature: animals and plants. Her packaging is made from recycled materials, too.
Ochonicky's artwork has taken her all over the world. Her work has been exhibited in the White House Visitor Center, the Missouri Capitol Rotunda, the Missouri Governor's Mansion, and St. Louis Cathedral Basilica. A panel of notable museum curators assembled by Early American Life magazine just selected Ochonicky's scrimshaw for the prestigious Directory of Traditional American Crafts for the 24th time. Several of her works recently completed a 5-city exhibition tour in Germany.
Perhaps more than other mediums, scrimshaw summons—demands!—close study. In a world so bombarded by supersizing, by big, loud "stuff," it is calming to concentrate on what is small, what is so often overlooked. Every detail is critical to Ochonicky's compositions. Her intricate scrimshaw is filled with sharp precision and detail. Such study requires a sense of peace and sensitivity, showing that art comes from the hand and the heart.
Ochonicky's work can be viewed and purchased online at www.StoneHollowStudio.com .
She is scheduled to exhibit at Best of Missouri Market at Missouri Botanical Garden, October 2-4, 2020.
---
Booth #25: Terri Langerak, Harpist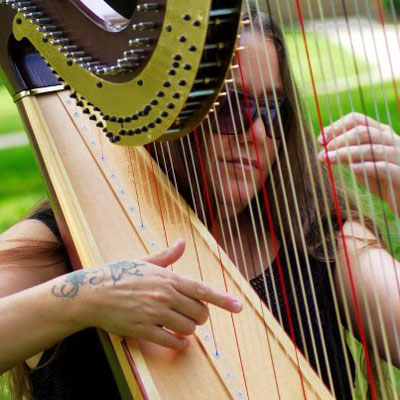 As a young child, Terri Langerak dreamed she was a magical fairy with beautiful butterfly wings, playing a Harp & singing. The survivor of a strict Classical Pianochildhood, she took up the Harp in college and never looked back.
Terri is proof that dreams can come true! She makes her living performing on electric & acoustic Concerts Harps for a wide variety of events in & around the St. Louis area, and is also a singer/songwriter with four recordings of original music and several self-produced Meditation MP3s, all available from her website.
Her eclectic mix of original songs, classical, new age, jazz, rock, and other styles leaves her audiences amazed, amused, & perhaps even a bit enlightened.
Terri offers lessons on both Harp and Piano from her home studio, Ms. Terri's Academy of Musical Awesomeness, in Maplewood, All lessons are currently taking place online to keep everybody healthy!
Terri is the president of the St. Louis Chapter of the American Harp Society, and when she's not playing the Harp or teaching music lessons, she is in her permaculture garden, Terri's Airy Fairie World, growing veggies, berries, and medicinal herbs to share with family, friends, and birds.
For more information about music lessons, recordings, performances, etc, please visit www.harpsinger.net
---
Booth #26: Traveling Tea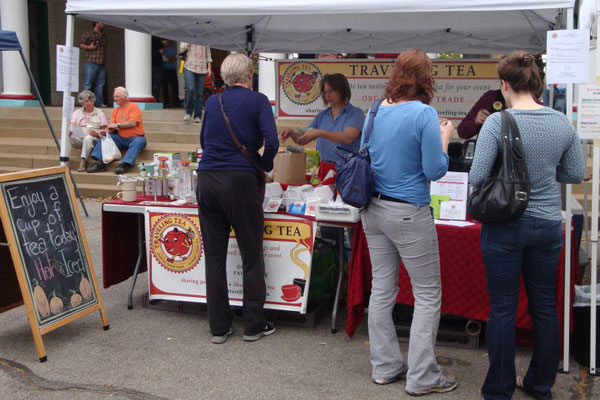 Kateri Meyer created Traveling Tea in 2009 as a resource for quality organic looseleaf tea in the St. Louis area. Starting at Tower Grove Farmers Market with 12 teas, she now has an established location in Maplewood offering more than 100 different teas and tisanes (herbal blends) — 85–90% of the selection is organically raised (not all certified). Her goal is to offer quality tea that is safe for the consumer And for the producers of the tea.
Sustainability has been the watchword since day 1 – utilizing organic, compostable, and recyclable resources wherever possible. Catering to her audience and customer requests, the focus is on niche products that are not readily available in the grocery stores. Recent additions are food items geared towards customers with food sensitivities – such as allergen free, gluten free, vegan cinnamon rolls; turmeric maple sunflower butter; and new this year: dark chocolate sunflower butter, pumpkin seed and watermelon seed butters.
On the tea front, she has added many new flavors – rotating some between seasons; also more Farm Direct teas. All Farm Direct teas on offer are grown with organic practices, and the farmers are families or members of a collective arrangement that means they are paid directly for their leaf, rather than going to auction or being sold to large companies or factories that focus on quantity over quality.
Teas featured for this virtual expo are Traveling Tea Iced Green Tea Blend made with 100% Farm Direct leaf from Northern India; and gently spiced teas from Kanchanjangha Farms in Nepal – Kathmandu Cosmos and Nepali Breakfast. The seed butters and the Featured Teas for this virtual expo are eligible for special purchasing discount.
Visit www.travtea.com for more info, shop updates, and Expo discounts.
---
Booth #27: Treats Unleashed, The Natural Place For Pets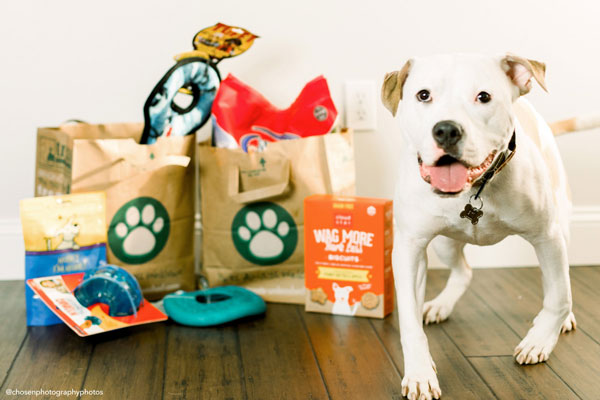 Treats Unleashed, the natural place for pets, caters to every pet's individual needs when it comes to health, diet, nutrition and grooming. Locally owned and operated, Treats Unleashed is your one-stop shop for all-natural pet food, fresh-baked treats and custom pet cakes, grooming and self-wash, as well as a wide selection of quality dog and cat toys, collars, beds, pet supplies and more!
Fresh-Baked Pet Treats: All of pet treats and custom cakes are baked fresh daily in-store and made with all-natural ingredients.
If It's Here, It's Healthy: Treats Unleashed offers a wide selection of all-natural dog and cat kibble, wet, raw & freeze-dried foods. Shop popular brands, such as: Fromm, Farmina, NutriSource, Vetdiet, Acana, Orijen, Primal, Weruva, Zignature Taste of the Wild & more. Interested in learning more about how a healthy pet food can improve your pet's health and happiness? Fill out the FREE online pet food consultation and a pet food expert will call or email you with some recommendations!
Toys: Need a puzzle toy to keep your pup occupied? Or maybe your pup prefers a plush cuddle buddy? Shop puzzle toys, plush toys, rope toys, durable outdoor toys & more!
Chews: Shop a selection of safe & healthy all-natural chews that are easily digestible and delicious! No matter your dog's size, there's a chew made just for them!
Treats Unleashed is in your neighborhood! 13 St. Louis shops located in Central West End, Chesterfield, Cottleville, Creve Coeur, Des Peres, Kirkwood, Ladue, Mid Rivers, Oakville, O'Fallon, Richmond Heights, South Kirkwood & Wildwood.
SIT. STAY. DELIVERED TO YOUR DOOR SAME DAY! Call your neighborhood shop or place your order online for FREE curbside pickup or LOCAL HOME DELIVERY! Order before 3pm for SAME DAY delivery! Minimum $25 delivery order. FREE delivery on $75 or more.
Visit us online & start shopping at treats-unleashed.com.
Stay connected with Treats Unleashed on Instagram & Facebook. To keep up to date on what's happening at your neighborhood shop on Facebook, click on the "Stores" tab and "Like" your closest shop page.
---
Booth #28: U.S. Green Building Council-Missouri Gateway Chapter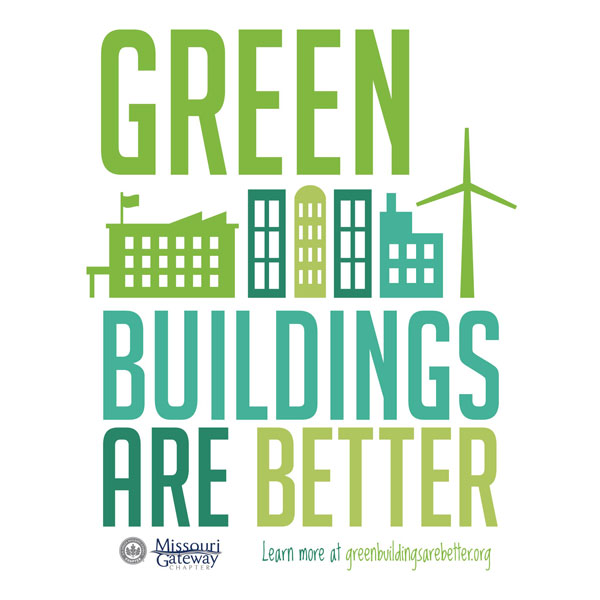 We live, work, learn, and play better in green and healthy spaces.
U.S. Green Building Council-Missouri Gateway Chapter believes that Green Buildings Are Better — better for people, better for the environment, and better for our pocketbooks.
Considering the average American spends 90% of their time indoors, ensuring greener and healthier buildings is a priority. Buildings are important because they affect the health and well-being of occupants. Better indoor air quality, improved energy efficiency, and natural resource protection: these are some of the benefits of green building that we champion on behalf of our community.
To keep up to date on our Green Schools Quest, educational programming and more, visit www.usgbc-mogateway.org.
---
Booth #29: Carol Eder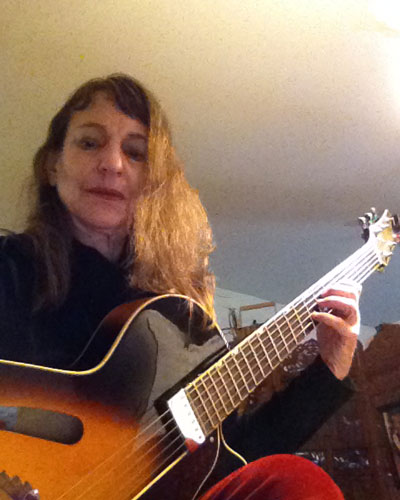 Guitarist, Performer, Educator
Carol Eder is a St. Louis Performer and Educator of Jazz and Classical guitar. Her love for guitar early in life, led to a teaching and performance career, including playing in the 1996 Mid America Guitar Festival, the St. Louis Community Music School Classical Guitar Orchestra, many solo and duo appearances at Museums, Farmers's Markets, Services, Weddings, and Receptions. In 2013, she performed at the Sheldon Concert Hall with the Midwest Jazz-tette. Other Jazz guitar performances include appearances and recordings with Vibraphonist Lee Roth, Vocalists Mae Wheeler, Ali Hager, Guitarists Chip Katz and Todd Mosby.
In 2019, Todd Mosby introduced Carol to Jackie Kleine Flutist; they have since formed a duo named Two Elan. Performances include Neo Classical and Neo Jazz, and World music. Carol's Jazz Guitar Combo performs regularly at The Pat Connelly Tavern during the Thursday night Jazz series.
She presently teaches Guitar for all ages offering remote, virtual lessons and in person small group classes and private lessons at Childbloom Guitar of St. Charles County and St. Louis Academy for Guitar. She is licensed to teach the renown Childbloom Guitar Method to children ages 5-12. In 2009-2015, Carol led classes in songwriting, chord chemistry, fretboard harmony and improvisation at Mid America Guitar Camp in New Haven, Missouri. Earlier in her career she taught at Fazio's Music and the St. Louis Community Colleges.
For excellent guitar instruction or for that added touch of live guitar music at your event, Carol can be reached at:
314-267-1100
carolb.eder@gmail.com
www.facebook.com/CarolEderGuitarist
www.facebook.com/TwoElan
---
Booth #30: Find Life Purpose and More With TranquilRoots Intentional Coaching
What gives your life meaning?
This question is not always answered easily — especially when major life transitions are happening. Confusion and overwhelm may set in, causing internal and external conflicts. A deep, thorough investigation may be needed to rediscover you. I understand… I've been there too.
TranquilRoots Intentional Coaching provides the support to help you get back to YOU. As a Certified Life Coach, I help people release deep-rooted limiting stories & energetic blocks to reconnect with their authentic clarity, life purpose, and freedom. Throughout our sessions, we'll playfully yet strategically explore what you find meaningful and fulfilling.
In addition to coaching, I offer Aroma Freedom Sessions. Aroma Freedom uses the power of scent to gently shift awareness away from negative thoughts, feelings, and memories, and to initiate a positive outlook and attitude. This results in greater confidence and inner freedom. When we are no longer stuck in negative mindsets, we are free to create the life we desire. As a Certified Aroma Freedom Practitioner, these sessions can be used as standalone or integrated into a coaching session.
No matter what you decide a pathway to peace of mind awaits. Get free–choose you today. I look forward to working with you.
For more information or book a Clarity Call,
E-mail: info@tranquilrootsreiki.com
Website: www.tranquilrootsreiki.com
Instagram: www.instagram.com/tranquilrootsintentionalcoach
---
Booth #31: Miracle Ear: "Hear A Better Day"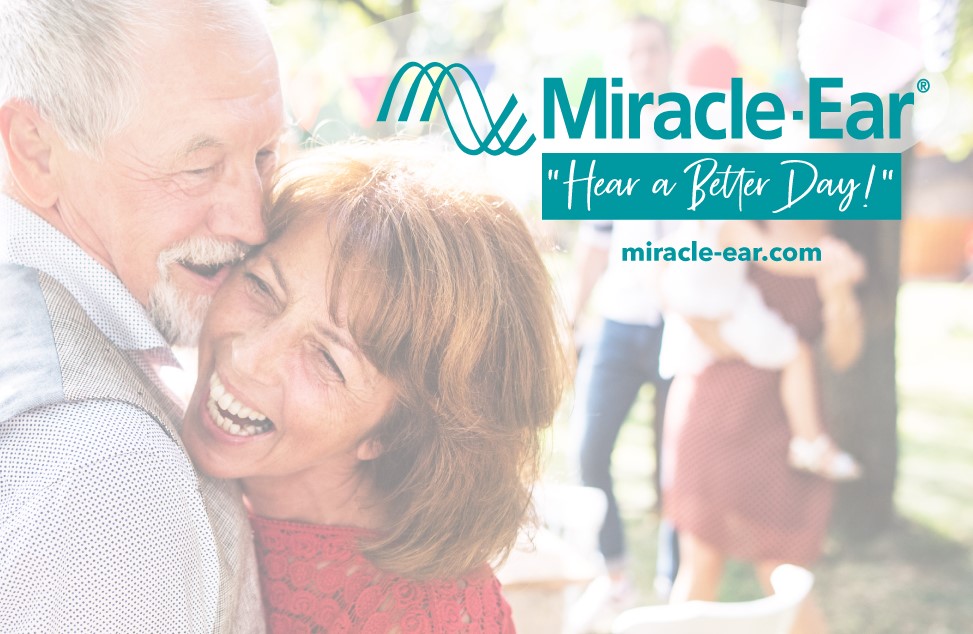 Forty-eight million Americans experience some degree of hearing loss – Miracle-Ear is dedicated to helping individuals regain not only their hearing but a life of connections, success, and joy. Since 1948, Miracle-Ear has been connecting our patients to the world of sound around them.
Hearing birds chirping for the first time in years, a granddaughter's whispered secrets, the melody of a song from that "first dance", or the rustle of leaves while walking in the park. This has been our motivation for more than 70 years, and this is what will keep us providing superior hearing health care for years to come.
At Miracle-Ear, we believe everyone should be able to realize the full potential of their passions, and relationships, and live their best lives with those they love through better hearing.
It's all about building caring relationships, earning your trust, and providing personalized solutions and service that looks like this:
Free lifetime service and aftercare
Industry-leading 3-year
Licensed and trained hearing care professionals
With over 1,500 locally owned and operated Miracle-Ear Hearing Care Centers nationwide, each of our owners are members of your community and truly care about providing excellent service, as well as the safest and cleanest environment possible for your hearing health needs.
Our hearing care professionals at each of our conveniently located centers throughout Greater Saint Louis are here to help you "Hear a Better Day."
Take your first to a higher quality life with a better hearing experience. Schedule your No Cost/No Obligation Hearing Evaluation.
Or book online at miracle-ear.com/book-an-appointment
Visit us online at miracle-ear.com/stores-near-me/hearing-aids-st-louis-mo
Call: 314-266-5541 to schedule your evaluation at a Miracle-Ear Hearing Center near you. Mention "The Healthy Planet" for a special gift.
Miracle-Ear Greater St. Louis and Southern Illinois Locations Include:
GREATER ST. LOUIS Arnold • Chesterfield • Creve Coeur • Crystal City • Florissant • Hampton • O'Fallon • Rolla • St. Charles • South County • St. Peters • Union
SOUTHERN ILLINOIS | Edwardsville • Swansea • Waterloo
Here is a link to a special Miracle Ear video:https://drive.google.com/file/d/18_0bypS05E2P231B8YcE7wmPaEXxCwgl/view?usp=drivesdk