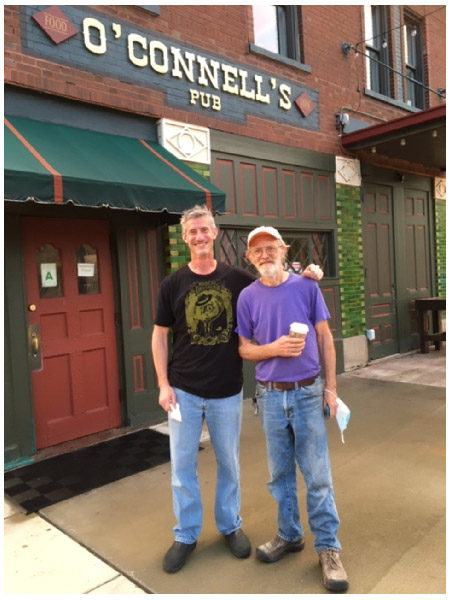 O'Connell's Pub Returns
By Jean Ponzi
Bagpipe skirls and burger essence wafted once more 'round the emerald isle at Shaw and Kingshighway on Monday August 16, 2020. Tales from a banner year took another twist as local legend O'Connell's Pub rose from ashes into a third life.
O'Connell's closed on March 17, when COVID-19 overtook St. Louis. Ironic for an Irish pub to shutter on St. Pat's, its busiest day. 'Twas the second total O'C's shut down.
On August 14, 1972, bartender Lenard Voelker locked the door of the last bar holdout on Gaslight Square. With an Irish piper buddy, Lenard spent that night yakking and drinking on the hood of his car. Master Jameson lubed a vigil for the coffin-nail in an entertainment district era.
O'C's owner Jack Parker called Lenard the next morning: he was moving the pub to Kingshighway, on St. Louis' near south side. Lenard could hoist no barstools that day. But three months later, the Phoenix tapped a keg o' Guinness in a new locale, with all the pub trappings arrayed as they had been.
Jack and my husband Dale were friends, supporting each other's enterprise: woodworker and artist, and tavernkeeper dealing in art and antiques. Dale restored Jack's Arts and Crafts fine furniture finds and Jack got Dale to oversee pub maintenance, a steady gig for Dale for over 20 years. "Hire who you want, and pay yourself a fair wage," said Jack, a guy who trusted you, and expected you to return that trust. Many humans did.
I relate to O'C's by marriage, plus I'm fond of Irish Coffee with the whip splashed green with Crème de menthe. And when I waited tables at Duff's, another '70's landmark, I stood in awe of the O'C's girls, who easily earned $100 in tips on a Saturday afternoon.
When COVID-19 came to town, the pub locked out mid-pour. Three months later, Jack – a local legend in his own right – passed from this life and left the place to three of his kids: daughters Lizi and Tori and son John Jr. The sisters live on opposite coasts but Johnny dwells here, had been sharing house with his Dad, was a local music producer, and literally grew up in the pub. Stage set for Phoenix action, again.
Dale knows every conduit, hookup, paint hue, tabletop and cranny in the place. He offered his hand to the effort to repair, restore and reopen. Which meant he opened cans o' worms stockpiled since he clocked out as maintainer.
The work ran through two summer moons, in viral times that laid low many a worthy hostel.
We woke at dawn. I scrambled eggs, went to my "desk" in our dining room, and wished my man a healthy day at the pub. Not a few of those days ran to fourteen hours.
The heavy-cleaning and repair crews and the trades at last gave way to the lasses and lads who left their jobs in limbo. Waitresses washed the tin ceiling and polished the brass chandeliers. Bussers cleaned wood floors and booths. Bartenders wiped down and re-stocked. I was helping Dale on the happy day the cooks returned. They served us all O'C's chile for lunch, first fare from this Phoenix!
The heart of O'Connell's, atmosphere and menu, beats unchanged. Soups rotate, but Daily Specials are constant week after week. My stomach clock chimes for Fish 'n Chips on alternate Fridays, the Seafood Gumbo days.
But COVID-19 moved evolution two ways: outdoor dining on the parking lot (with one of St. Louis best sky views) and O'C's carryout for the first time.
O'Connell's Pub is serving again, COVID-safe. A new J. Parker at the helm is working it out with his sisters, from their father's gift. Old friends, working guys and new diners will order what foodie polls perennially deem Best Burger, with a hearty pint.
In most precarious times, an STL star rises again. You'll find your favorites, all in place. But sorry you'll be to this day, to expect a tomato.
O'Connell's Pub is open Monday-Saturday, 11 am with last call 10 pm nightly. Masks required except when seated for dining. Order carry-out with credit/debit cards. Updates on Facebook.