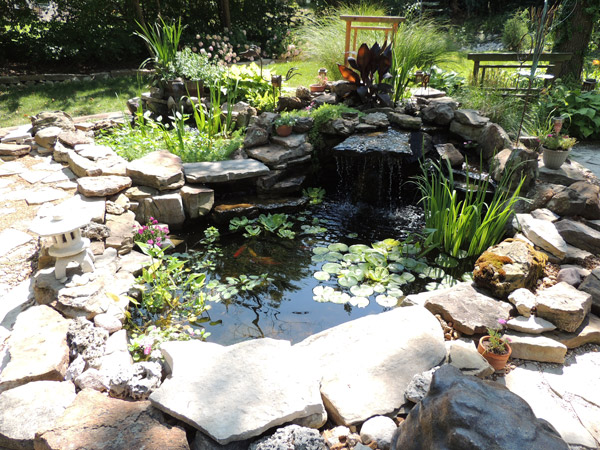 For months we have been sheltering from the storm of the Covid-19 virus. It has been an unusual time as we have all managed to do so many ordinary and extraordinary things that fill our days.
June is the perfect time of year to enjoy the outdoors, take a stroll, refresh your outlook, and enjoy the sights and sounds of some spectacular water features on the 20th Anniversary of the St. Louis Water Garden Society Annual Pond-O-Rama tour.
St. Louis Water Garden Society members have been taking advantage of great weather days to prepare their water features and gardens for the 20th Anniversary Tour. There is always something new happening in the gardens. This year is no exception! This year our water gardens look better than ever thanks to a warmer than usual winter, great spring, and time to garden! Our host members are anxious to share their special places with you.
Pond-O-Rama is an opportunity for members of the St. Louis Water Garden Society to share their own talents and hard work and to help raise funds for the Society's community service project, the lily ponds at Forest Park's Jewel Box. The tour also helps support other programs for the Society throughout the year.
This is the perfect time to take a stroll through the gardens and enjoy the calming and peaceful sounds of gently moving water. The Pond-O-Rama tour will be on Saturday and Sunday, June 27-28, from 9-5 pm each day. This year there are 30 water features over the two days; 15 on Saturday and 15 on Sunday. Of the 30 gardens, 8 are new on the tour, and 22 are returning from previous years with many of them with new features added to their special spaces. All of our hosts are SLWGS members are excited to answer questions, talk about their fish and flowers, and spread information about their passion and joy of water gardening.
Blooming gardens and landscapes that surround the water features and the whimsical touches hidden around every corner will make you smile. One of the host locations has a pond as a centerpiece of a miniature 1/24 scale garden railroad with trains meandering around the pond and over the stream. You will see natural swimming holes, garden rooms, privacy fences made of different types of plants, bubblers, gazebos, and lovely seating areas.
Every host location is different! There are new ponds this year built by homeowners that are the perfect size for the space. There are some water features that have towering waterfalls, and some with gentle trickling streams. In them and in the surrounding landscapes are some of the most glorious gardens in the St. Louis area — a pleasure for gardeners and wildlife alike. Unique birds, butterflies, koi fish, garden sheds, and garden art are all glorious photo opportunities!
Tour tickets will be available in early June at local retailers and nurseries and by mail through the St. Louis Water Garden Society website. Tickets are $15 each and everyone 18 years of age and older must have a ticket to attend. A special anniversary discount of $10 per ticket for groups of 10 or more. For information about where to buy tickets, visit our website, www.slwgs.org or call (314) 995-2988. 
So… Come take a stroll… relax and enjoy the beauty of water gardens!
IMPORTANT INFORMATION: The private gardens on tour range from small areas to vast garden spaces. In compliance with local and state guidance, we request that all our visitors practice social distancing. We also highly request that masks be worn when visiting the gardens for everyone's health and safety. Limiting the number of people throughout the day ensures that everyone has the opportunity to enjoy the beauty created by our members and stroll leisurely through 30 beautiful water features. We look forward to seeing you in June!