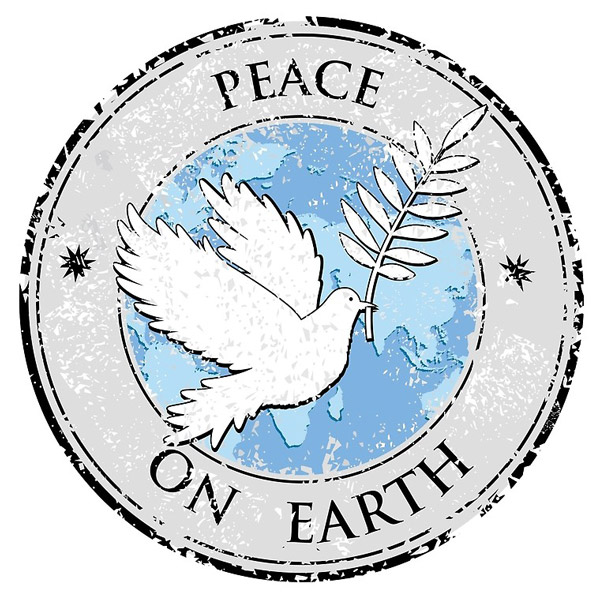 By Jeannie Breeze
Bright and Beautiful Beings! If you attend the annual World Peace Day celebrations, please know that I consider you a part of my family, my Family of Light! This year marks the 34th annual World Peace Day Celebration – "Love Is the Answer", happening Tuesday, December 31st, 2019, 6 a.m. at Central Reform Congregation, 5020 Waterman (at Kingshighway), St. Louis, MO 63108. We offer a Universal Faith Service, FREE and Open to All, replete with music, message, and meditation, culminating in an exuberant finale generated by JOIA, Unity through Percussion, and followed by a potluck breakfast. (no pork or shellfish, please) Doors open at 5 a.m. for silent meditation, greeting your friends, getting food to the kitchen, or buying raffle tickets. Luminarias will light the walkways to the entryway, and artwork by the late Sarah Linquist and other lovely decorations will delight you as you come through the Oneg (foyer).
Musically you will be uplifted by the heartfelt guitar and vocals of Brian Clarke, the vocal artistry of the lovely Janice Battle, and the genius artistry of Ptah Williams on the keyboards. The ever-charismatic Robert Fishbone will welcome us to CRC's Shabbat Shalom (Shelter of Peace).
A longtime member of CRC, Robert recently guided the installation of a Jericho Labyrinth in the green space west of the parking lot. Award-winning environmentalist Green Jean Ponzi will once again enlighten us with Earth Wisdom, and J'Asa McCaleb, if able, will share her spiritual insights from her journal The Book of Now. Please send your light and love to all who so lovingly donate their time and energy to make this event possible.
As the organizer/orchestrator of this event, I will once again share "Short Remarks" and facilitate the meditation. As my age seems to be overtaking my earlier youthful energy, I realize this may be the last time I am able to do this. I hope you will be moved to be there.
Over the many years that I have created this event, I have always sought ways to plant the seeds of hope, to encourage you to persevere, to affirm Divine Order and Right Outcome. This past year has seemed to be a very challenging time, one that has caused me to remember a quote from Mother Teresa: "I know God never gives me more than I can handle, but sometimes I just wish God didn't trust me so much." I also am reminded of a Chinese saying, one considered to be a curse, "May you live in interesting times!", and of Helen Keller's declaration that "Life is either a grand adventure or it's nothing!"
Obviously we seem to have opted for the "Grand Adventure" as we most certainly are living in "Interesting Times", and may be wishing that Creator, Great Spirit did not trust us so much. Buoyed by conversations with some dear friends, I was blessed to remember another concept discovered years ago in Ken Carey's remarkable book The Starseed Transmissions, which he said was channeled from benign alien entities when he and his family were living off the grid, in Greenwood Forest, in the beautiful Ozark hills of southern Missouri. He was trapped in his shed during a blizzard, alone, with no electricity, no running water, when the messages began to come in. I'm sure many of us have been visited by sincere members of a faith tradition, who insist that only 144,000 people will get to go to Heaven. That's a pretty small number compared to how many billions now live on this planet. But Carey turned it around, and reminded us of the 100th monkey theory. Scientists studying monkeys on some islands in the Pacific, discovered monkeys who learned to wash their favorite food, (sweet potatoes), in a stream before eating them. The monkeys taught their offspring, and when approximately 100 monkeys on that island had learned to wash their food, monkeys on a nearby island with no bridge to the first island, suddenly began washing their food also. Somehow, when the awareness came alive in a sufficient number of monkeys, the consciousness apparently traveled through the ethers and communicated itself to the other monkeys. Carey's transmissions suggest that when 144,000 people become sufficiently enlightened, their collective energy will transmit that higher awareness to the whole human population! WOW!
Your presence at World Peace Day, your work to evolve and grow, your commitment to love can generate a miraculous transformation of consciousness around the world! Yip, yip, yippee! (and thank heavens for the hippies!) And the Dreamers and the Visionaries, the Earth stewards and Earth Angels.
Peace is possible! Come join in the celebration!
We need volunteers to help with event setup, Monday, 12/30/19 from 1-4 p.m. at Central Reform Congregation, Tuesday 12/31/19 at 4:45 a.m. to light the luminarias and 5:15 a.m. to help with breakfast prep.
Visit www.wpdaystl.com for details, or contact Event Organizer, Jeannie Breeze at 314-601-3789 or you can email Jeannie Breeze at jjbreeze46@gmail.com. Peace, Love and Healing to All Beings! Bless you all!