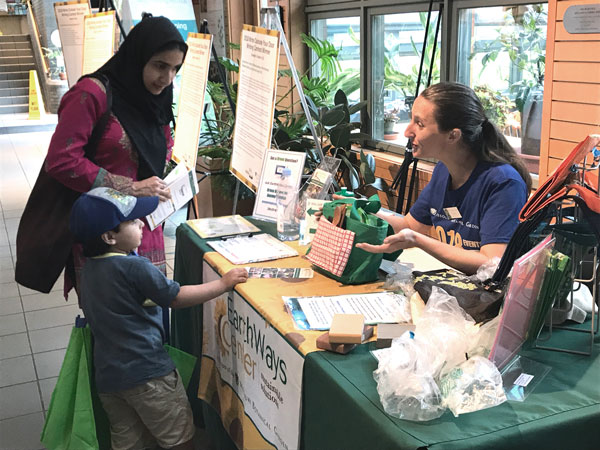 A Full Fun Day of Sustainable Lifestyle Options
Saturday June 1, 9am – 4pm
By Jean Ponzi
Will solar and efficiency products and rebates energize you?
Where could compost and native plants boost the HQ (Habitat Quotient) around your living headquarters, while also helping to stem your stormwater runoff?
How could Yoga, Kombucha, and Humane Wildlife Solutions to those squirrels in your attic improve your inner and outer environs?
Explore all this and more around the lovely grounds of the Kemper Center for Home Gardening on Saturday June 1, when the Green Living Festival returns to the Missouri Botanical Garden. Whatever your Green interests, you'll find something useful and inspiring at this hands-on, daylong indoor/outdoor event.
Hosted by the Garden's EarthWays Center, the festival invites visitors of all ages and backgrounds to discover the links between sustainability, energy efficiency, conservation at home, and a healthy environment.
Presentations to the People (10 a.m. to 3 p.m.) will feature composting, sustainable grilling with natural gas, DIY green cleaning products, native plant NatureScaping, smart technology and energy efficiency, zero waste strategies, and kombucha brewing. With make-and-takes and tasty samples!
This Fest is family friendly! Kids will have fun building a solar-powered racing car, sampling treats cooked in solar ovens, or decorating a recycled ceramic tile. Make a Green Living Pledge and get a colorful EarthWays patch!
Essays and poems by student winners of the 2019 Write Outside Your Door contest will be displayed. New for young fest visitors: stretch your green-word wings with literary activities.
Join Yoga Buzz to stretch your way into the day. A free, all-levels outdoor yoga class for adults and kids starts at 9:30 a.m. Inclement weather will move it indoors. BYO yoga mat or towel, and plan to enjoy the festival afterwards.
Recycling and composting will reduce the festival's "waste-line." Bring your reusable bottle and get free water refills.
Cycle to the Garden! Bike St. Louis lanes on Shaw and Tower Grove Avenues connect to routes through Tower Grove Park, along Grand, and on Macklind Avenue. The Garden's bicycle parking is always convenient and free!
Volunteer help is welcome! Contact Maggie McCoy, EarthWays Volunteer Coordinator, for details at mmccoy@mobot.org
The Green Living Festival is presented by Ameren Missouri, with additional sponsorship support from Spire and the Metropolitan St. Louis Sewer District.
This Festival is included with Missouri Botanical Garden admission: $14 for adults and free for children ages 12 and under. St. Louis City and County residents enjoy FREE admission on Saturday before noon and $6 thereafter ($4 seniors), with proof of residency.
EarthWays Center is the sustainability division of the Missouri Botanical Garden. Our work enriches lives and protects plants and our environment by educating and connecting people to practical sustainable solutions where they live, learn, work, and play.
Learn more at mobot.org/greenlivingfest or call the EarthWays Center at (314) 577-0220.