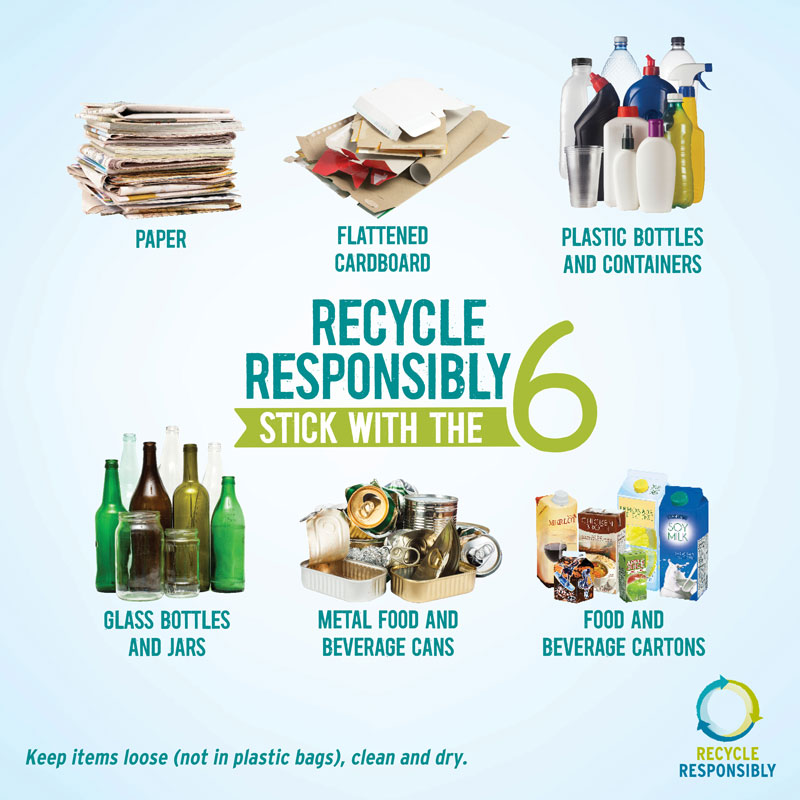 Recycle Responsibly (RecycleResponsibly.org) is the area's first, region-wide recycling campaign to create one cohesive recycling message to help everyone in the St. Louis metro area "Stick with the Six" items that can be recycled in our region to help reduce recycling contamination.
This recycling education campaign kicked off on America Recycles Day in 2018 in Forest Park. This event included an art installation made of 2,663 plastic bags tied together representing the number of plastic bags used every second in the United States. In total, this reached nearly one half mile in length! Along the half mile walk were facts about plastic bags' impact on our environment. Various environmental organizations were also on site providing information and ways to get involved with the Recycle Responsibly campaign. With over 200 attendees, adults and children, America Recycles Day: The Truth About Plastic Bags, was a success!
Recycling can be easy if we just, "Stick with the Six!" Paper, flattened cardboard, plastic bottles and containers, glass bottles and jars, metal food and beverage cans and food and beverage cartons can all be recycled. Keep recyclables loose (not in plastic bags), clean and dry.
If it's not on this list, don't put in it in your bin! "Wishcycling" is when you hope by putting something in the recycling bin that it will be recycled. Putting the wrong items in your recycling bin does more harm than good.
A good example of this is plastic bags. Plastic bags are one of the largest sources of contamination in single stream recycling. Plastic bags cannot be recycled in your home recycling bin, but there are other places to recycle them. If plastic bags make their way to the recycling sorting facility (either as loose, individual plastic bags or as plastic bags containing recyclables), they jam the sorting machinery at the facility. This shuts down the sorting process for hours at a time and puts workers at risk for injury, as they manually cut out tangled plastic bags from machinery gears. Plastic bags and other plastic films should be taken to a local grocery or retail store for recycling. Find a nearby collection location at PlasticFilmRecycling.org. Help reduce plastic usage by always bringing reusable bags with you when shopping!
Other contaminants commonly found in our single stream recycling are "tanglers" (e.g. garden hoses, metal hangers, clothing, wires, holiday lights, etc.), food waste, styrofoam and metal sharps or needles. These items are not recyclable in your home recycling bin, but there are other places where these items can be dropped off.
It's easy to reduce contamination if you simply "Stick with the Six" items that should always go in your recycling bin. To find out where to recycle or donate other items not shown on the list, visit RecycleResponsibly.org. On this website, residents can learn more about the campaign and access a regional recycling database hosted by Saint Louis City Recycles (STLCityRecycles.com). This searchable database houses a number of places that accept items for recycling or donation, such as clothing, electronics, household hazardous waste and more.
The Recycle Responsibly education campaign stems from the Materials and Recycling Working Group of OneSTL. OneSTL is a regional initiative that focuses on a sustainable future for the St. Louis region. Follow @OneSTL on Facebook to stay up-to-date with the latest about Recycle Responsibly.
The Working Group includes the following entities: East-West Gateway Council of Governments, St. Louis-Jefferson Solid Waste Management District, City of St. Louis, St. Louis County, Jefferson County, Madison County, City of University City, Brightside St. Louis, Saint Louis City Recycles, EarthWays Center of Missouri Botanical Garden, Republic Services, St. Louis Composting, Earthday365, Green Dining Alliance, Recycling on the Go, University of Missouri-St. Louis and Washington University.