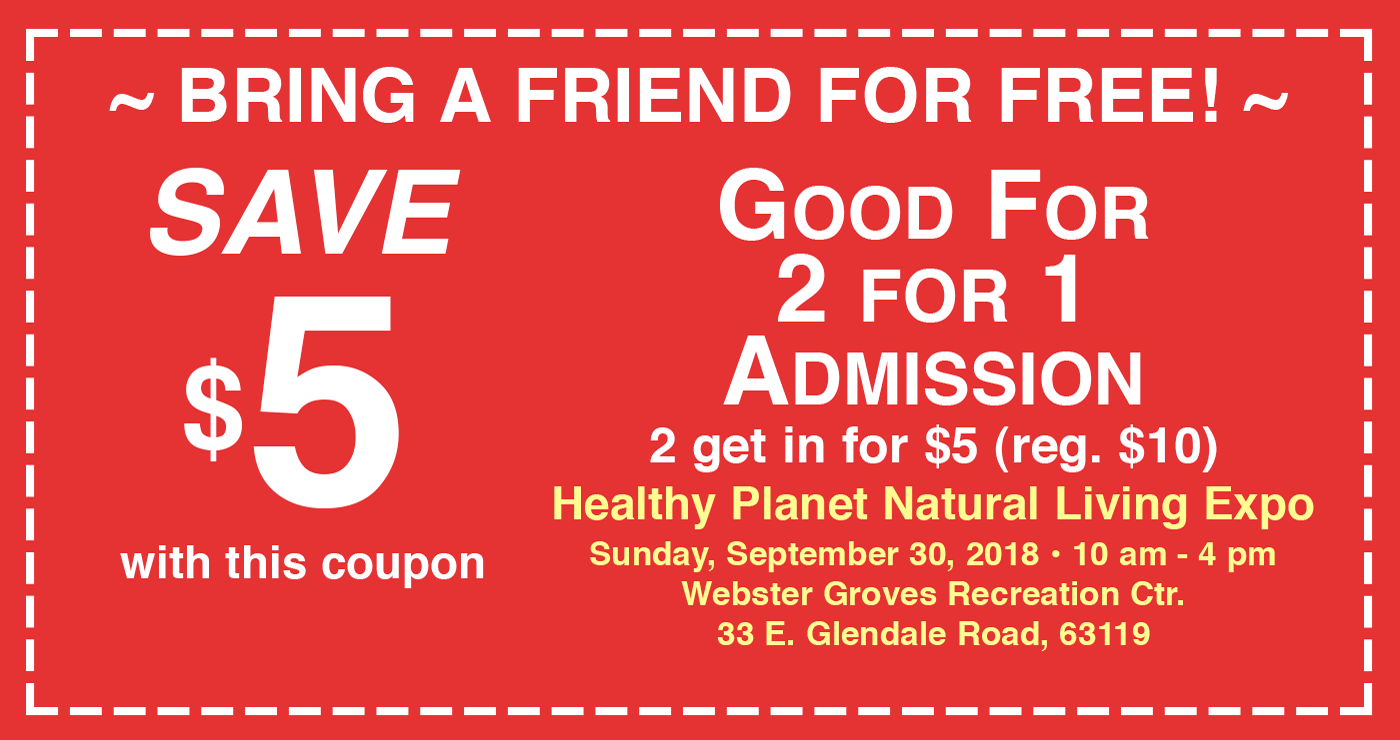 Expo Now Includes Speaker Series
Natural Living Expo Sept. 30
Expo Now Includes Speaker Series
The Healthy Planet magazine invites everyone to come celebrate early autumn at its 36th Natural Living Expo, Sunday, September 30, 10 am to 4 pm, at the Webster Groves Recreation Center, 33 East Glendale Road in Webster Groves.
The first 400 visitors to the expo will receive a free reusable tote bag courtesy of Diebergs and Fresh Thyme Farmers Market. There will be a number of samples including wine tasting by Edg-Clif Winery & Brewery and granola samples by Banner Road Baking Company. Attendees will also be able to get free health screenings, chair massages, green products for your home and garden, your family and even your pets.
Enjoy live music by Mark Holland on Native American Flute and Carol Eder on guitar. Enter a drawing for a $600 family getaway to Trout Lodge YMCA of the Ozarks and Fox Theatre Tickets. Hundreds of visitors will receive Chipotle Food Cards and the first 100 visitors will get a free pass to the Missouri Botanical Garden, The Butterfly House or Shaw Nature Reserve.
Learn more about topics such as acupuncture, allergies, chiropractic, green home products, natural health, nutrition, fitness & exercise, non-toxic personal care products, essential oils, green dining, sustainable living, organic produce, CBD oils, energy healing, fitness, biomats, supplements, healthy foods, better hearing, anti-aging, and much, much more!
Adult admission is $5.00. Children under 16 are free. Two-for-one tickets can be found on the next page of this magazine and at www.thehealthyplanet.com. This expo has something for everyone in the family so bring everyone you know!
If you are interested in being an exhibitor at the expo, please call or email right away as our expo is almost full. Call 314-962-7748 or email: JBL44@aol.com.
Speaker Series:
11:00am: Tiffanie Jones, ND: CBD Oil
11:30am: Dr. John Calhoun: Natural Health, Inside-Out
Noon: Kathy Riddle: Hearing Health Care
12:30pm: Dr. Steve Zielinski: Drug Induced Nutrient Depletion
1:00pm: Paula Stone: ECKANKAR, Ancient Wisdom for Today
1:30pm: Holistic Health & Fitness: Digestive Health & Colon Hydrotherapy
2:00pm: Randal Fletcher: The Re-emergence of the World Teacher and the Masters of Wisdom
2:30pm: Dr. Ian Wahl: New Solutions to Allergy and Sensitivity Relief
3:00pm: Asia Muhammad, ND: Naturopathic Options For Crohn's and Colitis