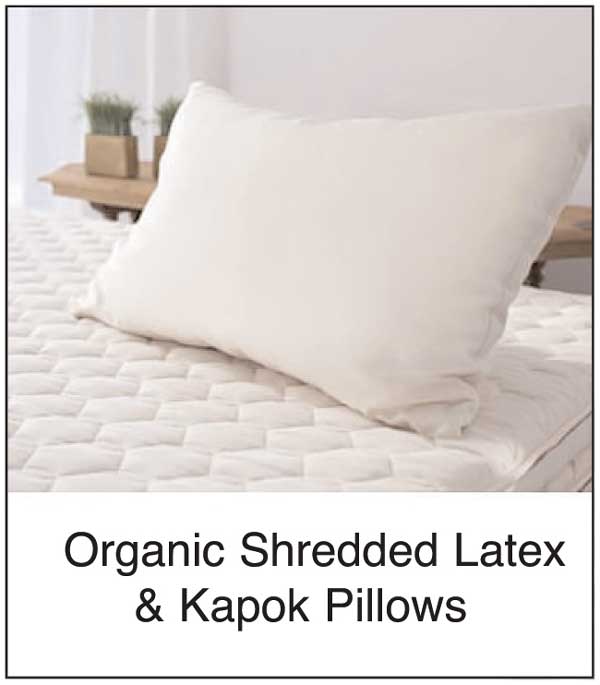 STL Beds will have all these products and more at the Healthy Planet's Natural Living Expo on Sunday, March 25. We look forward to seeing you there!
Mattresses today are mandated by Federal Law to pass specific safety flame retardant testing. This means that many mattress manufacturers in the United States have started to use some type of fire retardant chemicals to "assure our safety". This has led customers to look for alternatives in mattresses to avoid these potentially harmful fire retardants. While looking for alternatives customers often run into the higher cost of organic mattresses. Here are some inexpensive ways to get healthier sleep:
Savvy Rest Organic Pillows – Your face is in direct contact with your pillow throughout the night. Savvy Rest Organic pillows are made using organic wool, cotton, kapok or natural botanical rubber and are a healthier alternative to a petroleum-based product such as polyurethane or memory foam. A pillow makes up 20% of your support. Customize your comfort with the Savvy Rest Organic pillow by removing the shredded latex, wool, or kapok fill. These pillows range in prices from $80 to $200 depending on size.
Organic Pillow Protectors – A certified organic Savvy Rest pillow protector is the closest linen in proximity to your head and face. An organic pillow protector is a better alternative than a linen filled with dyes or bleaching agents. It acts as a stain barrier to protect from perspiration and saliva. A Savvy Rest pillow protector runs in the price range of $45-$70 depending on size.
Organic Mattress Protectors – A Gotcha Covered organic protector uses an inert waterproof polyurethane film that allows for breathability which helps you sleep cool. It protects from moisture such as bodily fluids and beverage spills. It features an organic cotton surface which is soft and contains no harmful dyes, bleaching agents, or toxins. These run in the price range of $50 to $150 depending on size.
Organic Sheet Set – Our skin is in direct contact with our sheets night after night for hopefully 7 to 8 hours a day. Perhaps one of the cheapest ways to create a less toxic sleep environment is a Gotcha Covered organic sheet set which includes a top sheet, bottom sheet, and pillow cases. These sheets contain no harmful dyes, bleaching agents, or toxins and are 300 thread count Egyptian Cotton. They run in the price range of $100 to $200 depending on size.
Mattress Toppers – Savvy Rest and Pure Talalay Bliss Mattress toppers under 4" do not have to meet the flame requirements set by the Federal government because they are considered a mattress accessory and not a mattress. A latex topper with the Oeko-Tex standard 100 certification is an excellent alternative. These are typically in the price range of $400-$999 depending on size.
For more information stop by STLBeds at 1360 Jeffco Blvd. Arnold, MO 63010, or call Doug or Joe at 636.296.8540, or visit online at www.STLBeds.com. And visit our booth at the Healthy Planet Expo, March 25 at the Webster Groves Recreation Center in Webster Groves.