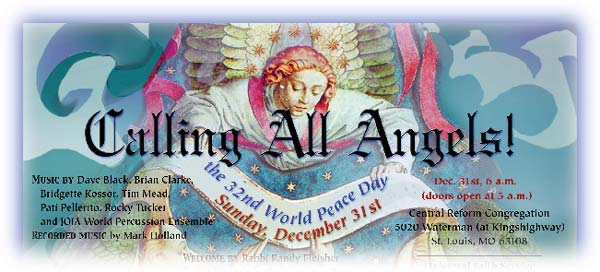 By Jeannie Breeze
I am Calling All Angels, celestial and terrestrial, because we need help here on Planet Earth! Now, more than ever, we need to LOVE ONE ANOTHER, to feel compassion for all our relations, to bless those who curse us, and to BE the change we want to see in the world.
One of the most wonderful ways to bolster your faith is to join with hundreds of other lightworkers and peacemakers at 6 a.m., Sunday, December 31st, as we celebrate "Calling All Angels", the 32nd annual World Peace Day, held at Central Reform Congregation, 5020 Waterman (at Kingshighway) in St. Louis' Central West End. Doors open at 5 a.m. so you can buy raffle tickets or bid on a silent auction for amazing prizes, or enter the sanctuary for silent prayer and meditation. As always, a potluck breakfast follows the service (no pork or shellfish, please). This Universal Faith service is always free and OPEN TO ALL!
The musical lineup is stellar this year, with guitarist Dave Black; singer/songwriter guitarist Brian Clarke; singer/songwriter Bridgette Kossor, singer/songwriter guitarist Tim Mead; Sound Healing Artist Pati Pellerito on singing bowls; pianist extraordinaire Rocky Tucker, and, of course, JOIA World Percussion Ensemble. Inspiration comes from Rabbi Randy Fleisher doing the welcome, J'Asa McCaleb sharing from her journal "The Book of Now", Jean Ponzi sharing earth wisdom, and Jeannie Breeze offering "Short Remarks" and leading the meditation. The light and joy and sense of family generated by this event are immeasurable! You will be so buoyed by the celebration, you will carry the light of love and joy and peace with you to uplift your family, friends and everyone you know!
Volunteers are needed on Saturday, December 30th from 1-4 p.m. to help with decorations, luminarias and breakfast prep and on December 31st at 4:45 a.m. to light the luminarias, and at 5 a.m. to help greet attendees and finish breakfast prep. Please visit the website www.wpdaystl.com for full details on the peace day celebration and information on how you can help support the event. You can call me at 314-601-3789, email me at jbreeze46@icloud.com or message me on Facebook. Bless you all for your help and loving support. Remember the event is live streamed on Central Reform's website if you are unable to be there in person.
Whether you join us the morning of the event, or join in prayer and well wishing from home, please know that YOU ARE the light of the world. Do not let your light be dimmed by anyone or anything. Stand up and speak out for truth and justice, for honesty, for charity. Remember the injunction "Be kind, for everyone you meet is fighting a hard battle." We are the ones we have been waiting for! May love and peace prevail on Earth!

Jeannie Breeze is the event organizer/orchestrator, and a full-time, free-lance evolutionary agent.