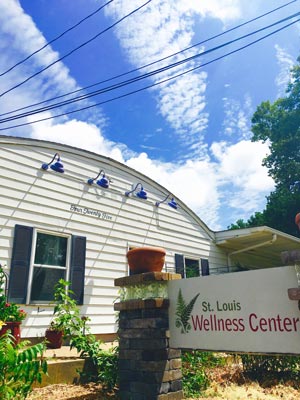 By Gwin Stewart,PhD, CRAADC, MARS
Discretely nestled in the residential neighborhood of Webster Groves, The St Louis Wellness Center provides holistic, wellness services to 20,000 visitors each year. If you haven't yet been to the StLWC, you are invited to attend the Open House and see for yourself how you might benefit from one or more of the many holistic services offered under one roof.
Ten expert therapists offer services in the realm of Mental/Emotional/Relational assistance. Included are: Addictions Counseling, Art Therapy, Biofeedback, Couples' Counseling, EMDR, Family Therapy, Group Therapy, Individual Psychotherapy, and Neurofeedback. The StLWC experts are ready to assist with your unique concerns.
For those interested in the area of Physical/Restorative/Somatic there are: Cooking Classes, CranioSacral Therapy, Essential Oil Consultations, Far-Infrared Sauna, Nutritional Consultation and Treatment, Structural Integration, Therapeutic Massage: La StoneR, Thai Yoga, and Whole Body Vibration. With seven experts on staff, there is bound to be one to help you with complete healing and wellness.
If Yoga/Meditation/Essence is your interest, twelve practitioners offer: Ayurvedic Consultation and Treatment, Cacoa Ceremonies, Essential Oil Consultations, Meditation (both individual and group), Past Life Regression, Reiki and Subtle Energy Work, Seasonal Moving Meditations, Shambhala Meditation and Training, Sound Healing, and a variety of Yoga Classes.
With over 25 of St Louis's top integrative, functional therapists and teachers practicing in the St Louis Wellness Center, your total Health and Wellness is our top priority. Come experience this hidden treasure in the heart of the Central Corridor.
If you miss the Open House – Friday, Sept 15, from 4:00-9:00 pm, you can visit us at: StLouisWellnessCenter.com for more information.