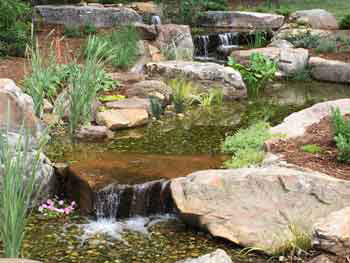 17th Annual Pond-O-Rama Set For June 24-25
By Ginny Mueller

There is nothing so calming and peaceful as the sound of gently moving water. If it doesn't exist in their current environments, members of the St. Louis Water Gardening Society create their own serenity in backyard gardens—and once a year, they are willing to show everyone how sweet it is–the 17th annual Pond-O-Rama will be held Saturday and Sunday, June 24-25.
There is something for every taste on this year's tour, from towering waterfalls, gentle trickling streams, pondless waterfalls and rain recovery systems. In them and in the surrounding landscapes are some of the most glorious gardens in the St. Louis area—a pleasure for gardeners and wildlife alike. Birds, butterflies and glorious photo opportunities abound!
Pondless waterfalls are a solution for those who want to have the soothing sounds of water, but either do not have room for a pond, or don't want the responsibility of caring for plants and fish. These kinds of water features have been growing in popularity, but now an ecologically friendly "wrinkle" has been added. Rainfall recovery systems are essentially pondless waterfalls that add an underground storage tank to collect rain water off rooftops and driveways. That water then can be used to water the landscape.
Of the 39 gardens on the 2017 tour, 14 are new to the event. Several others have undergone extensive renovations since previous tours.
As always, a part of the attraction will be the blooming gardens and landscapes surrounding the water features and the interesting individual whimsical touches. This year you will see a pond as a centerpiece of a miniature 1/24 scale garden railroad with trains meandering around the pond and over the stream. You will see natural swimming holes, garden rooms, privacy fences made of 20 different types of plants, bubblers, gazebos, and many waterfalls and streams with gorgeous koi fish and aquatic plants.
Tour tickets became available in early May at local retailers and nurseries, at SLWGS meetings, and by mail through the St. Louis Water Gardening Society website. Tickets are $15 each and everyone 18 years of age and older must have a ticket to attend. For information about where to buy tickets, visit our website, www.slwgs.org or call (314) 995-2988.