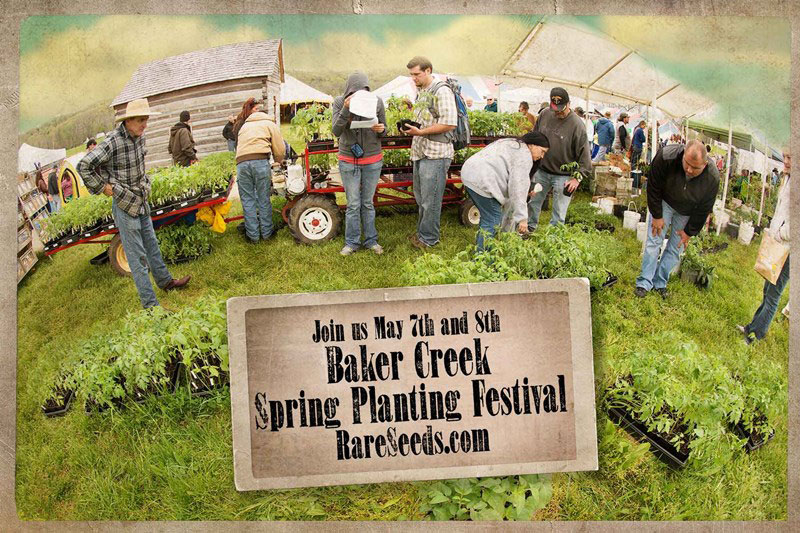 Baker Creek Heirloom Seed Company is excited about its biggest festival of the year. The 17th annual Spring Planting Festival at Bakersville Pioneer Village near Mansfield, Missouri, is Sunday and Monday, May 7 and 8. The event that started with a small gathering of gardeners in the year 2000 has grown to 10,000 attendees each of the past 2 years. All come to enjoy a sense of community with fascinating seed collectors, old-time musicians, internationally acclaimed speakers, historic demonstrators, food activists, home schoolers, western re-enactors, organic growers, gourmet chefs, free thinkers, Ozarkian crafters, trendy vendors and herbal hippies.
Baker Creek owner Jere Gettle began hosting festivals to bring gardeners together to share and learn from one another. Learning and sharing are still the major components of the festival. Both days will be filled with presentations from some of the nation's leading experts on GMOs, healthy food, permaculture, heirloom gardening, seed saving, and so much more.
More than 100 vendors display and sell their traditional crafts, food, tools, homesteading supplies, and eco-friendly items. Visitors have opportunities to purchase handmade quilts, garden art, locally made blacksmith tools, essential oils, handmade and homemade clothing, leather goods, and so much more.
Probably the biggest draw of the festival is the food. The village restaurant will be serving healthy vegan lunches, while Debbie will have her world-famous cinnamon rolls and breads available at Baker's Flour Mill bakery. In addition, mobile food units will provide many kinds of foods from vegan to farm-raised meat menus, as well as snacks and drinks.
While many come for the food, many others come for the traditional music and entertainment. Musicians will perform on multiple stages throughout the entire 2 days. Visitors will enjoy a great mix of old country, gospel, folk, bluegrass and other old-style music.
In the spirit of gardening education being important, young people are welcome and encouraged to attend. There will be a children's area with ongoing activities and competitions throughout the 2 days.
The Spring Planting Festival is the prime event for gardeners to stock up on seeds, plants, bulbs, fruit and ornamental trees and bushes for spring planting. In addition to Baker Creek's stock, there will be vendors from across Missouri and Arkansas providing quality heirloom plants.
All of this fun and entertainment for the low admission cost of only $5 per adult per day. Children under the age of 17 are admitted free.

For more information please visit online at Rareseeds.com or call 417-924-8917.