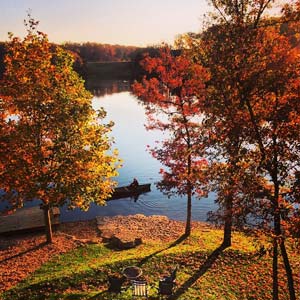 Fall has firmly settled in around us and the peace of the season can be felt in the crisp morning air, heard in the crunch of the leaves and seen in the wildlife preparing for winter. For more than four decades, St. Louis-area families have expressed their surprise and delight at the absolute serenity that can be found within the Innsbrook community, less than an hour west of the hustle and bustle of our vibrant Midwest city.
Nature is at the heart of Innsbrook. Numerous hiking trails wind their way throughout the community, alongside and over creeks and waterfalls, and through sweeping valleys and hilltops with breathtaking views.
Families gather for holiday celebrations at Innsbrook every year – embracing new traditions that include sharing stories in front of a crackling fireplace; warming a chalet's cedar walls and ceilings with a freshly baked pie; and getting together for sleepovers in a cozy cabin loft.
Rustic Innsbrook A-frame chalets are nestled amidst the forest, built with as little impact to the environment as possible. The same goes for the community's custom homes, lakeside condos, golf course villas and contemporary cottages.
The Innsbrook community is a thriving one at any time of year – with art shows and classes, kids' camps and workshops, concerts and more! Whether your young family is just beginning to take shape, or you're looking for a grandkids' getaway, you'll fall in love with what Innsbrook has to offer.
With an 18-hole public golf course, on-site restaurant and new amenity complex with a fitness center, swimming pool and outdoor amphitheater, there's something for everyone at Innsbrook – whether you're looking for the ultimate in relaxation or recreation.
Discover Innsbrook's newest community, Lake Tyrol. Created around a pristine, 16-acre lake, new lots are now available for cottages and custom homes in the 1,500 unspoiled acres of forest and lakes in the Tyrol Region of Innsbrook. Schedule an appointment to explore this new area today.
You can explore Innsbrook any day of the week from 10 a.m. – 4 p.m. See available properties and learn more about this unique community at www.innsbrook-resort.com or by calling (636)928-3366 ext. 9199.