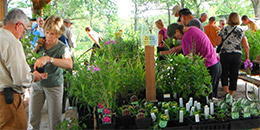 Wildflower Sale September 9
Get a jump start on your spring garden now! Both new and experienced gardeners will find a wide variety of native wildflowers, grasses, sedges, small-flowering trees and shrubs for home landscaping at the Shaw Nature Reserve's fall Shaw Wildflower Market on Friday, Sept. 9 from 4 to 7:30 p.m. Admission to the sale is included with Reserve admission of $5 for adults and $3 for seniors over 65. The sale is free of charge for Missouri Botanical Garden members, Reserve passholders and children ages 12 and under.
The practice of native landscaping supports biodiversity, creating sustainable landscapes. Novice and professional gardeners utilize native landscaping to manage storm water, reduce maintenance and promote plant and wildlife conservation. Wildflowers, flowering vines, shrubs and trees offer a wide range of colors, textures and forms to create dynamic displays. Choosing a wide assortment of plants ensures seasonal interest, with the bonus of attracting colorful birds, butterflies and insects. The Shaw Wildflower Market offers hundreds of native plants that are beneficial in attracting native species of birds and butterflies. Select from the showiest and hardiest native plants for sun or shade, including pale purple coneflower, butterfly milkweed, rose turtlehead garden phlox, Indian pink, blazingstar, black-eyed susan and cardinal flower among many others.
The Shaw Wildflower Market offers locally made products for a greener community, including wildflowers from Missouri Wildflower Nursery, wine, bread, meats, art, beer, assorted produce and more.
Enjoy the acoustic blend of guitar, fiddle, bass, percussion and harmony from Down Stream, a music ensemble featuring folk, blues, traditional and original tunes performed by local artists.
The event is located in the pavilion behind the Bascom House, near the Whitmire Wildflower Garden at Shaw Nature Reserve, which displays native plants in many habitats and design styles. Participants will be able to stroll through the gardens, gaining inspiration from the mature plantings within each area.
Native Plant Experts will be on hand to answer questions, identify plants and give guidance to gardeners wishing to expand their plant palette with native plants.
The sale will be held rain or shine on Friday, Sept. 9 from 4 to 7:30 p.m. on the grounds of the Shaw Nature Reserve in Gray Summit, Mo. Take interstate 44 to exit #253 and follow the signs to the Reserve and sale. Cash or check accepted by all vendors.
Prairie Day September 17
Take a step back in time for Prairie Day at the Shaw Nature Reserve, Saturday, Sept. 17 from 10 a.m. to 4 p.m. Interact with early settlers and explore what life was like on the great American frontier during this biennial event. Kids and adults alike will enjoy a day of historical activities and exhibits, storytelling, music and food. Event admission is $6 for adults, $2 for children (ages 15 and under) and $3 for Missouri Botanical Garden members and free for members children( ages 15 and under). Visit www.shawnature.org or call (636)451-3512 for more information.
This family event portrays prairie heritage through fun-filled activities and demonstrations. The Reserve's 250-acre tall grass prairie provides an authentic backdrop for the day's cultural festivities. Take a guided hike with a naturalist to learn about the land and its unique natural characteristics. Visit the teepee and watch as blacksmiths and bow and arrow makers hone skills from days gone by. Basket weavers, quilters and artists will create and display traditional art pieces. Ride in a hay wagon and play pioneer games such as the "atl-atl throw," stilt walking and rolling hoops. Learn living history first-hand as characters re-enact the lives of early prairie inhabitants.
Experts from the Endangered Wolf Center, Greater St. Louis Archaeology Society and the Missouri Prairie Foundation will be on hand to answer questions and share information with the public.
Visitors will be able to choose from a wide assortment of prairie wildflowers and grasses available for purchase from a local native plant nursery. Live bands will entertain the crowds with a variety of modern and traditional folk tunes. Enjoy bison burgers and a variety of homemade baked goods.
Prairie Day is sponsored by the Shaw Nature Reserve and Missouri Department of Conservation.
The Shaw Nature Reserve is located on the south side of Interstate 44 at exit #253 in Gray Summit, Mo. (less than 10 miles past the Six Flags exit). For more information, visit www.shawnature.org or call (636) 451-3512.

The Shaw Nature Reserve is a division of the Missouri Botanical Garden.