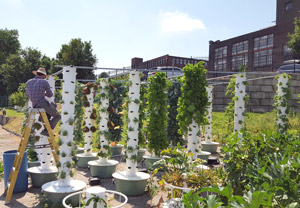 Paul Hamilton, Co-owner of Eleven Eleven Mississippi, Vin de Set and PW Pizza in Lafayette Square has upgraded his commercial urban farm this year to include 28 aeroponic towers designed to maximize space and use less water than traditional growing methods.
The additional towers, which are used to primarily grow greens and squash, supplement the 1/2 acre traditional garden that is planted with heirloom tomatoes, peppers, basil, cucumbers, eggplant, okra and a variety of other spring and fall root vegetables.
Currently the gardens are planted with a variety of swiss chard and kale along with endive, arugula, purslane, mustard greens and bok choy. Hamilton plans to move the tower garden farm indoors this fall to a new commercial greenhouse located adjacent to Vin de Set and PW Pizza.
In addition to the new towers, Hamilton has hired Nathan Wolff as the gardener in charge of planting and maintaining this year's crop, communicating with the chefs at each restaurant and keeping a log of the growing cycles for each planting and the yields produced. This year's yield for the overall operation is estimated to be close to 10,000 pounds of produce.
This year Eleven Eleven Mississippi, located two blocks away, offered a tower to table three course dinner series which included a tour of the garden prior to the meal. The majority of the vegetables served for dinner were picked earlier that day and incorporated into the menu which also included locally raised pork, lamb and beef.
For more information on Hamilton's farm to table operation visit hamiltonhospitality.net or any of the restaurants' Facebook pages.