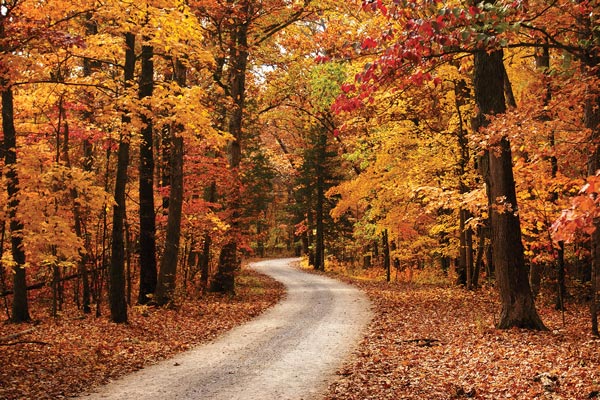 By Katie Tucker
Whether your idea of a perfect fall weekend is ultimate adventure or ultimate relaxation—you can enjoy it all at Innsbrook, which offers more than 100 lakes, hiking trails, horse stables and family events for all ages—truly making it nature's playground. With vacation A-frame chalets and year-round homes in a beautiful setting, Innsbrook has a place for you.
The Innsbrook environment is designed to maximize your ability to relax, reconnect and rediscover quality time.
The lakes are a hub for family activity, and Innsbrook's no-gas-powered motors rule means that swimming is safe, the waters are pristine and the atmosphere is laid back. On any given weekend, you'll spot sailboats, paddleboats, canoes, pontoon boats, paddleboards and kayaks lazing on Innsbrook's waters. The sand beaches and swim docks are popular hangouts, too.
Off the water, Innsbrook has plenty for you to do while you're there including horseback riding, hiking or dancing the night away at a summer concert under the stars. Picture your perfect weekend, a retreat to a place where you can enjoy the great outdoors or just cuddle next to the fire.
Experience Innsbrook at the annual Fall Home Tour on Saturday, October 15 from Noon to 4 p.m. On this self-guided tour you'll get the chance to explore several premier properties and experience Innsbrook's relaxed atmosphere and beautiful fall scenery first-hand. You'll want to arrive early to visit all of the properties on the tour!
If you can't make it to the Home Tour you can still explore Innsbrook any day of the week from 10 a.m. – 4 p.m. No appointment is necessary! See available properties and learn more about this unique community at www.innsbrook-resort.com/fall or by calling (636) 928-3366 ext. 9199.
Claim your piece of natural Midwest beauty by securing your place at Innsbrook – whether you envision an iconic A-frame cabin tucked into the woods or a luxurious lakefront manor, Innsbrook has a property that's just right for you.
Tags: October 2016