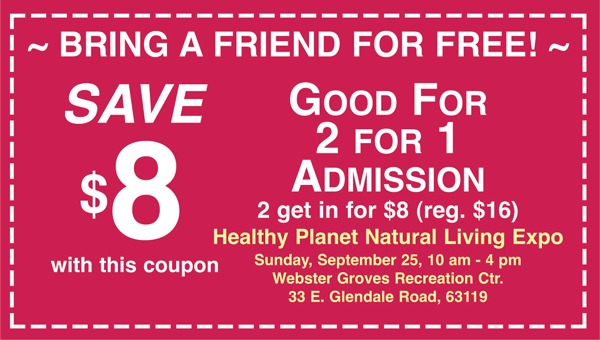 The Healthy Planet magazine is proud to host its 32nd Natural Living Expo, Sunday, Sept. 25, 10 am to 4 pm, at the Webster Groves Recreation Center, 33 East Glendale Road in Webster Groves
"We are very excited to be hosting our 32nd expo in 19 years," said J.B. Lester, Publisher of The Healthy Planet magazine. " We love offering the community the opportunity to find the resources they need to make their lives healthier and more sustainable. So many of our exhibitors are also clients of our magazine, and that makes this like a family get-together twice a year." Lester said that many of the exhibitors have been with The Healthy Planet from the very first expo back in 1998. "These are the companies and organizations that help create a healthier and greener community," Lester said. "I can guarantee that each visitor to our expo will go home with something that will help them live a healthier and more sustainable life. That's what this event is all about."
The first 400 visitors to the expo will receive a free useable tote bag courtesy of Dierbergs and Lucky's Markets. There will be numerous samples including a craft beer and wine tasting hosted by Edg-Clif Winery and Schlafly Beer. Many lucky visitors will receive food cards to Chipotle Mexican Grill and free tickets to Missouri Botanical Garden, The Butterfly House and Shaw Nature Reserve. Guests will be also able to get free health screenings, chair massages and plenty of healthy and sustainable resources for their home and garden, their pets, and their family.
Live music will be provided by guitarist Carol Eder and Native American Flute by Mark Holland of Autumn's Child. There will be a drawing for a $600 outing at Trout Lodge YMCA of the Ozarks and Amtrak will be giving away free train tickets. You can meet Healthy Planet relationship columnist Christine Kniffen, Green & Growing Editor Linda Wiggen Kraft, artist Leslie Faust as well as many more health, wellness and environmental professionals.
The Healthy Planet Natural Living Expo has something for everyone in the family. If you are looking to create a healthier and greener life for yourself, your family or your community, then this event is for you!
Admission to the Expo is $8 for adult and free for kids under 16 years of age. Look on page 5 for a 2 for 1 admission coupon and bring a friend for free!
For more information call 314-962-7748.