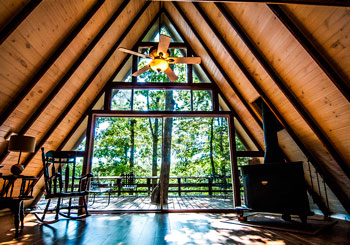 By Cassandra Langley
Life in harmony with nature drives every aspect of the community of Innsbrook, a quiet and peaceful haven located just 30 minutes west of Chesterfield. One look around Innsbrook and you know right away you're in the midst of nature's playground.
The Innsbrook environment is designed to maximize your ability to relax, reconnect and rediscover quality time. What does that mean to you? Roasting marshmallows around the firepit? Teaching your kids how to fish, or identify bird calls? Spending the day in the garden? Whatever it means, there's a place for it at Innsbrook.
Innsbrook properties are carefully built to disturb as little of the environment as possible. The iconic A-frame cabins leave one feeling like they live in the treetops of a forest canopy. Sit out on the deck for long enough and you may find yourself feeding birds right out of your hand!
Innsbrook property owners celebrate the creatures and plants that others may shun as pests. They celebrate the beauty and worth of all living things, from the smallest of animals to the tallest of trees. Native grasses and wildflowers flourish in this lake community. Monarch butterflies thrive as they dance their way from flower to flower.
Innsbrook's more than 100 lakes also thrive with aquatic life. The community's no gas-powered engine rule for boats assures the cleanest of environments for humans and animals alike!
Property owners stretch their green thumbs in Innsbrook's thriving community garden, which is home to everything from fresh vegetables for the family to flowers to feed the birds and butterflies. For some of the youngest Innsbrook inhabitants, kid's camps are offered and centered on exploring, growing and learning among nature.
Discover Innsbrook's newest lake, 16+ acre Lake Tyrol. New lots are now available for cottages and custom homes in this new area of development, the Tyrol Region of Innsbrook, with 1,500 unspoiled acres of forest and lakes.
You can explore Innsbrook any day of the week from 10 a.m. – 4 p.m. No appointment is necessary! See available properties and learn more about this unique community at www.innsbrook-resort.com or by calling (636)928-3366 ext. 9199. Open houses are every weekend!
Claim your piece of natural Midwest beauty by securing your place at Innsbrook – whether you envision an iconic A-frame cabin tucked into the woods or a luxurious lakefront manor, Innsbrook has a property that's just right for you.