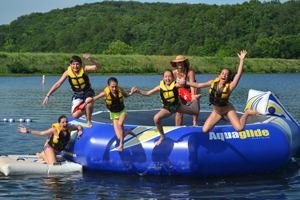 Ackermann's Swim Program
A Sports Facility – Teaching children 4-11 the life skill of swimming and water safety for 65+ years. Family owned and operated at the same location, 1044 Curran Avenue, Kirkwood, MO 63122. Group swim lessons in 4 heated pools with different water levels for progressive safe learning. Enrollment by one or two week sessions. Hours 9:10 a.m. to 2:00 p.m., Monday through Friday. Drop off and Pick up at curb. Well organized program with large playground. Red Cross Certified Teaching Staff. Providing children a non-competitive, safe, teaching environment in which to build confidence and self-esteem. Visit ASPKirkwood.com
Craft Alliance Center of Art + Design
Fun weekly art camps for children and teens, ages 4-18, June 6-August 12. Explore hot glass, pottery wheel, metal jewelry, drawing and painting, textile design, 3-D printing, digital photography, and more. Choose a morning and afternoon camp and spend the whole day being creative! Two locations to choose from – the Delmar Loop and Grand Center. For the 4th year, a two-week collaborative High School Art Camp with Saint Louis University, the Grand Arts Camp, allows students in grades 9-12 to explore 6 mediums at both institutions. Camps are taught by artist instructors and there are Teen Intern opportunities. Before-care and After-care options. Financial aid available, underwritten by the Staenberg Family Foundation. www.craftalliance.org
Countryside Montessori Summer Camp
Give your child a summer to remember! Countryside offers the following daily activities: pony rides, Montessori activities, swimming instruction/free swim/water play, art activities, outdoor play and gardening. Our younger campers will enjoy daily pony rides, water play, Montessori class time and art activities. Countryside offers a ten-week summer camp from June 6th – August 12. Camp hours: 8:15 a.m.-12:15 p.m. with a Full Day Option (8:15 a.m.-3:15 p.m.) or Extended Hours (7:00 a.m.-5:30 p.m.) You can register for as little as two weeks or for all ten weeks! Countryside is located at 12226 Ladue Road in Creve Coeur and was established in 1964. Call 314-434-2821 or please visit www.montessori4children.com to learn more.
Humane Society of Missouri Summer Programs
At the Humane Society of Missouri, we believe that every child has what it takes to be a Gold Medal Olympian for the animals! Join us as we "Go for the Gold" this summer and strive to make a HUGE difference for ALL animals! Whether you join us for a week-long Kids for Critters Camp ($300) or a mini 3-hour Animal Adventure Camp ($35), you have what it takes to stand upon that award-winner's podium with the Olympic torch held high! Every camp includes animal interactions and behind-the-scenes tours and that's just the tip of the tail when it comes to all of the furry fun you will have at our camps! Volunteer camp counselor opportunities are available for teens ages 13-17. Find out more and register online at www.hsmo.org or (314) 951-1579.
YuCandu Art Camp
Yucandu Art Studio offers a safe and creative environment for young artists craving self-expression and a variety of great materials. Each day, campers will warm up with sketch exercises before working on several ongoing, ambitious projects. Yucandu Art Camps are divided into grade levels: K-2nd, 1st-5th, 3rd-6th, 6th-12th. There are even some for adults. Sessions are part-time and run June thru August. Campers in grades 1st-5th and 3rd-6th also organize an end-of-the-week art show, with lemonade and cookies, while family and friends admire their work. Yucandu is located in charming historic Webster Groves at 20 Allen Avenue, 63119. To reserve your space, please go online to www.yucandu.com/camps/ ; or call 314-963-4400. Yucandu also offers an open-studio, birthday parties and holiday workshops. www.yucandu.com.
Camp Freunde
German Language Immersion
Sprechen Sie Deutsch? Do you speak German? The German School Association of Greater St. Louis is sponsoring two week long German Language immersion camps for children ages 3 to 12 this summer. June 27-July 1 and July 25 -July 29.We've been a part of St. Louis for over 50 years and our teachers make learning German fun. Contact us today. 314-452-8780.
Cub Creek Science Camp
Rolla, MO. Ages 7-17
www.MOScienceCamp.com
Feed lemurs, pet a wallaby, take classes in Veterinary Medicine, Animal Care, Survival Skills, Crime Science, Ropes Course, Pottery, Archery, Culinary Science, Swimming, Crafts, and so much more!. Air-conditioned cabins. ACA accredited.
Animal Camp Jamaica
Seven Palms Villa, Runaway Bay, Jamaica
www.AnimalCampJamaica.com
Ages 14-18
13 day program focused on marine biology, travel, and cultural immersion. Spend mornings snorkeling, kayaking, wave jumping and afternoons exploring the breath-taking island of Jamaica. PADI Scuba certification available.
Wolf Camp
Spend some time in the wild this summer. You'll have a blast making new friends while you are hiking, spelunking, creek walking and learning about some of the world's most endangered animals. This camp will have you exploring nature in ways you never imagined! For more information visit endangeredwolfcenter.org or call 636-938-5900.
The St. Michael School Tri-Art Summer Camp
Monday, June 06, 2016 — Friday, July 29, 2016
The St. Michael School of Clayton offers the Tri-Art Summer Camp run by certified teachers. All teachers are certified in first aid, CPR and AED training.
The St. Michael School of Clayton Tri-Art Summer Camp is open to all children age 4 through 6th grade (by May 1, 2016) . Campers will experience the thrill of being a three sport athlete, build personal endurance, and develop sportsmanship through triathlon training. Basic fundamentals of swimming, cycling and running will be taught. The Triathlon Camp is open to all ability levels from beginner through advanced. All campers will also receive instruction from professional artists in clay (hand-building and wheel throwing), fiber art (hand and machine sewing, quilting, embroidery and knitting) through work in our art studio and music (basic music concepts & instruments). Four two week sessions are available.
Crystal Explorers Day Camp
July 18-24, 2016, 8 a.m. – 5 p.m., The Center for Mind, Body & Spirit, Classroom Building, 7647 Delmar Blvd. 63130. $275 Do you have a child between ages 7-11, who loves crystals and stones? If so, this is just for him or her! Camp participants will explore crystals and stones from both a scientific and experiential perspective. Everyone is encouraged to bring a stone from home to talk about with the group. Anahata Roach, Certified Crystal Resonance Therapist, will be the camp leader. To register, call the Center 314-725-6767 or email Anahata at crystaltherapy@att.net for more information.
Faith Academy of Montessori Summer Camp
Here at Faith we feel it important to maintain our Montessori philosophy of education over the summer months while mixing in informative topics, arts and crafts, exciting outings, nature walks, and swimming at the Webster University pool. This sets our summer session apart from the regular school year and provides a 'summer vacation' feel to the program. Our camp is made up of two week sessions of varying topics. Each session a related field trip is planned and guest speakers give presentations. Come for a wonderful balance of fun, relaxation, and learning! 314-961-1411, Faithacademyofmontessori.org.
Raintree School Summer Programs
From prairies to riverbanks, woodland to wetlands, young adventurers will see it all. Campers will go off the beaten path as they explore the wild side of our city. Whether trekking through the forest at Castlewood or running through flowering prairies at Shaw, campers will learn the science and art of our great outdoors. Raintree's Wildlands Trek is guided by degreed and certified teachers who will help each young child explore the mysteries and magic of the outdoors. With field trips every week, special guests, art encounters, science experiments, and community service, it's sure to be a fascinating summer at Raintree! For information visit www.raintreeschool.org
Gateway Region YMCA Day Camps
The Y Summer Day Camp provides an exciting, safe experience for kids to learn new skills, build self-confidence, make lasting friendships and have the BEST SUMMER EVER! The Y offers dozens of camps including traditional outdoor camps, a variety of sports camps and themed camps for every interest. Through branch locations throughout the greater St. Louis area the Y runs 10 camp sessions May 31 – August 12. Some branches begin camps May 23. Camps are available for ages 3-16. Full-day and some half-day camps are available. Camp ages, types, schedules and prices vary by branch. Check out our current savings offerings! Call 314-436-1177 or register online at www.gwrymca.org.
YMCA Camp Lakewood
YMCA Camp Lakewood's co-ed summer overnight camp gets kids ages 6-17 outdoors having fun, making friends and learning new skills. With a 360-acre lake, 5,200 wooded acres, caves and creeks, adventure and exploration abound. While campers love sports, horseback riding, arts & crafts, water activities, caving, climbing, ziplining and more, they also learn about accomplishment-belonging-character. Children are encouraged to set, achieve and exceed goals. They create friendships and learn about respect. Children gain knowledge of the world through camp's culturally-diverse staff, all within the safe Y environment. This is why campers call Camp Lakewood "My Camp"! Visit camplakewood.org or 888-FUN-YMCA.