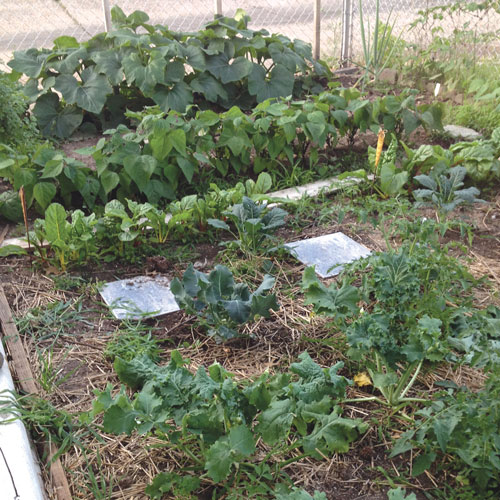 By Terry Winkelmann, Sustainable
Backyard Tour, Founding Director
It's almost here! The grassroots event you've been waiting for all year is just weeks away. The Sustainable Backyard Tour celebrates its fifth year on June 14 2015.
What's a sustainable backyard, you ask? Well, that depends. There are certainly many ways to live more sustainably, celebrating and protecting Mother Earth. When it comes to the backyard, we think it means minimizing the use of limited resources. Choosing plants that don't need excessive watering. Planting groundcovers or using a reel mower rather than a gas mower to trim. Raking leaves instead of a leaf blower. Employing compost in place of synthetic fertilizers. Building the soil, respecting the literal earth, rather than poisoning it.
Some folks follow permaculture principles, others focus on planting natives, herbs, fruit and nut trees, even cultivating oyster and shitake mushrooms. Of course, bees—both native pollinators and honey bees—chickens, rabbits and song birds are also part of a healthy backyard ecosystem.
You can see all this and more on The Sustainable Backyard Tour.
The event is a self-guided, open-house-style tour of private yards and gardens throughout St. Louis City and County. You choose the yards you want to see and in what order, between the hours of 11:00 a.m. and 4:00 p.m on Tour Sunday.
There are far too many yards to see them all. We include so many yards in order to show that wherever you are, if you're interested in planting a wildflower meadow or raising chickens, chances are someone nearby can show you how.
If you're an early planner, go online (www.sustainablebackyardtour.com) to read what the hosts have to say about their yards. See which addresses are closest to you. When you have a list of the handful that you want to visit on Sunday, you can enter the addresses into a mapping app like Mapquest, and print out a customized tour route. Or, pick up a copy of the booklet and use the map provided.
Some hosts have been gardening and building habitat for years and their yards reflect that. Others are just getting started—these gardens are good to check out if you are just getting started, too. You can pick up ideas for what you might be able to accomplish right now, this summer. To help you find yards with the level of information you need, each yard is marked as a recent creation or well established, or somewhere in between.
Booklets will be available at these local businesses: Rooster on South Grand, Larder & Cupboard in Maplewood, Greenscape Gardens in Kirkwood, Verde Kids in Webster, Perennial in Carondelet, and Isabee's in South County.
With support from local businesses and fiscal sponsor Slow Food St. Louis, the tour is truly a grassroots production. Hosts and volunteers come together with the sole purpose of sharing and inspiring change. We can learn from each other and create a richer, more vibrant community in the process.
For more information, please visit www.SustainableBackyardTour.com. The event is free, but registration is encouraged.