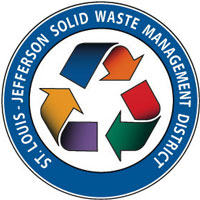 Medical Equipment Donation Drive
Saturday, May 2, 2015, 9 am – 2 pm
Twelve Designated Walgreen's Sites
For a list of locations, contact St. Louis HELP at 314-567-4700 or www.stlhelp.org
Do you have medical equipment that is not being used?
Do you need medical equipment? Now there is HELP…
LOCAL GOVERNMENT RECYCLING INFORMATION
SWMD Grants Help Establish Area Solar Powered Compactors for Commingled (Single-Stream) Recycling
In less than a year, solar powered recycling compactors have become an integral part of waste diversion programs among St Louis universities, hospitals, and municipalities. Of the growing number of solar compactors being used in this area alone, thirteen are in place as a result of recycling grants and are producing results.
Solar powered recycling stations are placed outside in high foot-traffic areas, such as main hospital entries, throughout university campuses, and in downtown shopping and eating areas. The stations have ergonomically designed doors for easy access by the users. In addition, the closed stations prevent animals, insects and water access while minimizing litter.
The solar compactors are about the same size as traditional recycling bins, yet due to the solar powered compaction capability, they hold substantially more material – five times the capacity. Where a traditional trash container holds 32 gallons, these state-of-the are systems can hold up to 150 gallons of material.
The enhanced capacity combined with specialized software enables more targeted emptying so the user can move from a standard schedule of collection (regardless of volume) to collecting only when the station is full.
Specialized software provides real-time and historical data for each unit, as well as for a collection of units, including data on recycling diversion rates, fullness, and station status, all accessible though a web-based application. With the monitoring capability and customized notifications, each station's fullness, location, and collection history can be monitored.
In the St Louis area alone, these stations have diverted almost 3/4 of a ton of recycling from the waste stream in the past 6 months. By placing recycling stations next to or very close to waste stations, the amount of recycling is maximized and clearly indicated signage on the side panels of these units minimizes contamination.
Local grant recipients include St. John's Mercy Hospital, Webster University and the St. Louis University. These entities operate a total of 16 state of the art recycling stations. These institutions, like many others, administer a multitude of recycling and waste reduction programs throughout their operations. Some of their additional programs include composting of food waste and other organics, recycling electronics, diverting institutional and industrial waste, sponsoring education and collection events and purchasing environmentally friendly products. They have already diverted millions of tons of useful materials over the years and there appears to be no limit to their sustainability commitment.
To help establish the presence of recycling compactors in the area, the St. Louis-Jefferson Solid Waste Management District provided grants to assist local entities further their success in recycling and responsibility. The Missouri Department of Natural Resource facilitates the availability of recycling and waste reduction funding throughout the state.
Solar powered compactors for recycling and waste stations are manufactured by Bigbelly. For more information, contact www.bigbelly.com.
Flooring Systems Carpet Reclamation Program Promises 100% Diversion
More than three (3) million tons of carpet is produced in the United States each year. At the same time, four billion pounds of carpet is discarded annually; with only about one percent being recycled. Flooring Systems, Inc. stepped up to the challenge of carpet reclamation in 2010 by initiating a local program and making it their number one goal. They accept carpet from any project and promise 100% diversion from landfills.
Flooring Systems, Inc. (FSI) realized how vital it was for their business to "Do the right thing," towards environmental responsibility. Subsequently, their carpet reclamation program has diverted more than four (4) million pounds of carpet from local landfills to date. FSI is the leader in St. Louis for carpet reclamation and recycling and is listed as forth in the nation according to the Ecollect program. Forming and maintaining alliances with local and national environmental organizations increases their ability to expand carpet recycling capabilities by remaining current and compliant while addressing environmental challenges.
FSI partners locally with public and nonprofit entities to host public collection events within St. Louis County and Jefferson County communities. FSI receives carpet from large general contractors and independent residents. Drop-off is available with a fee and arrangements can be made to pick up large jobs. The carpet is collected and accessed for reclamation at their 40,000 square-foot facility located in St. Louis County.
Now celebrating their 20th year in operation, the company has grown significantly in the number of jobs needed to manage the huge volume of materials. Their current goal is to process one (1) million pounds of used carpet each year. The volume of carpet collected is calculated by yardage and converted into tonnage.
FSI now services most of the largest construction contracting business and office management companies in St. Louis. Carpet that is reusable is donated to local charities.
As a flooring company, FSI's primary business involves the installation of carpeting, wood flooring, resilient flooring and ceramic tile for commercial clients. Due to their alliances with environmental organizations, FSI has access to three carpet mills and other companies involved in reclamation and flooring maintenance.
The St. Louis-Jefferson Solid Waste Management District and the Missouri Department of Natural resources provided grant assistance in support of this recycling and waste reduction project.
For more information, Flooring Systems, Inc. can be reached at 314-329-9319 or www.flooringsystemsinc.net.
Pattonville Schools Implement District-Wide Organics Collection
The Pattonville School District has always been "green;" as reflected in their school colors. But they're actually getting greener every day. Their latest sustainability endeavor is launching a food composting program at five of the district's school cafeterias. High school and middle school students are now provided with 5-compartment compostable lunch trays rather than non-decomposable Styrofoam trays.
In just over seven months, the pilot program diverted more than 2.5 tons of organic waste from landfills. Currently, a little more than half of the district's 5,700 students participate daily in composting.
Every day after eating, everyone places their compostable trays – along with any food waste – into the specially identified containers. The kitchens are also provided with organics containers so the staff can easily handle food waste generated from meal preparation.
The program not only decreases waste while generating a useful product, it helps educate the students and staff about the impact they make both individually and as a whole.
Being engaged in the process and impact of recycling serves as hands-on, everyday reminder, of their personal contribution to helping the environment.
Over the years, the Pattonville School District has continued to expand its recycling and waste reduction efforts. Currently, the district is recycling 297 tons of single-stream (comingled) materials per year; roughly 28% of their total waste stream.
In 2015, the Pattonville School District was awarded additional grant funding to expand the pilot program into a permanent program throughout the district's 10 schools. With the entire Pattonville school district participating, they will soon be diverting twice as much organic waste from landfills.
The success of the trial program now results in a significant contribution to expanding the life of the landfills, all while involving and educating students and staff about the importance and long-term benefits of their participation.
The St. Louis — Jefferson Solid Waste Management District is a regional agency that was created in 1993 to assist the public, private and nonprofit sectors in establishing and expanding waste reduction and recycling. The District includes the City of St. Louis, St. Louis County, Jefferson County and St. Charles County. For more information visit www.swmd.net or call 314-645-6753.