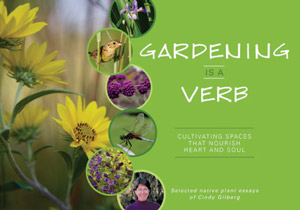 New Cindy Gilberg Essay Book Celebrates Native Plants
By Jean Ponzi
If you've picked up The Healthy Planet magazine or Gateway Gardener over the past few years, you've probably read the native plant landscaping columns contributed by Cindy Gilberg. Thousands of readers did, around St. Louis and across Missouri, as Cindy wrote for statewide publications too.
Her vivid verbiage moved many of us to start growing native plants, which are now transforming our high-maintenance (lifeless!) lawns into habitat that hops, flits, buzzes, blooms, fruits and bursts in all seasons. Evidence of Cindy's motivation (success!) is sprouting all over our area: in rain gardens, woodland borders around suburban homes, mini-ponds, and pocket prairies.
She influenced the horticulture business too, as a native perennial grower and designer. Her decades of experience proved native plant capabilities to conserve water, recharge soil, support biodiversity, and re-connect people and our neighborhoods to nature. Her colleagues in the landscape and nursery industry are hustling now to meet our demands for these "new" (timeless!) plants that can revive the eco-liveliness of our human habitats.
Native plant gardening was Cindy Gilberg's passion. It became her life's work to get these high-performing, multi-tasking plants into our public and personal landscapes. It sustained her through a long struggle with ovarian cancer until her passing last June.
In tribute to our colleague and friend, the Missouri Botanical Garden has compiled Cindy Gilberg's native plant essays into a new full-color book, titled with one of the phrases that famously seasoned Cindy's years of teaching and public talks.
Gardening is a Verb: Cultivating Spaces that Nourish Heart and Soul is illustrated with Cindy's landscape designs and both native plant and personal photos. A table of over 150 plants she recommends lists their use for sunny, shady, dry, and wetland conditions, including specialized characteristics such as support for birds and pollinators, winter interest, and deer resistance.
Additional features are a Foreword by Scott Woodbury, Shaw Nature Reserve curator of native plants; an Introduction by Cindy's mother, Barbara Perry Lawton, a nationally known and locally popular garden writer; and an Afterword portrait of this "power plant" woman by her husband Doug and her son and daughter, Nate and Becca.
Reading her essays feels like taking a walk with Cindy Gilberg. She shares her lifetime's knowledge so clearly that we can absorb and use it as naturally as plants use sunlight. She introduces plants she has tested and knows we'll love. She shows how natives are powerful healers, for us, for wildlife and for our precious Earth's disrupted systems.
Best of all, Cindy gives each of us her restorative, beautiful personal vision, for our native plant gardens.
On sale now at Missouri Botanical Garden, Shaw Nature Reserve, and area garden centers. Find a list of sale locations – plus bonus essays and other features – at www.mobot.org/GardeningIsAVerb.
Cindy's book is also on sale at The Healthy Planet Natural Living Expo March 29 in Webster Groves.