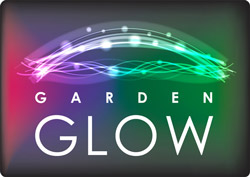 The Missouri Botanical Garden is excited to announce its plans for an expanded "Garden Glow 2014," the Garden's second annual winter light exhibit. Visitors will have the opportunity to stroll through the Garden at night surrounded by a spectacle of unique light installations. The exhibit will open Saturday, Nov. 22, 2014 and run through Saturday, Jan. 3, 2015.
The 2014 show will feature over a half million lights illuminating the Garden and plenty of engaging activities for visitors of all ages. The display will adorn the Garden's most iconic locations including the Climatron®, Kaeser Memorial Maze, the Central Axis, Tower Grove House, Shoenberg Fountain and the Cleveland Gate House.
More than over 600,000 lights – 200,000 more lights than last year have been added, and walkways will once again be transformed into multi-Garden Glow 2014 colored light tunnels creating an explosion of visual magic. Photo opportunities will be plentiful throughout the display from the popular "Glowmen Glen," to the "Kiss Goodnight" and a new "Snow Globe." Even more traditional displays have been added such as candlelight village displays and carolers – sure to delight crowds of all ages.
The exhibit will also include an interactive area where visitors can decorate life-size snowmen, creating a fun photo opportunity.
Food and drinks will be available at a number of locations on the grounds including stations located on the Central Axis featuring fire pits for s'more-making.
For more informaton and to buy tickets, 314-678-7442, www.mobot.org/glow or in person at the Missouri Botanical Garden.