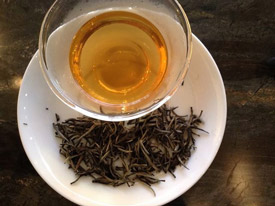 By Kateri Meyer
Owner of Traveling Tea
Did you know tea is like wine, in that its flavor profile is developed by its terroir, or the environment in which it grows? For example, Assam tea is a hearty and malty tea native to the Assam region of northern India. When I sampled the result of this same cultivar grown in Hawaii's volcanic soil I found it to be mellow, with honey notes. Quite a surprise!
Also like wine, pairing quality tea with food can enhance the experience and enjoyment of both. A guideline for choosing which teas to serve, is to consider the country of origin and foods and flavors native to that region.
Japanese teas will pair with seafoods, chicken, rice and other foods that have umami qualities (pleasant savory taste). Black teas from Yunnan, with varying degrees of smokiness, pair with roasted beef, pork, or lamb; as well as sweet or spiced desserts and baked goods, especially those with fruit components (apples and peaches originated in China and central Asia).
If you normally pair wine with your food courses, consider offering tea as a wine/beer/cocktail (or even coffee) alternative to your guests. It is very affordable in this setting. Guests who do not consume alcohol or soda may appreciate being treated with a beverage of comparable class. Tea drinkers, especially, will appreciate having quality options comparable to wines and coffees and liqueurs during, and after, dinner. There are many caffeine free dessert type tea options as well.
Think outside the teacup! There are no "rules" that say how you must serve tea. Oolongs, Darjeelings, various green teas would all be lovely served in a wine glass at room temperature.
Lung Ching Dragonwell: Mixed nuts, chestnuts; rich or aged cheeses such as Brie or Gruyere; light vegetable dishes; fish; fruit.
Oolongs can tame the fire of hot, spicy dishes. Heartier, smoky oolongs such as Wuyi are ideal with pork or spiced chicken, or fruity, earthy desserts, spiced tea breads, stone fruits. Lighter style oolongs (more similar to green tea) pair beautifully with lightly spicy or curried foods, smoked foods, shellfish, buttery desserts, and fresh fruit.
Assam: Often the base of breakfast blends. Pair with sausages, buttery pastries. Also with dark chocolate, sharp cheeses, mushrooms, smoked fish and meats, eggs, spiced desserts or anything with cinnamon, nutmeg, brown sugar or caramel. Mexican food and chilies.
When planning menus, feel free to discuss your tea/food pairing options, ways to simplify tea prep, and make an appointment to sample teas at our shop.
Tell us you saw us in the Healthy Planet magazine and you receive a "Tea Surprise" with your purchase" when you stop by the store at 2707 Sutton in Maplewood. www.traveling-tea.com. 314-647-8832.