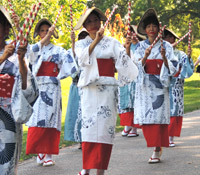 Join the Missouri Botanical Garden in celebrating the culture and traditions of Japan when the 38th annual Japanese Festival returns to St. Louis! 2014 marks the year of the Dianthus or "Nadeshiko," commonly referred to as the "Pink."
From traditional music to martial arts, sumo to sushi, calligraphy, bon odori dancing to bonsai displays and thunderous taiko drumming to Tea House Island tours, the three-day Labor Day weekend is filled with sights, sounds and experiences for the entire family. The 2014 Japanese Festival is Saturday, Aug. 30 and Sunday, Aug. 31 from 10 a.m. to 8 p.m. and Monday, Sept. 1 (Labor Day) from 10 a.m. to 5 p.m.
Seiwa-en, the "garden of pure, clear harmony and peace" and one of the largest authentic Japanese strolling gardens in North America, takes center stage for the weekend's festivities. A boisterous opening ceremony kicks off the celebration Saturday morning at the Japanese Garden entrance with an elaborate omikoshi Shinto shrine parade, bon odori festival dancing, taiko drumming and remarks by local and visiting dignitaries.
Returning for the 10th year by popular demand, retired sumo wrestlers from the Hawaiian Islands will give visitors a glimpse into the lifestyle, training and fighting techniques of Japan's ancient warrior. The acclaimed Sachiyo Ito & Company Japanese arts organization is a new addition to the Festival this year. They offer artistic performances and educational and exchange programs that promote Japanese culture through the arts, particularly dance. The acclaimed St. Louis Osuwa Taiko ensemble will be featured at this year's Festival and is expected to draw taiko enthusiasts from around the country with their dramatic and formidable style. They perform all three days of the Festival at the outdoor Cohen Amphitheater.
The private Teahouse Island of the Japanese Garden will be open for guided public tours every hour from 12 to 6 p.m. on Saturday and Sunday and from 12 to 4 p.m. on Monday. Watch martial arts demonstrations of judo, kendo,aikido and karate-do, along with the more ancient koryu bugei. Learn about the disciplined art of ikebana flower arranging and the proper pruning of a delicate bonsai tree. Marvel at the quick work of ice sculptor Naomi Hamamura as he wields a chain saw to create birds and other objects from large, frozen blocks.
Learn the steps and join in a bon odori dancing demonstration and take in a colorful kimono fashion show on Sunday inside the Shoenberg Theater.
Since 1977, the Missouri Botanical Garden has produced the annual Japanese Festival in conjunction with the Japanese Activities Committee, a coalition of several Japanese-American organizations that provide art, dance, food and entertainment for thousands of visitors each year.
Admission is $15 for adults ages 13 and over, and $5 for children ages 3 to 12. Missouri Botanical Garden members are $5 and members' children (ages 12 and under) are free.
The Missouri Botanical Garden is located at 4344 Shaw Blvd. in south St. Louis, accessible from Interstate 44 at the Vandeventer exit and from Interstate 64 at the Kingshighway North & South exit. Free parking is available on-site and two blocks west at the corner of Shaw and Vandeventer.
For general information, visit www.mobot.org or call (314) 577-5100 (toll-free, 1-800-642-8842). Members get more! Join the Garden or renew your membership during the Japanese Festival and receive free admission for two adults and all children for every day of the event. Memberships begin at $65 ($60 for seniors) and offer 12 months of free admission for two adults and all children, plus exclusive invitations and discounts.
Learn more at www.mobot.org/membership.