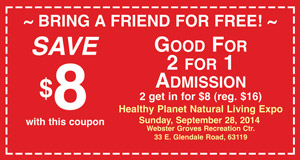 Enjoy the first weekend of Autumn as The Healthy Planet, St. Louis' Green & Natural Living magazine, hosts its 28th Natural Living Expo Sunday, September 28, 10:00 a.m. to 4:00 p.m. at the Webster Groves Recreation Center, 33 East Glendale Road (I-44 at Elm Avenue) in Webster Groves.
This popular event will include more than 55 exhibit booths offering a variety of eco-friendly, healthy and natural products, services and information. There will be numerous food and product samples to enjoy including craft beer and wine tasting. Eco-Friendly businesses and organizations will be on hand to show you how you can live a "greener" and sustainable life at home, in your yard, garden, and your community. Get a free health screening, a chair massage, and learn more about living a healthier life for yourself and your family.
"We have been hosting these expos for more than 17 years," said J.B. Lester, Publisher of The Healthy Planet magazine. "Each one has its own great energy and the crowds are always large and enthusiastic. I think people are very interested in finding the resources they need to live greener and healthier lives and this is the place to do just that. Not to mention all the great samples and giveaways at the expo. Between the free chair massages, free health screenings, food and beverage samples and other giveaways, our visitors go home feeling like they really got their money's worth!"
The first 500 paid visitors will take home a complimentary eco-friendly, reusable tote bag courtsesy of Dierbergs, Schnucks & Whole Foods Markets. Chipotle is offering 500 free food cards to expo visitors throughout the day.
The Healthy Planet Natural Living Expo has something for everyone. Enter a free drawing for a family weekend at Trout Lodge YMCA of the Ozarks ($600 value), or Amtrak train Tickets. If you are interested in living a healthier and "green" life, then don't miss this event! The first 100 paid visitors receive FREE passes to Missouri Botanical Garden, too!
Adult admission is $8.00, children under 16 are free! Two for one tickets are inside the August and September issues of The Healthy Planet and online, www.thehealthyplanet.com beginning August, 2014.
For more information please call The Healthy Planet magazine at 314-962-7748, or email JBL44@aol.com. Exhibitor space available, but filling up fast. Call today!