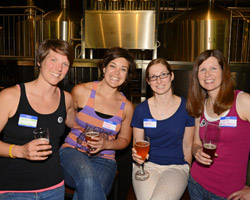 It's Not Just A Boy's Club Anymore!
By Maureen Zegel
Craft beer drinkers will cite their epiphany moment, the instant they tasted their "forever" beer – a hoppy IPA, a smooth wheat beer maybe it was a hearty stout. For most of us, it changed our drinking and buying habits. For others, it changed their life.
"I was hiking in Arizona with a friend and she handed me an O'Dell's St. Lupulin," said Cat Golden, who was a high school English literature teacher at the time. "I grew up in a beer-drinking family. But this was unlike any experience I've ever had. From then on, I only wanted to drink beers that tasted that good."
It wasn't long before she decided, "I want to make beer."
So Golden quit her job, moved to Missouri and lived on her savings for a year to learn the craft beer business at O'Fallon Brewery in St. Charles, Missouri.
"I wanted to learn every aspect of the process," Golden said. "It was part insanity, part passion, but at the end of the year, they hired me."
Today, she is a brewer and manager of production operations at O'Fallon Brewery, one of a small but growing number of women brewers in the U.S. and an even faster growing number of women in the business and consumer end of craft beer.
Just ask the women of Femme Ferment, a St. Louis organization celebrating the role women play in the industry.
"We moved out to cow country last February and I missed drinking beer with my friends in St. Louis," said Libby Brown, of Second Shift Brewery and one of the founders of Femme Ferment. "Five of us met and we talked mostly beer for four hours. We are all involved in the industry in some way. We kept asking ourselves, 'Do we really need a women's group?'"
The answer was yes.
"We wanted to establish an organization and celebrate the role of women in the craft beer business," said Katie Herrera, club president and manager of I-Tap in Soulard. "We deserve a voice, not only here in St. Louis, but nationally. It's not just a boys' club anymore."
Indeed. Kim Jordan, co-founder and CEO of New Belgium Brewing in Fort Collins, Colorado, has been in the business since 1991. The Pink Boots Society, a national organization that helps women launch careers in craft beer, had 60 female brewers on their roster in 2007. Today there are nearly 250.
And, according to craftbeer.com, women drink 25 percent of all beer by volume in the U.S., but consume 37 percent of the nation's craft beers. The consumer side echoes the growth of women in the craft beer business. It's an exciting time to be a "good beer" drinker, say the women of Femme Ferment.
Within a few months the group has built a network of supporters through social media and events highlighting the talents of women in the industry. They held a launch party May 19 with nearly 50 supporters and then managed to snag their own informational table at this year's popular St. Louis Brewers' Guild Heritage Festival.
Want to meet the women behind the movement? In addition to Brown and Herrera, the founders include: Sarah Scherer, director of marketing at International Tap House; Kristen Chalfant, representing Morgan Street Brewery; and Colleen Kirby, representing Civil Life Brewing, You can find them every third Tuesday supporting the craft brewing industry in St. Louis, during happy hour at various "good beer" emporiums around the region. July 15 they take the party to Bridge Tap House and Wine Bar, 1004 Locust St. in downtown St. Louis. You can also follow Femme Ferment on Facebook and Twitter.
Maureen Zegel is a freelance writer and a regular contributor to The Healthy Planet magazine.