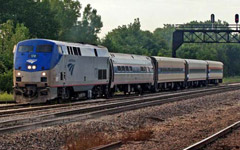 Don't spend the whole winter cooped up at home. Get out and about with a trip on the Missouri River Runner and receive 20% off your fare. It's a great way to explore The Show Me State — while we show you the savings.
Have a Relaxing or AdventurousWinter Getaway
The scenic Missouri River Runner route connects Kansas City to St. Louis with plenty to offer and much to enjoy, including:
World famous barbecue
Live jazz music
National parks
Historical landmarks and much more
Enjoy Your Trip and the Ride
Make the most of The Midwest Winter Warm Up Sale by booking with Amtrak and enjoy traveling in comfort with less stress and great amenities. Your winter getaway begins the minute you come onboard.
The Missouri River Runner Travels Daily
between St. Louis and Kansas City, MO
"Show-Me" Missouri has plenty to offer any visitor. Take the Amtrak Missouri River Runner to hit the great travel destinations:
St. Louis: Gateway Arch/Zoo
Kirkwood: Transportation Museum and the Magic House
Washington: Antique Shops/Fine Dining
Jefferson City: State Capitol and Governor's Mansion
Lee's Summit: Unity Village Restored Historic District
Independence: Truman Presidential Museum and Library
Kansas City: Barbeque/Jazz
Different from Air Travel, Buses or a Car Ride
Riding the rails has long held an allure for the discriminating traveler. That sentiment still holds true — Amtrak travel offers a richer travel experience and provides some surprisingly practical advantages, too. Climb aboard Amtrak today and see for yourself.
Skip the buses and traffic on the road and instead treat yourself to spacious and comfortable seating, access to the Café Car and Quiet Car and many more thoughtful amenities onboard the train. Rail travel is at the head of the class when it comes to eco-friendly travel. Trains consume less energy and produce less harmful pollutants than either car or air travel. Hopping on an Amtrak train will save you gas and daily wear and tear on your car. It also reduces the ever-increasing traffic congestion on the roads and in the skies.
When you book now through March 30, 2014 for travel now through March 31, 2014 you'll have even more to enjoy — a savings of 20%.
Visit Amtrak.com or call 1-800-USA-RAIL for more information or to book.
Reservations must be made at least 1 day prior to travel required.
You can enter a drawing for two Free Amtrak tickets at the Healthy Planet Natural Living Expo, Sunday, March 30 in Webster Groves.