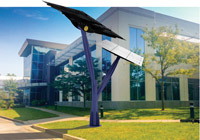 Play Bears In Green Game Nov 24
The St. Louis Rams are greening their operations, from recycling and waste reduction, to energy efficiency and the use of recycled materials. As part of these efforts, the Rams have partnered with St. Louis based Microgrid Solar to further their efforts around clean energy.
As the official Clean Energy Partner for the Rams, Microgrid will be handling an "Energy Makeover" that will include a series of projects aimed to reducing energy costs, while contributing to the Rams Green Team Initiative.
Rams Senior Man-ager of Marketing & Advertising, Lisa Boaz, said, "For the Rams, pursuing these opportunities fits with our Green efforts, but it is also a smart operations decision that saves the organization on energy costs."
The clean energy improvements will begin with a solar installation, with a combined 25 kW output, at Rams Park that will include both a rooftop Solar PV array, as well as a solar sculpture, which will be installed in November.
"We are particularly excited about the Solar Sculpture, as it will be a first for St. Louis," said Microgrid's Founder & CEO, Rick Hunter.
Additionally, an energy audit will be performed which will yield recommendations for additional facility upgrades to be pursued that will have additional impact on energy usage.
An educational display will be created and housed inside Rams Park that will highlight the many green efforts of the Rams organization. Finally, outreach efforts for both staff and fans will be implemented, including planned "SolarU" presentations by Microgrid at Rams Park.
Said Boaz, "The goal with our green efforts has always been to not only do the right thing, but to help our fans learn from what we are doing, and then we can really have an impact."
Fans that have an interest in seeing the solar installations first hand at Rams Park should watch for more information by Rams emails and web content (link below).
The Rams will host their fourth annual Green Game on Sunday, November 24 against the Chicago Bears.
For more information on the Rams green efforts, visit www.stlouisrams.com/community/go-green.