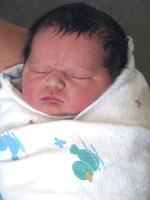 The Pride Of The Pride
My daughter Natalie gave birth to my first grandchild on July 23. Jackson James Petty is a healthy 8 lb 12 oz bouncing baby boy with a full head of hair. Sorry Jackson, heredity may dictate losing that mop top before you would like. But for now, bask in the glory of your beautiful Leo locks. He has the fingers of a concert pianist, or a hall-of-fame flame thrower. His head is that of deep thinker and he has the lips of a lover. He has the beginnings of blue eyes, just now a grayish-blue. But his dad has sent him the genes of sky and the size of a gentle giant. His mom and dad are already great parents. Attentive and loving. Family and friends have welcomed him into the world with warmth and open arms. He coos and makes noises of contentment and hardly voices a contrary sound. Perhaps he will become a diplomat. Knowing when to sound off and when to hold his tongue. But for now he is my grandson. He is the pride of the pride. And our whole family is better because he has joined our lives. Here's to you J.J. Welcome home!
I also want to to take a moment and congratulate Andrew Goodman who is soon to open Aquarius Wellness, Center For Healing Arts on Clayton Road in Richmond Heights. If there's one thing I love is a small business entrepreneur! Currently he is looking for wellness professionals, Massage Therapy, Thai Yoga Therapy, Hypnotherapy, Aromatherapy, Music Therapy, Physical Therapy, Reiki, Reflexology, Chiropractic, Acupuncture, Esthetics, etc. to join him at the center. If you are interested in talking to Andrew about this business opportunity check out the help wanted ad on page 31 for more information. The rest of us will have to wait a short time until the center opens with all these wonderful wellness services. Check back in The Healthy Planet for updates about the grand opening!
Make a note that our Autumn Healthy Planet Natural Living Expo will be Sunday October 20 in Webster Groves. We are now taking reservations for exhibit space, so contact us right away as we sell out fast. We are looking forward to seeing all of you at our 26th expo and helping you find resources for healthier and greener lives!
— Proud Grandpa, J.B. Lester; Publisher