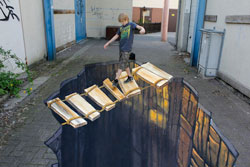 With Michelle "Mike" Ochonicky
Healthy Planet Arts Editor
Chalk It Up… As ART!!!
I was recently asked to conduct a class on chalk drawing. Sure, I thought, how complicated could that be? After all, I drew on the sidewalk when I was a kid, so I know about chalk drawing, right? Wrong!
It's odd how things seem to happen at just the right time. No sooner had I agreed to conduct the chalk class when a friend coincidentally emailed me what she termed "Amazing art!" The images she sent were by German chalk artist Nikolaj Arndt and were indeed amazing.
Arndt pushes his childhood love of chalk to the max, amazing lucky Europeans who happen upon his temporary sidewalk works. From airplanes flying out of the pavement to deep abysses and even leaping sharks, Arndt's sidewalk creations take strollers by surprise. But it's not just in Arndt's hometown of Marburg, Germany that people are encountering sidewalk masterpieces. Outdoor chalk art is taking public spaces by storm — and people love it.
But, because of rain and a need to use sidewalks, this art is fleeting. See it before it disappears. Watch it being created by artists on their knees. It's an experiential art form.
St. Louisans have the opportunity to see exactly what I'm talking about on August 31 (rain date: September 1) when the Delmar Loop hosts its own 3rd annual "Get Your Chalk On!" Sidewalk Art Festival. From 9 a.m. to 5 p.m., visitors can watch area artists create wonderful works, all in chalk, near the Chuck Berry Statue at 6555 Delmar.
Or, if you have an artistic bent yourself, enter to participate in one of four categories: Best of the Loop Theme (show what you love most about The Loop), Chalk of Fame (portray a St. Louis Walk of Famer), Most Creative (you figure it out!), or Chalk Land (for children 12 and under). Entry fees for artists include all supplies: $10 for 18 and over; $8 for students 12-18, and $4 for children 12 and under. Watching is free!
Winners in each category will be featured on The Loop's website, cash prizes, plus gift certificates from Loop businesses. To register, go to http://visittheloop.com/about/events/.
St. Louis celebrates its 250th Anniversary in 2014. In anticipation of that milestone, The Sheldon recently announced the STL250 Songwriting Contest. Both amateur and professional songwriters are invited to focus their talents on the city's upcoming anniversary. Along with the anniversary celebration, the Songwriting Contest is designed to raise public awareness about the tremendous music and artistic talent in our area.
Initial judging for the competition will be done by a panel of local musicians, educators, music producers and the Sheldon staff. All works must include lyrics, be no longer than seven minutes in length, and submitted electronically by October 1, 2013. The judges will look for quality of songwriting and compositions, effectiveness of interpreting the history and culture of St. Louis, with special consideration given to those songs that reflect the rich musical heritage of St. Louis.
Finalists will be selected by November 1 and uploaded to The Sheldon's website so the public can choose the winners. Cash prizes include $500 for first place, $250 for second, and $100 for third, with the grand prize winner given a recording session at In the Studio, LLC. All winners will perform at The Sheldon Concert Hall during First Night on December 31, 2013 to kick off St. Louis' 250th Anniversary year.
If you've got a tune in your head or a song in your heart, write it down and enter STL250 Songwriting Contest. For info, visit http://www.thesheldon.org/songcontest.asp.
The Contemporary Art Museum St. Louis (CAM) just announced receipt of a $75,000 grant from The Andy Warhol Foundation for the Visual Arts. "The grant will be used to hold a major solo exhibition of the work by American artist Nicole Eisenman and will be the artist's most comprehensive mid-career survey to date," said CAM Assistant Curator Kelly Shindler. "It will explore and celebrate the development of Eisenman's practice across various media from the 1990's to present.
"The Andy Warhol Foundation is a leading supporter of some of the most significant contemporary art programs throughout the country," said CAM Director Lisa Melandri. "We are tremendously grateful for the financial support and the legitimacy that this award brings, linking CAM to an important network of visual arts organizations." The exhibition of Eisenman's drawing, painting and printmaking will run January 24-April 13, 2014 to celebrate CAM's tenth anniversary year.