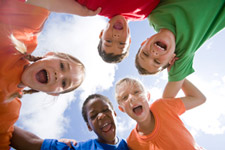 Saint Louis Science Center Summer Science Blast
Get ready to have a blast! Sign up for Summer Science Blast at the Saint Louis Science Center and find amazing summer adventures. Learn to fly a real airplane. Design and build your own robot. Build and launch your very own rocket! Explore the science behind cooking and more! For 2013 we are offering a full summer of our popular early childhood programs! Camp opens June 3 through August 2. We offer camps for ages 4-18. Halfday, fullday, and flexible extended care options. Online registration now available! Call (314)-289-4439 or visit http://www.slsc.org/summer-camps to get a brochure.
Chesterfield Montessori Summer Program
Chesterfield Montessori School offers a quality, fun-filled summer program for children ages 2-1/2 –12. We have a beautiful facility on five acres with a large swimming pool and two tennis courts. CMS offers a good balance of indoor and outdoor activities, including swimming and tennis lessons, gardening and an AMI Montessori education. Enrollment is half or full day. Extended care and catered lunch are available at additional cost. Sessions run from June 3rd through August 16th. For students elementary age and older, special programs include Kitchen Science, Fine Arts, and Dramatic Arts. Enrollments are being accepted. To learn more about this exceptional summer program, contact Chesterfield Montessori School at info@chesterfieldmontessori.org or (314) 469-7150.
YMCA of Greater St. Louis Day Camps
TIME TO BE A KID. For more than 130 years, Y camps have been providing kids opportunities to learn, have fun, and create lasting friendships. Y camps have something for every interest – from traditional outdoor camps to dozens of "specialty" camps involving exciting adventures and themes, sports, games, arts, dance, and much more. Sign up at any one of 17 Y branches that offer camps. Ages 3 to 16. Camps run all summer from May 28 to August 9. Half-day and full-day camps available. Check out our DISCOUNTS! Call 314-436-1177 or register online at ymcastlouis.org.
Craft Alliance Summer Art Camps
This summer, have fun in creative art camps for ages 4-18 at Craft Alliance in the Delmar Loop and Grand Center. One week morning and afternoon camps and late afternoon teen camps are available June 3-August 9. Explore hot glass, pottery wheel, jewelry making, digital darkroom, fashion and textile design, painting and drawing and more. Teens 15-18 can become a Summer Camp Intern and work with the younger campers and our artist instructors. New this year is a two week high school immersion camp in collaboration with Saint Louis University, July 22-Aug 2. Visit www.craftalliance.org for more information.
Countryside Montessori Summer Camp
Give your child a summer to remember! Countryside offers the following daily activities: pony rides, Montessori class time, swimming instruction/free swim/water play, art activities, outdoor play and gardening. Our younger campers will enjoy daily pony rides, water play, Montessori class time and art activities. Countryside offers a ten-week summer camp from June 3rd -August 9th. Camp hours: 8:15 a.m.-12:15 p.m. with a Full Day Option (8:15 a.m.-3:15 p.m.) or Extended Hours (7:00 a.m.-5:30 p.m.) You can register for as little as two weeks or for all ten weeks! Countryside is located at 12226 Ladue Road in Creve Coeur and was established in 1964. Call 314-434-2821 or visit www.montessori4children.com to learn more.
Humane Society Summer Programs
CALLING ALL KIDS! Do you love animals? Do you want to have fun and learn lots of fantastic facts about animals? We have the perfect classes for you. Don't worry…NO homework or tests! The Humane Society of Missouri's Animal Adventures programs are three-hour "animal encounters" where you'll learn about your favorite finned, furry or feathered friends and make a great keepsake to take home. Check out the fun and register at www.hsmo.org or call 314/951-1572. Tell all your friends! It's a cool way to spend part of a hot, summer day!
YMCA Camp Lakewood/strong>
YMCA Camp Lakewood is an overnight co-ed summer camp for children ages 6-17 of all abilities. Campers experience life lessons through setting and accomplishing goals, making new friends, building character, experiencing cultural diversity, and having FUN! Located 75 miles south of St. Louis near Potosi, MO, with 5,000 wooded acres and a 360-acre private lake, Camp Lakewood is a place where lifetime memories are made. From archery to water activities, arts & crafts to zip lines and so much more, each child is nurtured to reach their full potential guided by core values of Caring, Honesty, Respect, Responsibility and Faith. www.camplakewood.org, 1-888-FUN-YMCA.