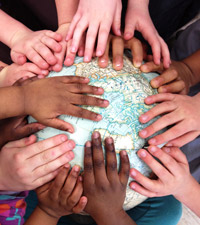 Gather in St. Louis' favorite common place for this year's Earth Day celebration on Sunday, April 21st from 11 a.m. to 6 p.m. on the Muny Grounds of Forest Park. At the 24th annual St. Louis Earth Day Festival, enjoy three stages of entertainment, learn about sustainable products and services offered by local businesses, meet area non-profits that share the mission of Earth Day, and participate in a variety of hands-on educational activities.
A collection event for hard-to-recycle items returns to the Festival for a third year, including the DEA Medication Take-Back Initiative. The Recycling Extravaganza will take place in the parking lot of the St. Louis Community College Forest Park campus, off Oakland Avenue, 10 a.m. to 4 p.m. A full list of acceptable items, including everything from mattresses and appliances to batteries and carpet, is updated regularly online so you can plan your spring cleaning accordingly.
Start the celebration early at Earth Day Eve – a family-friendly evening with food and music on the Festival grounds, 4 p.m. to 7 p.m. at the corner of McKinley and Theatre Drives in the Earth Day Café neighborhood, presented by Wells Fargo. All are welcome and a donation of $5 is suggested to support St. Louis Earth Day. Big Brother Thunder and the MasterBlasters headline the event with their soulful energy and funky tunes.
Before the Festival opens, join Trailnet at the Missouri History Museum for a guided bicycle tour of Forest Park's ecosystems. Registration starts at 9 a.m. and the ride begins at 9:30 a.m. After your bicycle tour, head over to the Community Stage for free yoga, face painting, henna and an eco-art activity, 10 a.m. to 11 a.m. Return to the Community Stage area, just East of The Muny covered walkway, for the St. Louis Teachers' Recycle Center's "Great Green Re-Read Outside". Throughout the day, visitors can select a book to keep and explore areas of the park where you can read outside, sponsored by Great Rivers Greenway.
At 12 p.m., join the Honorable Mayor Francis G. Slay at the KDHX Main Stage for the opening ceremony, when Earth Day Action Grants will be awarded to successful projects. The Festival officially kicks off with the All Species Parade. All are welcome to join this costume pedestrian parade through the event grounds, led by the Joia World Percussion Ensemble.
A themed-neighborhood layout makes it easy for visitors to navigate the Festival and experience all the celebration has to offer. Visitors can explore the following neighborhoods: Alternative Transportation and Fuels by Ameren; Arts and Crafts; the Earth Day Café; Energy and Green Building; the Farmers Market by Chipotle; Home and Pets by Purina; Nature, Recreation and Wildlife; Reduce, Reuse, Recycle; and, Wellness and Spirituality. Visitors are also invited to reflect upon their experiences and connect with the Earth at the Peace Garden, where activities will take place throughout the day.
Over 30 Educational Exhibitors are scattered throughout the grounds, present in almost every neighborhood with a wide range of hands-on activities for kids and adults. Visitors can engage with ecosystem models, role-playing games, or create something beautiful with 'trash'. All are invited to help paint a Metro bus with Metro Arts in Transit and Firecracker Press, 2 p.m. to 4 p.m. The Ameren exhibit provides information about energy efficiency and conservation, and the Chipotle Cinema in the Farmers Market area features short films about cultivating a better world.
Over twenty food and beverage vendors will be serving up diverse, local cuisine and drinks throughout the Festival. Schnucks will be showcasing products from its Full Circle organic line in the Earth Day Café where you will find organic vegetarian jambalaya, empanadas, St. Louis style barbeque and everything in-between. Schlafly Beer will be serving Organic Pale Ale and other favorites. Stop by the Nature's Own booth and enter for a chance to win free bread for an entire year!
Presented by Nature's Own, the 88.1 KDHX Main Stage will feature Andy Coco's Rhythm Section Road Show and Little Rachel and The Loot Rock Gang; and, you can enjoy The Root Diggers, Shannon Wurst, Banjo Kellie and many more on the Folk School of St. Louis Café Stage! Musical performances begin at 11 a.m. and continue all day on both stages. The Green Strum Band Scramble will close the Café Stage when participating musicians put their upcycled instruments to the test in front of local celebrity judges—hosted by Ryan Spearman and Kelly Wells of The Lulus.
The Worm's Way Community Stage features a variety of local entertainment, including dance troupes, a cappella performances, and theater groups, with special programming from the Shakespeare Festival St. Louis Educational Tour and the Wild Bird Sanctuary.
St. Louis Earth Day encourages visitors to use alternative methods of transportation to reduce the event's environmental impact and to reduce traffic in Forest Park. Metro is "Your Official Ride to Earth Day", and the Forest Park/DeBaliviere Metrolink station is only a half-mile from the Festival, with the Forest Park Trolley connecting riders to the Muny Grounds. Trailnet will be offering free bike valet parking in two locations at the Festival.
Park at St. Louis Community College to utilize our free shuttle service – hop on the St. Louis Lambert International Airport biodiesel bus or Super Park compressed natural gas (CNG) bus, leaving every 15 minutes on the hour between 10:30 a.m. and 6:30 p.m.
Take the Earth Day Challenge by bringing a reusable bag, refillable water bottle or using alternative transportation to get to Forest Park. Visitors who accomplish two of the three challenges receive an eco-friendly prize, like CFLs from Metro Lighting, Better Life products or Metro Transit day passes.
St. Louis Earth Day is a non-profit 501c3 organization whose mission is to make every day earth day by cultivating environmental stewardship and engaging individuals, governments, businesses, schools and the non-profit sector in celebration, education and action to support a healthy and sustainable future.
The St. Louis Earth Day Festival is grateful for the support and partnership of many local businesses, companies and organizations. This event is presented by Nature's Own, Ameren Missouri, and Metro Transit and sponsored, in part, by Chipotle Mexican Grill,
The City of St. Louis, KPLR 11/Fox 2, Missouri American Water, MO Department of Conservation, Schlafly Beer, USAgain, Schnucks and The Healthy Planet magazine. For detailed information and a complete list of sponsors, or to volunteer, visit www.stlouisearthday.org.