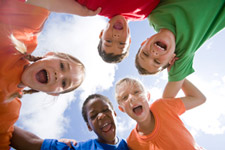 Abra-Kid-abra Camps
Make a person magically appear! Ride a unicycle! Twist animal balloons to take home! Sound fun? This is only the tip of the iceberg at Abra-Kid-Abra's one-week entertainment camps! We offer four different programs at community centers and schools throughout St. Louis, all summer: magic, circus stars, comedy, and balloonatics. Half or full day. Ages 6-12. Each culminates with the kids putting on a family show! Plus, you often get a nightly show of new tricks they learned that day! Goals are to develop presentation skills in front of a group, build confidence, and have fun! For schedule & details visit www.abrakid.com or call 314-961-6912.
Ackermann's Swim Program 
Teaching children 4-11 the life skill of swimming and water safety in Kirkwood for over 60 years. Providing children a non-competitive, safe, teaching environment in which to build confidence and self-esteem. Group swim lessons in 4 heated pools with different water levels for progressive safe learning. Enrollment by one or two week sessions. Hours 9:15 a.m. to 2:00 p.m., Monday through Friday. Well organized program with large playground. Red Cross Certified Teaching Staff. CPO on staff. Drop off and Pick up at curb. Visit ASPKirkwood.com and download application. 1044 Curran Avenue, Kirkwood, Mo 63122. email: ASPKirkwood@icloud.com.
Animal Camp / Cub Creek Science Camp
Animals…  Animals… Animals…
The only summer camp of its kind anywhere! Campers feed monkeys, walk llamas, hold baby kangaroo, play with puppies and so much more. Our Jr Vet program is a perfect fit for anyone who is thinking about becoming a veterinarian (and it looks GREAT on college applications.) We offer over 100 activity choices including two Zip-Lines, Climbing Walls , Archery, Riflery, Survival Skills, Crafts, Pottery, Cooking, Crime Science, Theater, Animal Care and More. Visit www.MyAnimalCamp.com or call: 573-458-2125 and request your free brochure.
Chesterfield Montessori Summer Program
Chesterfield Montessori School offers a quality, fun-filled summer program for children ages 2-1/2 –12. We have a beautiful facility on five acres with a large swimming pool and two tennis courts. CMS offers a good balance of indoor and outdoor activities, including swimming and tennis lessons, gardening and an AMI Montessori education. Enrollment is half or full day. Extended care and catered lunch are available at additional cost. Sessions run from June 3rd through August 16th. For students elementary age and older, special programs include Kitchen Science, Fine Arts, and Dramatic Arts. Enrollments are being accepted. To learn more about this exceptional summer program, contact Chesterfield Montessori School at info@chesterfieldmontessori.org or (314) 469-7150.
Craft Alliance Summer Art Camps
This summer, have fun in creative art camps for ages 4-18 at Craft Alliance in the Delmar Loop and Grand Center. One week morning and afternoon camps and late afternoon teen camps are available June 3-August 9. Explore hot glass, pottery wheel, jewelry making, digital darkroom, fashion and textile design, painting and drawing and more. Teens 15-18 can become a Summer Camp Intern and work with the younger campers and our artist instructors. New this year is a two week high school immersion camp in collaboration with Saint Louis University, July 22-Aug 2. Visit www.craftalliance.org for more information.
Countryside Montessori Summer Camp
Give your child a summer to remember! Countryside offers the following daily activities: pony rides, Montessori class time, swimming instruction/free swim/water play, art activities, outdoor play and gardening. Our younger campers will enjoy daily pony rides, water play, Montessori class time and art activities. Countryside offers a ten-week summer camp from June 3rd -August 9th. Camp hours: 8:15 a.m.-12:15 p.m. with a Full Day Option (8:15 a.m.-3:15 p.m.) or Extended Hours (7:00 a.m.-5:30 p.m.) You can register for as little as two weeks or for all ten weeks! Countryside is located at 12226 Ladue Road in Creve Coeur and was established in 1964. Call 314-434-2821 or visit www.montessori4children.com to learn more.
Encore Academy, School of Performing Arts
Enter the world of the theater for the child interested in performing! Our camps explore musical theater, drama and improv, through the use of drama games, skits, dressing in costume to create characters, and learning songs from Broadway and Disney movies. There is always a performance for family and friends on the last day of camp! Most camps are held in Webster Groves for children 4 to 13. All camp information is on our website www.encoreacademystl.com or you can call Diane Reeves at 314 651-3801 or email diane@encoreacademystl.com.
Gifted Resource Council Summer AcadEmies
Choose from six great Summer Academies at Gifted Resource Council. Academy Americana will recreate the CHANGE that permeated the early 20th century, while Ancient Academy re-visits Ancient Egypt. ECO Academy entrepreneurs create and run an environmentally friendly business. Space Academy cadets launch their own rockets and explore the significance of robotics as they study space. Jr. Science Searchers and Math, Marvels & More students delve into oceans, rainforests, math, science and creative expression. Extraordinary teachers, field trips, experiments, simulations, and a fantastic physical activity component make it an unforgettable summer. Three two-week, full-day sessions are offered at centrally located Crossroads College Preparatory School, for students in kindergarten through 8th grade. Extended care is available.
Call 314-962-5920 for brochure/application. www.giftedresourcecouncil.org.
Humane Society Summer Programs
CALLING ALL KIDS! Do you love animals? Do you want to have fun and learn lots of fantastic facts about animals? We have the perfect classes for you. Don't worry…NO homework or tests! The Humane Society of Missouri's Animal Adventures programs are three-hour "animal encounters" where you'll learn about your favorite finned, furry or feathered friends and make a great keepsake to take home. Check out the fun and register at www.hsmo.org or call 314/951-1572. Tell all your friends! It's a cool way to spend part of a hot, summer day!
J Day Camps
J Day Camps: a camp for every kid, pre-K through grade 10, from May 28 – August 9! New this summer: Water Park Camp, LEGO® camp, Girls Field Hockey, Maryville University Basketball Camp and expanded sports and arts camps, too! Campers swim in our sparkling pools nearly every day, and receive Red Cross swim instruction. Kids love our awesome staff and parents love our beautiful facilities, two convenient locations, pre- and post-care, and lunch-for-purchase option. Inclusion services are available. Register now for our popular specialty camps. Everyone is welcome at the J! Download brochure at jccstl.org. Questions? Contact Sara: 314.442.3432 or sjones@jccstl.org.
Lewis & Clark Institute Summer Programs
The Lewis & Clark Institute is celebrating 31 years of "getting kids excited about learning." The summer program for grades K to 8 offers classes in animation, cooking, ceramics, movie making, chemistry, aviation & engineering, creative writing, glass masters, Mississippi River ecology, woodworking, stained glass, and more. The camps are offered in two, three-week long sessions. First session is June 3 – June 21. Second session is June 24 – July 12. Program will be at Emmanuel Episcopal Church, 9 S. Bompart, Webster Groves. Call 314-918-1400 x. 25 for brochure or visit www.lci-stl.org.
Raintree Learning Community Summer Programs
From prairies to riverbanks, woodland to wetlands, young adventurers will see it all. Campers will go off the beaten path as they explore the wild side of our city. Whether trekking through the forest at Castlewood or running through flowering prairies at Shaw, campers will learn the science and art of our great outdoors. Raintree's Wildlands Trek is guided by degreed and certified teachers who will help each young child explore the mysteries and magic of the outdoors. With field trips every week, special guests, art encounters, science experiments, and community service, it's sure to be a fascinating summer at Raintree!For more information visit http://www.undertheraintree.org or call (636) 386-0900.
Rosati-Kain Summer Camp
Come have fun and learn a new sport or hobby at Rosati-Kain High School! R-K is offering five weeks of full or half-day camps for sixth through eighth-grade girls beginning the week of June 3 (camp will not be held the week of July 4). In addition to traditional athletic camps, R-K will also feature exciting new specialty camps including: art, knitting, cheerleading, jewelry making, cooking, photography and a "Master Class" theater camp. R-K camps are a great opportunity for young women to discover their full potential and to build lasting friendships. Registration and the camp brochure are online at Rosati-Kain.org. For more information, please contact RKsummercamps@rosati-kain.org.
St. Louis Language Immersion School's Summer Camps
Immerse your child into language and culture this summer at The St.Louis Language Immersion School's Summer Camps. Camp Voilá (French) is June 24-28, Camp Ni Hao (Chinese) is July 8-12, Camp Olé (Spanish) is July 15-19 and July 22-26 and Camp Freunde (German) is July 29-Aug. 2. Explore a different language and culture each week with fun games, crafts, music, activities and field trips. Camps are from 9am-4pm daily with before and aftercare available. Registration forms online at www.sllis.org or contact Anne Carr (314) 533-2001 or anne@sllis.org for more information. Early bird discount ends April 5th!
Saint Louis Science Center Summer Science Blast
Get ready to have a blast! Sign up for Summer Science Blast at the Saint Louis Science Center and find amazing summer adventures. Learn to fly a real airplane. Design and build your own robot. Build and launch your very own rocket! Explore the science behind cooking and more! For 2013 we are offering a full summer of our popular early childhood programs! Camp opens June 3 through August 2. We offer camps for ages 4-18. Halfday, fullday, and flexible extended care options. Online registration now available! Call (314)-289-4439 or visit http://www.slsc.org/Just4Kids /SummerScienceBlast.aspx to get a brochure.
YMCA of Greater St. Louis Day Camps
TIME TO BE A KID. For more than 130 years, Y camps have been providing kids opportunities to learn, have fun, and create lasting friendships. Y camps have something for every interest – from traditional outdoor camps to dozens of "specialty" camps involving exciting adventures and themes, sports, games, arts, dance, and much more. Sign up at any one of 17 Y branches that offer camps. Ages 3 to 16. Camps run all summer from May 28 to August 9. Half-day and full-day camps available. Check out our DISCOUNTS! Call 314-436-1177 or register online at ymcastlouis.org.
YMCA Camp Lakewood
YMCA Camp Lakewood is an overnight co-ed summer camp for children ages 6-17 of all abilities. Campers experience life lessons through setting and accomplishing goals, making new friends, building character, experiencing cultural diversity, and having FUN! Located 75 miles south of St. Louis near Potosi, MO, with 5,000 wooded acres and a 360-acre private lake, Camp Lakewood is a place where lifetime memories are made. From archery to water activities, arts & crafts to zip lines and so much more, each child is nurtured to reach their full potential guided by core values of Caring, Honesty, Respect, Responsibility and Faith. www.camplakewood.org, 1-888-FUN-YMCA.